Faculty and Staff Team Wins Award for Experiential Learning Lifecycle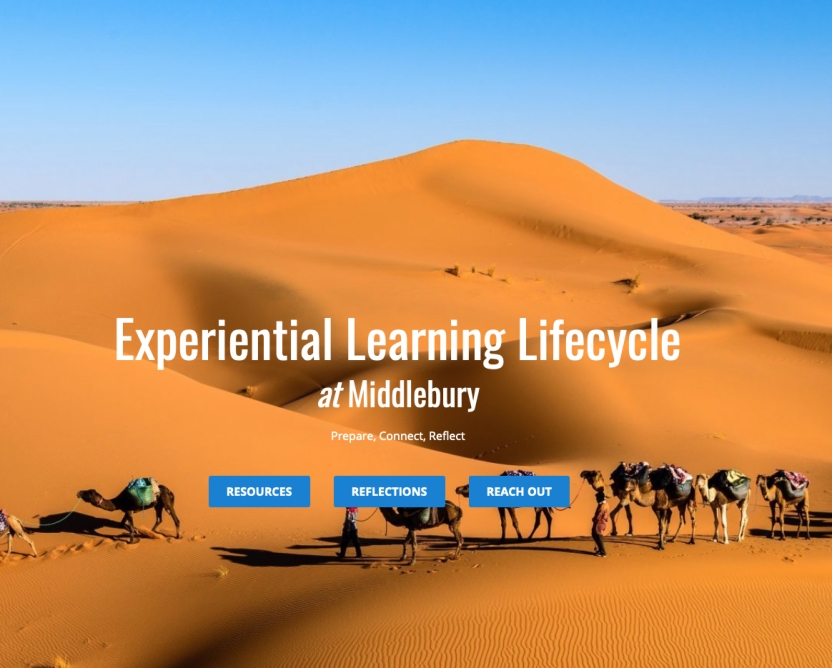 MIDDLEBURY, Vt. –The National Association of Colleges and Employers (NACE) has recognized a team of 14 Middlebury faculty and staff members with their Technology Excellence Award for their work on the Experiential Learning Lifecycle, a hub for students to prepare for, and engage in, experiential learning through internships, research, service-learning, or self-directed projects.
The interdepartmental team from Middlebury's Experiential Learning Centers included Dana Anderson, Netta Avineri, Pam Berenbaum, Sonja Burrows, Nicole Chance, Lisa Gates, Jason Duquette-Hoffman, Cheryl Whitney Lower, Amy McGlashan, Kristen Mullins, Ursula Olender, Catherine Pierattini, Charlotte Tate, and Jessica Teets. The group collaborated on the project with Middlebury's Office of Digital Learning and Inquiry, which designed the online learning space.
The Experiential Learning Lifecycle website (accessible to Middlebury students only) offers students extensive resources to help them prepare for a wide variety of domestic and international experiences, such as service-learning internships, research, or self-directed projects. The hub includes information on ethics, working with NGOs, wellness, and safety in a new setting, among many other things. Additionally, the site's "reflections" area encourages students to share thoughts about their experiences and invite discussion from others.
NACE, a leading provider of information on employment and trends of the college educated, honors members' outstanding achievements in the career services and HR/staffing professions. Excellence Awards are judged on program needs/objectives, content, design, creativity, innovation, measurable outcomes, and ease of replication.