New England Review's Summer Issue Captures the Before and After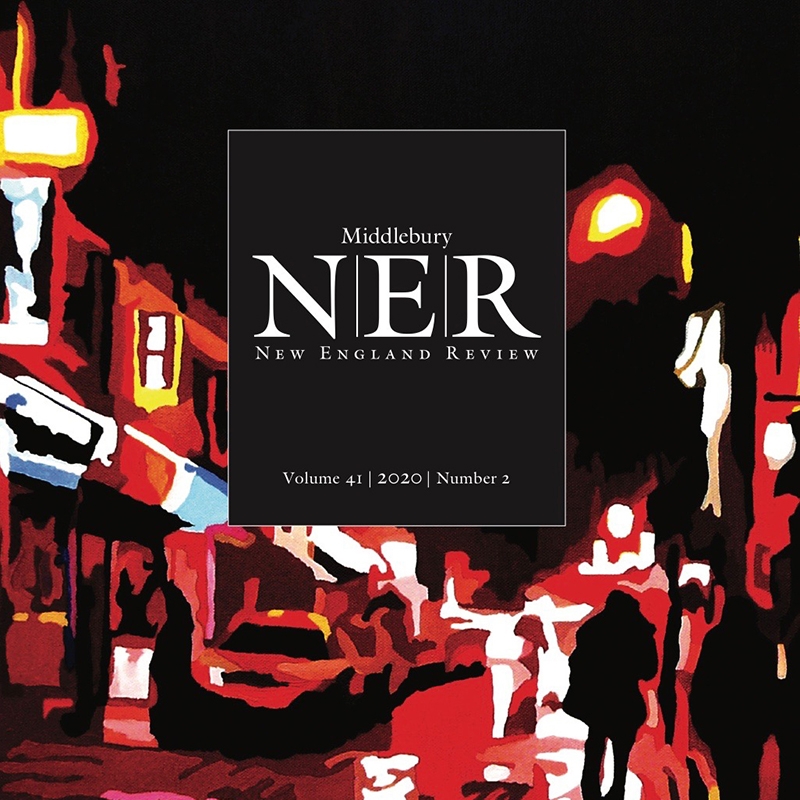 MIDDLEBURY, Vt. - Great changes over short periods of time—like those of the past few weeks, the past quarter—put into sharp relief the relative slowness of literature. But what first might look like a shortcoming is also a strength: the slow-brewing process allows a writer's experience, imagination, rumination, and even flashes of understanding to find their way into language. The summer issue of New England Review (NER), just released, presents a collection of poems, stories, essays, and translations that have been written and revised over a long period of time. Having come into being "before," they are an offering that reaches across time and space into "after."
The summer issue extends deep into the past, with translations from ancient Greek by Dan Beachy-Quick, historical fiction featuring Alfred Nobel by Hugh Coyle '83, and an essay or collage of the words of Virginia Woolf and Elizabeth Bowen by novelist Marshall Klimasewiski. It imagines the future with speculative fiction, explores new forms and early icons, and crosses the Atlantic to bring together 15 contemporary poets from the United Kingdom, selected by the award-winning poet Marilyn Hacker.
This issue features poetry by Emma Bolden, Kevin Craft, Jehanne Dubrow, James Hoch, David Keplinger, Esther Lin, David Roderick, and Joannie Stangeland. Fiction by Hugh Coyle '83, Ryan Eric Dull, Rachel Hall, Lou Mathews, Laura Schmitt, and Avigayl Sharp. Nonfiction by Indran Amirthanayagam, Stephanie Burt, Zoë Dutka, W. H. Hudson, and Marshall Klimasewiski. Translations of Gemma Gorga (Catalan, trans. Sharon Dolin), Alberto Prunetti (Italian, trans. Oonagh Stransky), Archilochus, Callimachus, & Alcan (Ancient Greek, trans. by Dan Beachy-Quick). Plus a selection of 15 contemporary British poets, edited by Marilyn Hacker, and cover art by London-based painter Deric Ch'ng.
New to the NER website are "Behind the Byline" interviews with Jennifer Chang, Maud Casey, and Christine Sneed. The new "Writer's Notebook" feature, in which writers tell the origin stories of writing featured in recent issues of NER, debuted this spring with Zach Linge. And international correspondent Ellen Hinsey diffuses the current state of fog surrounding Poland's non-election on May 10.
Samples of the new issue of the New England Review and more information about the magazine, its podcast, and events can be found on the NER website (www.nereview.com), and subscriptions are available online at www.nereview.com/subscribe.
Published by Middlebury College, New England Review is a nationally recognized literary journal that cultivates artistic excellence and innovation in contemporary writing and engages readers deeply in the literary arts through its quarterly publication, dynamic web presence, and public reading series.