Board of Trustees Focuses on Anti-Racism, COVID-19 at October Meeting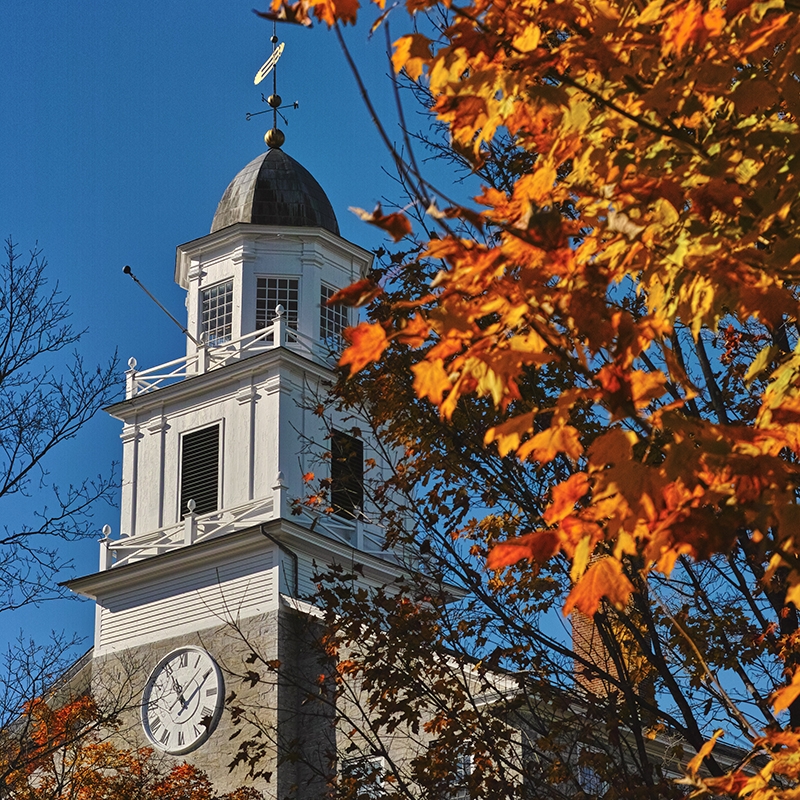 MIDDLEBURY, Vt. - The Middlebury Board of Trustees focused on issues related to anti-racism at its October 21 through October 24 meeting via Zoom. Board members participated in a retreat devoted to this subject and the Strategy and Programs Committee approved the creation of a new trustee subcommittee on diversity, equity, and inclusion. The subcommittee's work will include an emphasis on identifying and addressing equity and barriers to access, as well as retention of historically underrepresented students, staff, and faculty. The trustees also heard updates on the impact of COVID-19 and the challenges and opportunities it has created across the institution.
"It is critical that the trustees—like administrators, faculty, staff, and students—are fully engaged in our anti-racism efforts," said Middlebury President Laurie Patton. "At Middlebury, we must think and act differently than we ever have before to make progress on anti-racism. Our board shares our commitment to this issue."
Anti-Racism Board Retreat
On October 22, Miguel Fernández '85, chief diversity officer, began the trustees' retreat with a presentation on the College's five-year Action Plan for Anti-Racism, Diversity, Equity, and Inclusion. He and Patton shared the plan with students, faculty, and staff on September 10 and invited them to share their thoughts and suggestions on the plan at go/planfeedback.
Board members then heard a panel discussion with BIPOC alumni and students, facilitated by Trustee Leilani Brown '93. Speakers offered reflections on their experiences with racism in the classroom and elsewhere on campus, as well as what an anti-racist Middlebury would look like.
Trustees also attended interviews with several of the nation's leading race theorists and historians. Patton interviewed Eddie Glaude, Princeton professor, author, and commentator, on the topic of "What Does It Mean to Be Anti-Racist?" Glaude's most recent book is New York Times bestseller Begin Again: James Baldwin's America and Its Urgent Lessons for Our Own. Later in the day, at an event titled "Race in the Academy: Past, Present, and Future," Karen Stolley '77, board vice chair, interviewed Leslie Harris, author and faculty member at Northwestern University, and Bill Hart, Middlebury College professor emeritus and former director of the College's Black Studies Program.
In advance of the retreat, trustees received copies of Ibram X. Kendi's book How to Be an Antiracist and also prepared by reviewing a number of other media, including segments of the Nice White Parents Podcast and Episode Three of Leaning Into Discomfort, a series of videos sponsored by the Middlebury Athletics Diversity, Equity, and Inclusion Committee that features Middlebury student athletes and coaches.
The topic of anti-racism remained a priority throughout the weekend. At their Saturday meeting, the trustees committed to further diversity, equity, and inclusion education for themselves, and they endorsed, more broadly, similar education for all students, staff, and faculty.
Board members also met on Saturday to reflect on the retreat and engage in a deeper discussion with each other about anti-racism and equity at Middlebury.
COVID-19 Pivot
On October 23, at the board's opening meeting, Patton and several administrators spoke about how the pandemic had caused the College and all of Middlebury's schools and programs to pivot from in-person to remote classes, rethink how they function, and identify new opportunities. An example from the Schools Abroad, which had to close its programs this fall, are the remote courses that faculty there are teaching to more than 50 students at the College this semester—a first for Middlebury. Carlos Vélez, dean of international programs, expects the faculty from the Schools Abroad to offer more such classes this spring.
Several staff at the College also provided updates on student life, student health, health and wellness education for students, and health and safety protocols for students and employees.
Financial Update and Actions
David Provost, executive vice president for finance and administration, updated the Resources Committee on October 23 and the full board on October 24. He said that the pandemic forced Middlebury off course when it was headed for a balanced budget. He noted it was good news that the $11.6 million deficit for fiscal year 2020—a result in part due to refunds of tuition, room, and board in the spring—was the same and not an increase over the deficit for the prior year. Provost pointed to significant budget cuts and a halt to numerous operations when classes went remote as reasons for why the fiscal year 2020 deficit was not larger.
The committee also heard about the following topics:
Projections for the first quarter of fiscal year 2021, which ended on September 30, indicate that Middlebury is on track to meet its budget for the current fiscal year.
Investure, Middlebury's investment manager, offered a regular review of endowment performance and investment strategy. The investment return on the endowment for the fiscal year that ended on June 30, 2020, was 3 percent.
The board took the following actions on several financial items:
Holding the Middlebury Institute's 2021–2022 tuition and fees flat at 2020–2021 levels. Of the 367 new students that the Institute enrolled this fall, 336 are seeking degrees compared to 303 in fall 2019—an 11 percent increase in new degree-seeking students.
Approving tuition and fees for summer 2021 and fiscal year 2022 for the Middlebury Language Schools, Middlebury Schools Abroad, Middlebury Bread Loaf School of English, Middlebury Bread Loaf Writers' Conferences, and Middlebury School of the Environment. Most tuition and fees increased 2–3 percent.
Accepting the results of the audits of Middlebury's fiscal year 2020, which ended on June 30, 2020, and the College's retirement plan for the calendar year ending December 31, 2019. The Risk and Audit Subcommittee had recommended that the board accept the results of KPMG's audit of the fiscal year and McSoley and McCoy's audit of the retirement plan.
Authorizing the executive vice president of finance and administration to exercise Middlebury's right to repurchase the courthouse building in the town of Middlebury. The repurchase is part of the original agreement between the Vermont Center for Emerging Technology (VCET)—the current owner—and Middlebury. Both organizations entered into the agreement in 2011 when Middlebury sold the building to VCET.
Priorities and Envisioning Middlebury
On October 24 in a meeting of the full board, Patton emphasized that Middlebury's top priorities for the rest of this year and 2021 are to continue to navigate the pandemic while keeping focused on anti-racism work. She also discussed finances, academics, global engagement, environmental stewardship, communications, and student health and wellness. In every area, she stressed the work that continues through the pandemic and the opportunities—current and future—that COVID-19 has created.
Provost Jeff Cason told the trustees that Envisioning Middlebury, the strategic framework that outlines the goals for the institution, continues to guide academic decision making.
The board will meet again on January 28 through January 30.