In Memoriam: Milton V. Peterson '58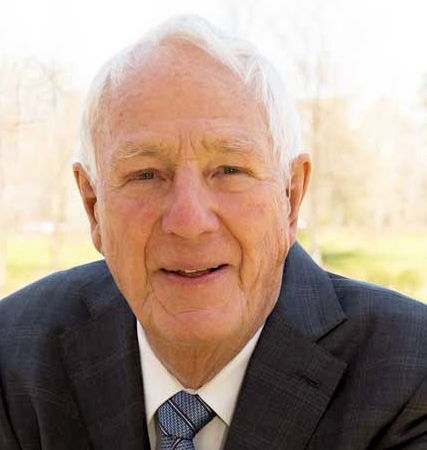 Milton V. Peterson '58, a trustee emeritus and former board chair (1989–1993) of Middlebury, and a renowned real estate developer in the Washington, D.C., metropolitan area, died on Wednesday, May 26, 2021, at his home in Fairfax, Virginia, after a brief illness. He was 85 years old.
"Milt created a powerful legacy of leadership for Middlebury in so many ways—whether it was through his service as board chair, his generous philanthropy, or his sheer enthusiasm for the institution. Milt's love of Middlebury was all-encompassing," said Middlebury President Laurie Patton.
Milt Peterson could light up a room with his warmth and generous spirit, smile, shock of white hair, and boundless energy. He could be just as quick to recede into the background, since he was humble to his core, once telling a reporter for the Washington Post, "If you have self-confidence, you can have success privately." He had a deep imagination and unrelenting work ethic—his motto was "If you really need to get something done, ask a busy person"—and was skilled at building consensus, all qualities that he brought to bear during his influential tenure on the Middlebury board.
"Milt was an exceptional person and magnificent Middlebury trustee, one of the giants," said Patricia Judah Palmer '57, who graduated a year ahead of Peterson and later served alongside him on the Middlebury board. "My late husband, Charlie '57, and I counted Milt and Carolyn among our good friends in college and beyond. Milt was chair of the Board of Trustees during a particularly critical period for the institution. It was my honor and pleasure to serve as one of his vice chairs and to witness his pragmatic and resourceful leadership skills in action, which resulted in historic decisions for Middlebury. The Peterson family's service and generosity to Middlebury continues to inspire, and we will miss the patriarch immensely. It's hard to imagine this world without Milt in it."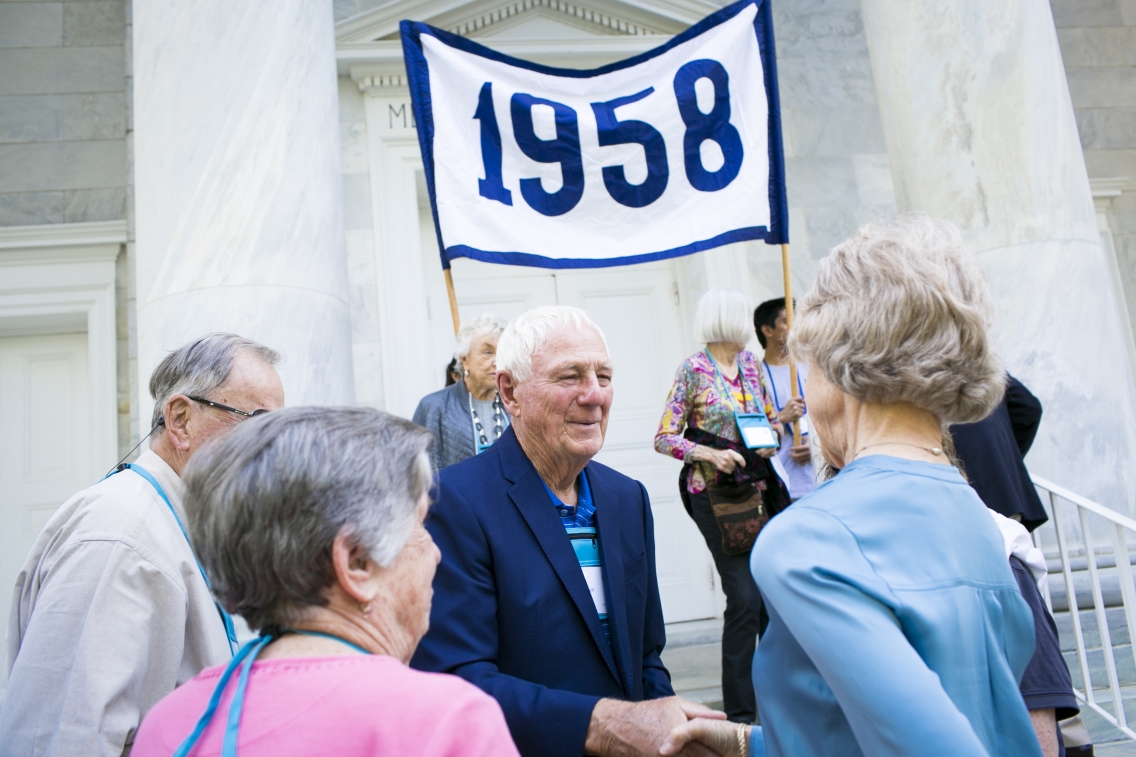 Milt Peterson celebrated his 60th Middlebury class reunion in June, 2018.
Initially appointed to a one-year board term in 1983, Peterson was named a charter trustee the following year, serving actively until 1998, a period that included leadership as vice chair (1987–1989) and then chair (1989–1993) of the board. He immediately made his mark leading the Buildings and Grounds Committee, and his tenure as a trustee deeply influenced a period of marked capital expansion and renovation of Middlebury's Vermont campus. Yet for Peterson the physical projects—the rock, steel, and mortar—were a means to an end. It was said that he showed his colleagues how the built environment could shape and inspire the human experience, and in this way, Milt Peterson had the most lasting impact in the service of others.
When he completed his term as a charter trustee in 1998, the board lauded Peterson as "a developer by occupation and a visionary by inclination." As chair, his "renowned powers of persuasion served him well in bringing resolution to the disparate voices heard in any boardroom." These disparate voices were plentiful during a turbulent, uncertain time for Middlebury as a tumultuous and short-lived presidency tested the chair's leadership mettle. "With singular and selfless skill, [you] brought Middlebury through rough waters and, in 1992, to the appointment of John McCardell as president."
"As chair of the Board of Trustees during a tumultuous time, Milt guided us through a stressful presidential transition," said Churchill Franklin '71, a trustee emeritus and former board chair. "We would never be as strong and successful as we are without Milt's visionary leadership. I will miss his interest, his feedback, his critique, his guidance, his vision."
"I had the opportunity to observe Milt up close during his tenure as board chair, and in true Milt style, he quickly confronted the difficult issues facing Middlebury and the board," said Jim Davis '66, a trustee emeritus. "He led by example—his integrity, energy, and the trust he earned from all he encountered helped lift Middlebury to new heights."
A year after stepping off the board, Peterson was named trustee emeritus, a position he held until his death.
"Milt Peterson was one of a kind," said former Middlebury President John M. McCardell Jr. "He led the board with strength and also with grace and, above all, with deep and unconditional love for Middlebury. I will be forever grateful for his support during a very difficult transition in 1991. And one could write a long book of nothing but 'Milt stories.' He made a lasting impact on Middlebury. It is stronger in every way because of his leadership and generosity."
Milt Peterson grew up in Worcester, Massachusetts, and enrolled at Middlebury College in fall 1954. During his senior year, he married his high school sweetheart and Middlebury classmate Carolyn Skyllberg, but not before receiving permission from Dean Elizabeth Baker "Ma" Kelly.
As a student, Peterson majored in economics and participated in ROTC. After graduating, he and Carolyn moved to northern Virginia, where he served as a lieutenant with the Army Corps of Engineers at Fort Belvoir.
During this time, he also gained a real estate license and began to pursue a career in building and real estate development after his military service. Decades later, a newspaper reporter unearthed the fact that Peterson's real estate career could be traced back to his days as a Middlebury undergraduate. Back then, he earned money buying and reselling used textbooks to fellow students, then applying the profits to real estate purchases—his first—in Maine and Massachusetts. (The book selling temporarily put him in hot water with the College administration at the time—while these days his ingenuity and entrepreneurial spirit would be applauded.)
Peterson would go on to found his own real estate development firm, Peterson Companies, and over the course of a half century, he built a family organization that would become one of the largest privately held real estate development companies in the Washington, D.C., region. Since its founding, Peterson Companies has developed, acquired, managed, and leased more than 26,000 residential lots and approximately 34 million square feet of retail, hotel, and office space throughout Virginia, Maryland, and the District of Columbia.
Under Peterson's leadership, his organization developed partnerships around the D.C. region that focused on responsible land usage, with emphasis on wetland mitigation, stream restoration, solar power, and LEED certification.
In addition to real estate holdings, Peterson Companies expanded to include a range of diverse ventures, from a shrimp farm in Belize to biotech companies in the Capital Region. In 1997, the family established the Peterson Family Foundation, which has supported organizations such as Teach for America, the United Methodist Church, Youth for Tomorrow, and a number of educational institutions, including Middlebury.
Fiercely loyal to his alma mater, Peterson brought his vision for bold, richly imagined developments to most every capital project undertaken at Middlebury during his tenure as a trustee, and beyond.
Peterson and his family are among the institution's most generous donors, and their philanthropic support across the decades helped transform Middlebury from a cherished, regional gem to the world-class global institution it is today.
Some of Peterson's philanthropy is visible to all—most notably the Peterson Family Athletics Complex, the hub of a robust athletics program that provides a year-round home for competition and recreation. Less visible, though no less substantial, has been the Peterson family's support for student financial aid and faculty teaching and scholarship. Through endowed professorships in classics and geosciences, an endowed fund for the Classics Department, and scholarship funds (including one named for Ma Kelly), Peterson and his family have demonstrated their deep commitment to the liberal arts and sciences in ways that will span generations.
"Milt was a giant in the long history of Middlebury," said Middlebury's current board chair, George Lee II '88. "His leadership, generosity, and ceaseless love for the College have made an extraordinary impact and should inspire all of us as we go forward together."
Said Patton: "Although you always knew he had dozens of other irons in the fire, when you encountered him—even on the busiest of days, which were most days for Milt—he would stop what he was doing and sit with you to share memories of Middlebury. He had so many interests and passions, but in those moments, you knew he wouldn't want to be doing anything else."
Peterson is survived by his wife Carolyn Skyllberg Peterson '58; their four adult children, Lauren Peterson Fellows, who attended Bates College, and Middlebury graduates William "Rick" Peterson '84, Jon Peterson '86, and Steven Peterson '88, who served as a trustee from 2004 to 2019; Rick's wife, Phoebe Twichell Peterson '86, and Jon's wife, current Middlebury trustee Anne Davis Peterson '85; and 10 grandchildren, including Middlebury alumni Christopher Peterson '13, Nicholas Peterson '18, and Luke Peterson '19.