Middlebury Celebrates 2021 Commencement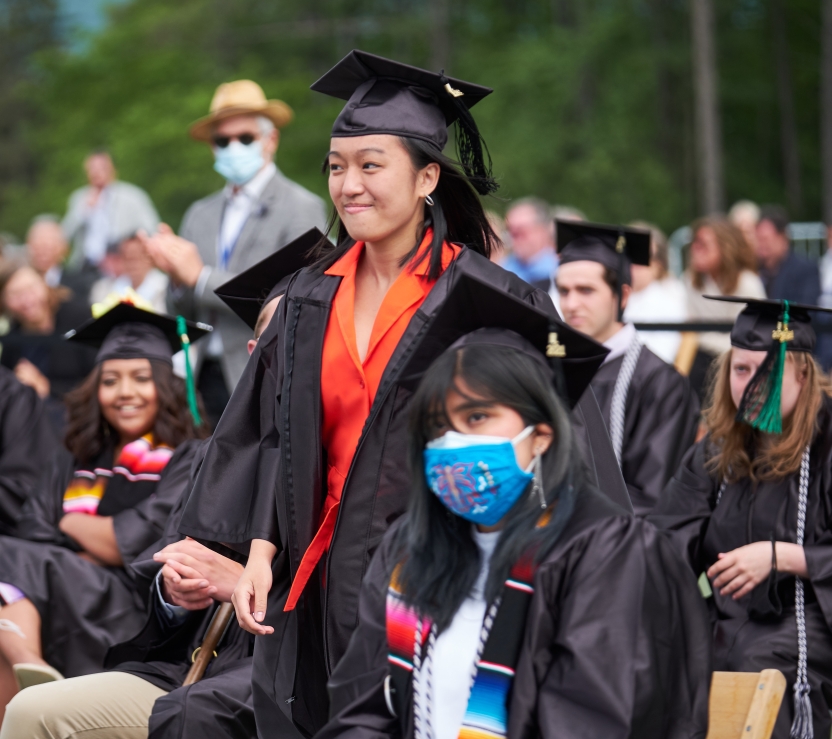 On a cool, sunny Saturday afternoon, the Middlebury College community gathered to celebrate a historic Commencement for 481 members of the Class of 2021. Graduates and their guests assembled at six separate outdoor venues, to comply with pandemic health and safety regulations, each with a stage and large video screen. At an event that was hard to imagine just a few months ago—and one that required careful planning without the benefit of a rehearsal—joyful bursts of applause and cheering could be heard all over campus.
The first portion of the ceremony, including the speakers and conferral of honorary degrees, was broadcast from the Robison Hall stage, followed by in-person degree conferrals at each site.
After welcoming the graduates and guests, President Laurie L. Patton presented the first-ever Middlebury Medal to Dr. Mark Peluso, Middlebury's chief health officer and College physician.
"There are few moments in an institution's history where it must pause to recognize the exceptional achievements and humanitarian service of one of its members," said Patton. "This past year, the year of the pandemic—when we literally held one another's lives in our hands—has been one of those moments for Middlebury."
Patton said the award was created by the Board of Trustees for the rare occasions when extraordinary service must be recognized with the "highest of honors." Peluso has overseen a dizzying list of challenges in working to keep the community safe during the COVID-19 pandemic, including aspects of Commencement planning.
"Because of your dedication and abilities, our community ended this year with one of the lowest positivity rates in the nation," said Patton. "Our students learned in safety; our faculty taught confidently; our staff worked with a sense of security. The College earned the trust of its neighbors. Our parents sent their students to Middlebury with confidence. Through your example, we were able to care for each other in better and more informed ways than ever before. Middlebury survived, and thrived, thanks to your endless labor and wise interventions. We are grateful beyond what any words can express." Read the full citation on the Middlebury website.
Acclaimed playwright, composer, and musician Anaïs Mitchell delivered the 2021 Commencement address and received an honorary doctor of arts degree. The native Vermonter and 2004 Middlebury graduate is the creative force behind the hit Broadway musical Hadestown, which won eight Tony Awards, including Best Musical. Mitchell, herself, won the Tony for Best Original Score. In 2020, Hadestown won the Grammy for Best Musical Theater Album.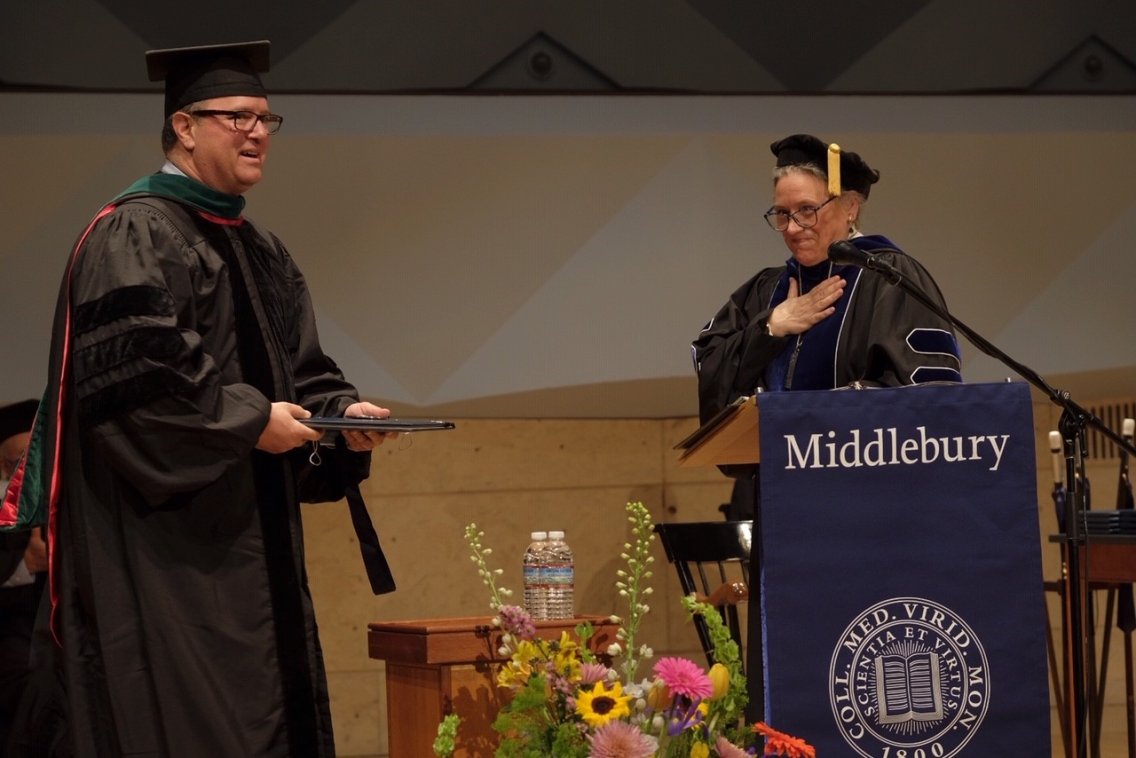 President Laurie Patton presents the first Middlebury Medal to Chief Health Officer and College Physician Mark Peluso at Commencement.
Mitchell encouraged the graduates to think big and to seize this time of life—their early 20's—which she described as "a time of genius." She offered two bits of advice. First, they should create occasions to rise to. She recalled a time not long after graduating from Middlebury when the idea for a folk opera based on the Orpheus and Eurydice story drifted into her head. With just a few songs written, she had already secured a grant, musical collaborators, and a series of performance venues in Vermont.
"When I look back, the confidence is staggering," she said. "I would never do something like that now, but I don't think it could have happened any other way. I had to create an occasion for myself to rise to."
Anaïs Mitchell '04 gives the 2021 Commencement address from the stage at Robison Hall in the Mahaney Arts Center.
Second, she asked the graduates to understand that failure is an essential part of mastery.
"I remember many instances of being given opportunities as a young performer that I just wasn't ready for. Usually, it was opening up for some big artist on some big stage that would really trigger my stage fright. I would spend the whole performance kind of spiraling in my own head, and then later I'd feel embarrassed, wishing I could have performed better. But the next time I was on a stage like that, it was one percent easier.
"Try to take this mantra into every situation: Yes, you belong here. Yes, you're the right person for this job. And even if you fall short of your own or others' expectations, you still belong, you're still on the right path, and this failure is an essential part of you coming into your own mastery."
Mitchell ended her remarks with an a capella rendition of "Watershed," which she said she imagined might be performed by an a capella group at a Commencement ceremony if the circumstances were different.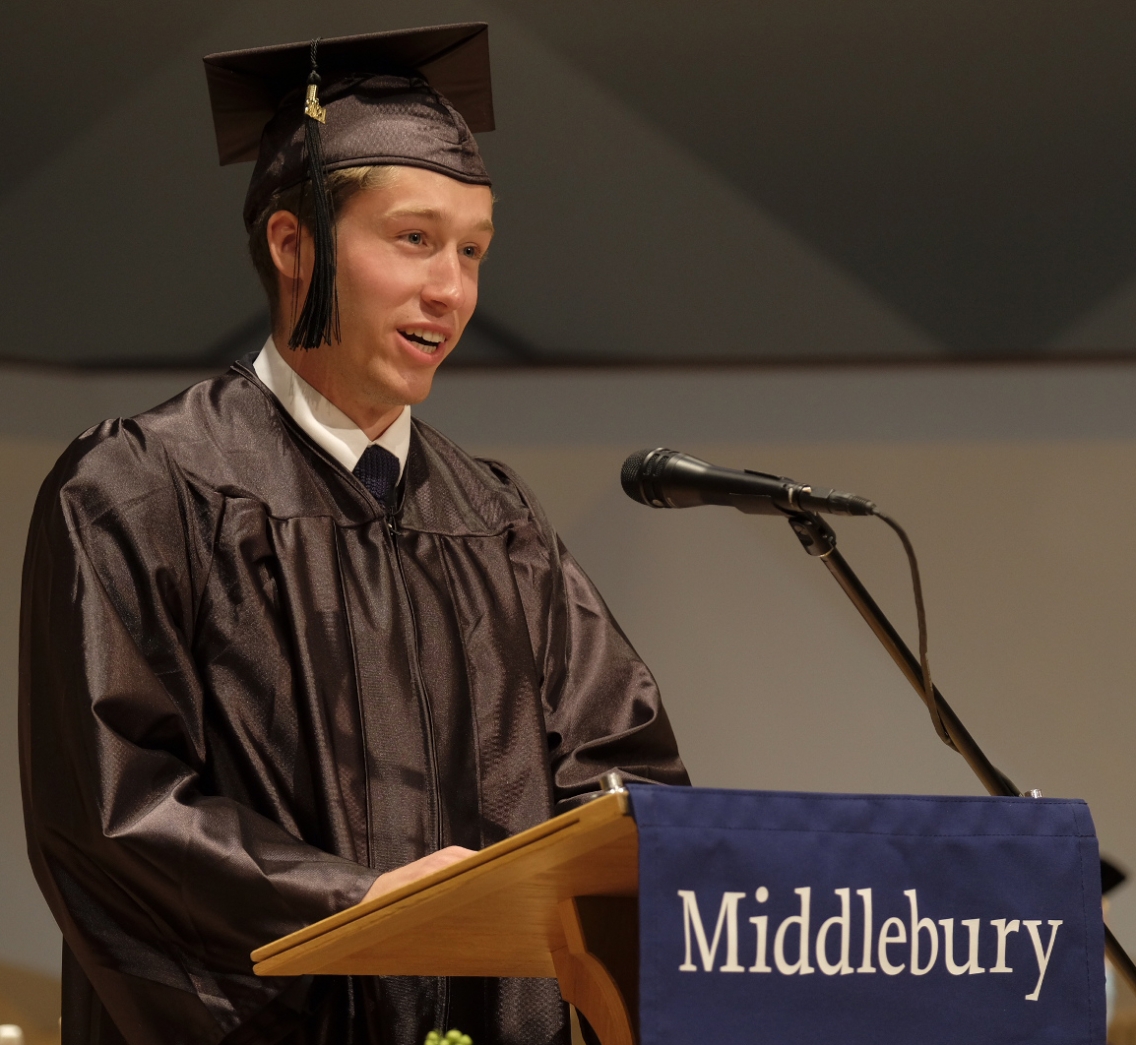 Nate Gunesch '21 gives the student Commencement address from the stage at Robison Hall.
Senior speaker Nate Gunesch reflected on the challenges of the past year, noting that despite the "extra week of spring break transformed into a year and a half of social distancing," his classmates had shown remarkable resilience.
"What we have accomplished this year, what we are celebrating now, is not just our academic achievement, but the strength of our community," said Gunesch. "The fact that we can look into this audience and see our parents, friends, and loved ones is a testament to our accomplishment in keeping our community safe."
Three additional distinguished guests received honorary degrees during the Commencement ceremony:
John B. Derick, a leader in the Middlebury community who, for more than 30 years, served as the Trail Around Middlebury (TAM) coordinator and a volunteer with the Middlebury Area Land Trust (MALT).
Dr. Mark Levine, Vermont's commissioner of health. As the head of the Vermont Department of Health (VDH), Levine directs statewide efforts to combat COVID-19 and has received national recognition for his leadership during the pandemic.
Curtiss Reed Jr., a civil rights leader in Vermont and a champion of equity and inclusion, has dedicated his career to service, advocacy, and fighting for the rights of all Vermonters. Reed joined the Peace Corps and moved to Tunisia in 1983, and later worked in cooperative business development in Niger, Guinea Bissau, Burundi, and Mali. Since 2001, he has served as the executive director of Vermont Partnership for Fairness and Diversity, a resource that provides Vermont organizations in every sector, from businesses and government to education, with assistance regarding issues of inclusion, diversity, and equity.
On the day before Commencement, Second Lieutenant Alec Wilson, a member of the Green Mountain Battalion Reserve Officers Training Corps, was recognized in an ROTC ceremony at Forest Hall. A molecular biology and biochemistry major and computer science minor, Wilson was senior-year captain of the men's varsity swim team. He attended the Middlebury School of Hebrew as well as the Army's Airborne School. An Army ROTC Merit Scholar and the recipient of numerous awards, Wilson plans to apply to medical school and to become a physician after completing his military service.
Photos: Brett Simison