Professor Peter Hans Matthews Appointed Fulbright Scholar Alumni Ambassador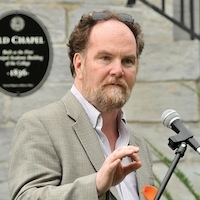 MIDDLEBURY, Vt. – Peter Hans Matthews, Middlebury's Dana Professor of Economics, has been appointed a Fulbright Scholar Alumni Ambassador by the Fulbright Scholar Program. During his two-year term, Matthews, who was the Fulbright-Hanken Distinguished Chair in Economics and Business at the Hanken School of Economics in Finland from 2017 to 2018, will travel to campuses and academic conferences around the United States to discuss his experiences with fellow scholars considering the Fulbright program.
"Alumni Ambassadors represent the best of the Fulbright U.S. Scholar Program and were selected through a competitive process," said Julie Taylor, senior director of academic relations for the Fulbright Program at the Institute of International Education. "Ambassadors not only represent the program externally, they serve as advisors about critical aspects of the program to the State Department and the program's implementing agency, the Institute of International Education."
Matthews is an experimental economist whose current research focuses on inequality, political economy, polarization, and social preferences. He regularly teaches courses in poverty and inequality, macroeconomics, public economics, and labor economics. As a result of his Fulbright Scholar work, he is a coprincipal investigator on a 480,000 euro grant from the Academy of Finland. This project involves researchers at several universities and Statistics Finland in a randomized intervention designed to understand the effects of various inequalities on individual welfare, social and political preferences, education, occupation, location decisions, and more.
He also now holds a position, for the next few years, as distinguished visiting professor at Aalto University and the Helsinki Graduate School of Economics, which brings him to Finland for a few weeks each year to connect with colleagues and graduate students.
Additionally, Matthews now serves on the international advisory board of FIRIPO—the Finnish Research Infrastructure for Public Opinion—a new public opinion data initiative that integrates panels of data on citizens and politicians, national election data, and both experimental and deliberation labs. Matthews describes it as "a different sort of big data initiative that promises to bring together social scientists from many countries."
"All of this has profoundly influenced how I interact with Middlebury students," said Matthews, "from the new insights I now bring to seminar conversations about inequality and distributive justice to classroom discussions of European political economy, to new opportunities for research-based learning, both here and abroad."
Sponsored by the U.S. Department of State's Bureau of Educational and Cultural Affairs, the Fulbright program awards approximately 8,000 grants annually. Approximately 1,600 U.S. students, 4,000 foreign students, 1,200 U.S. scholars, and 900 visiting scholars receive awards, in addition to several hundred teachers and professionals.