Middlebury Welcomes 44 New Faculty for Fall Semester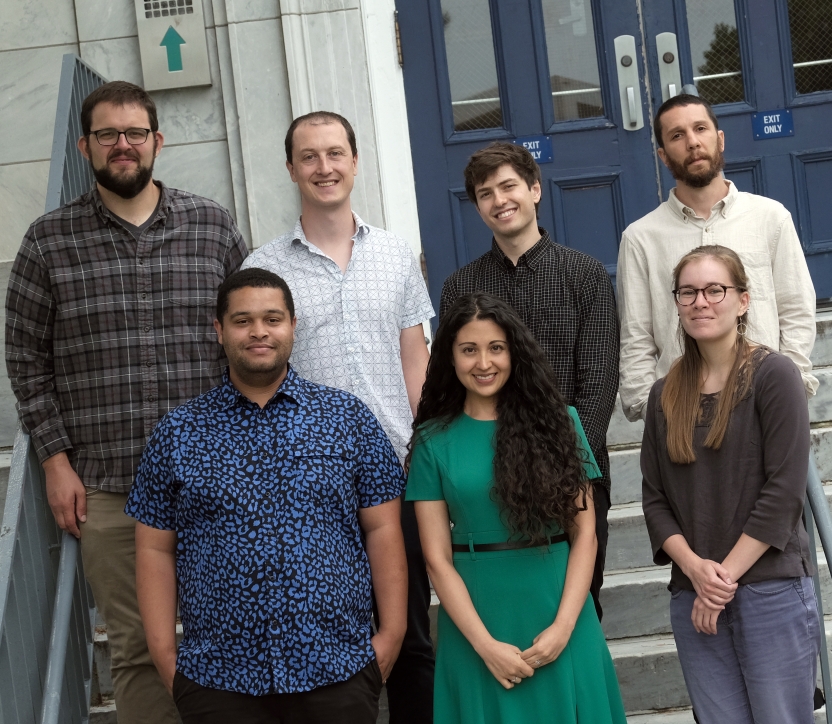 Middlebury welcomes 44 new faculty members this fall, including nine tenure-track faculty, and 35 who will join in term positions as visiting faculty, instructors, lecturers, teaching assistants, and assistants in instruction. The new group represents deep expertise in a broad range of academic disciplines, including Black studies, history, biology, global health, studio art, chemistry, biochemistry, geology, and English and American literatures.
"I am delighted to be welcoming such a diverse and talented group of scholars to our community," said Sujata Moorti, vice president of academic affairs and dean of the faculty. "As part of our larger institutional commitment to preparing students to address the world's most challenging problems, we have hired faculty whose expertise allows us to engage with questions of global health, climate change, race, and racism. In addition we now have a cohort of faculty who will contribute to our Black Studies Program, deepening our engagement with questions of reparative and transformative pedagogies."
The following will join the Middlebury faculty in tenure-track positions:
Sam Byrne, assistant professor of biology and global health, earned his PhD and MS at the University at Albany School of Public Health and his BA in human ecology from Hampshire College. An epidemiologist who focuses on health disparities caused by environmental injustice, Byrne comes to Middlebury from the Department of Environmental Studies at St. Lawrence University, where he taught courses including Introduction to Environmental Studies, Health Effects of Pollution, Environmental Epidemiology, and Natural History of Disease. He'll be teaching epidemiology this fall.
Benjamin L. Cotts, assistant professor of chemistry and biochemistry, comes to Middlebury from Stanford University, where he has been a postdoctoral scholar in materials science and engineering. Cotts earned his PhD in physical chemistry from the University of California, Berkeley, and his BA in chemistry from Carleton College. His research focuses on time-resolved spectroscopy of excited states in next generation solar energy and display materials. He has taught topics including organic semiconductors for electronics and photonics, general chemistry and quantitative analysis, and chemical structure and reactivity.
Khyree Davis, assistant professor in Black studies, earned their BA, MA, and PhD at the University of Texas, Austin. Their dissertation is titled "Black Queer Spatialities: Lessons in Re-Mapping." From 2020–2021, Davis was a doctoral fellow at the university's Center for Black, Brown, and Queer Studies. They earned an inclusive classrooms leadership certificate from UT in 2020.
Viola H. Huang, assistant professor of Black studies, earned her PhD and MPhil in history and education from Columbia University Teachers College. She earned her teaching degree for German secondary schools in English, philosophy, and history from University of Konstanz, Germany. Huang's research interests include African American history, particularly the Civil Rights Movement and Black Power Era; history of education in the United States, particularly Black education and education as activism; and public history, particularly representations of Black history in U.S. and German contexts.
Allison Jacobel, assistant professor of geology, is a paleoclimatologist with expertise in geochemistry, sedimentology, and paleoceanography. She earned her PhD and MA in earth and environmental sciences at Columbia University, and her BA in geology from Macalester College. Jacobel was recently named lead investigator on an $860,000 National Science Foundation grant to investigate Earth's climate history using marine sediment cores. The grant will support student research projects and professional development, help outfit a new geochemistry lab at Middlebury, and provide opportunities for students to collaborate with project scientists at Woods Hole Oceanographic Institution.
Elsa Mendoza, assistant professor of history, earned her MA and PhD in history at Georgetown University. She is a historian of slavery and interested in digital humanities. She is the associate curator of the Georgetown Slavery Archive and recently co-edited Facing Georgetown's History: A Reader on Slavery, Memory, and Reconciliation.
Matthew Schrader, assistant professor of studio art, earned his BA at the Rhode Island School of Design and his MFA in sculpture from the Milton Avery Graduate School of the Arts at Bard College. An artist and teacher working between sculpture, image making, and site-specific intervention, Schrader had a solo exhibition at White Columns gallery in New York earlier this year that focused on landscape, migration, and material memory. He also recently taught sculpture in the MFA program at the Milton Avery Graduate School.
Ryan Kaveh Sheldon, assistant professor of English and American literatures, earned his PhD and MA in English from the State University of New York at Buffalo. He earned his BA in English from Wesleyan University. At SUNY, Buffalo, where he specialized in restoration and 18th-century British literature, he has taught composition, British literature, creative writing, and a course on writing about science. His article "How to Read by Numbers: Plague, Political Arithmetic, and the Production of History" appears in the most recent issue of The Eighteenth Century: Theory and Interpretation.
Lizz Ultee, assistant professor of geology, earned their PhD from the University of Michigan and BS from Queen's University. Their research focuses on the physics of glaciers and ice sheets and their response to climate change.
Middlebury is also pleased to welcome the following visiting faculty, professors of the practice, instructors, lecturers, and teaching assistants:
Visiting Assistant Professors
Maya Bhave, PhD, Loyola University, visiting assistant professor of sociology
Carol Harden, PhD, University of Colorado, Boulder, visiting professor of geography
Heather Mason-Christie, PhD, Harvard University, visiting assistant professor of biology
Catherine Miller, PhD, Massachusetts Institute of Technology, visiting assistant professor of physics
Katherine O'Brien, PhD, University of Pennsylvania, visiting assistant professor in first-year seminar program
Kyle Saulnier, DMA, New England Conservatory of Music, visiting assistant professor of music
Phoebe Streblow, MFA, School of Visual Arts, NY, visiting assistant professor of studio art
Michal Strier, visiting assistant professor of Hebrew
Instructors
Harrison Hsiang '17, BA, Middlebury College, visiting instructor in neuroscience
Lisa Luna, MS, University of Potsdam, visiting instructor in geology
Alexandra (Sasha) Portice, MA, University of Wisconsin, Madison, visiting instructor in Russian
Lecturers and Teaching Positions
Lauren Ash, MRes, University College, London, visiting laboratory instructor, biology
George 'Ro' Boddie, Diploma, University of North Carolina School of the Arts, artist in residence in theatre
Kyle Brudvik, MA, University of California, Berkeley, lecturer in anthropology and first-year seminar
Derrick Burt '20.5, BA, Middlebury College, assistant in instruction, geography
Maja Cannavo '21, BA, Middlebury College, assistant in instruction, computer science
Meshi Chavez, Certificate, East-West College, Portland, artist in residence in dance
Matt Considine, MBA, Wharton School, professor of the practice
Diane DeBella, MA, California State University, lecturer, first-year seminar program
Logan Fischer, PhD, Iowa State University, laboratory instructor, chemistry/biochemistry
Markus Gerke, MA, York University, Toronto, dissertation fellow, sociology
Ruth Hardy, MPA, University of Texas, Austin, lecturer in political science
Shu-Ching Huang, MA, National Taipei University of Education, lecturer in Chinese
David Pratt, PhD, University of California, Berkeley, visiting laboratory professor
Roger Sandwick, PhD, Lehigh University, visiting laboratory professor
Fayza Shammin '20.5, BA, Middlebury College, assistant in instruction, film and media culture
Keyue Song, MA '21, Middlebury Institute, Monterey, lecturer in Chinese
Rebecca Warholic, BA, Smith College, assistant in instruction, computer science
Language Teaching Assistants
Emma Auden '17, BA, Middlebury College, teaching assistant, Chinese
Josel Cando, MS, EAE Business School, Madrid, teaching assistant, Spanish
Lea Canu, teaching assistant, French
Robert Deuckershoff, teaching assistant, German
Paolo Gonnelli '21, BA, Middlebury College, teaching assistant, Italian
Vinicius Guarilha Alves, MA, University of Lisbon, teaching assistant, Portuguese
Maryait Khader, MA, University of Jordan, teaching assistant, Arabic
Anastasiia Kozhukhova, BA, Russian State University, teaching assistant, Russian
Kokoro Nakasone, BA, International Christian University, teaching assistant, Japanese