Board of Trustees Approves English Language School, Makes School of Abenaki Permanent, and Supports Plans for School in Puerto Rico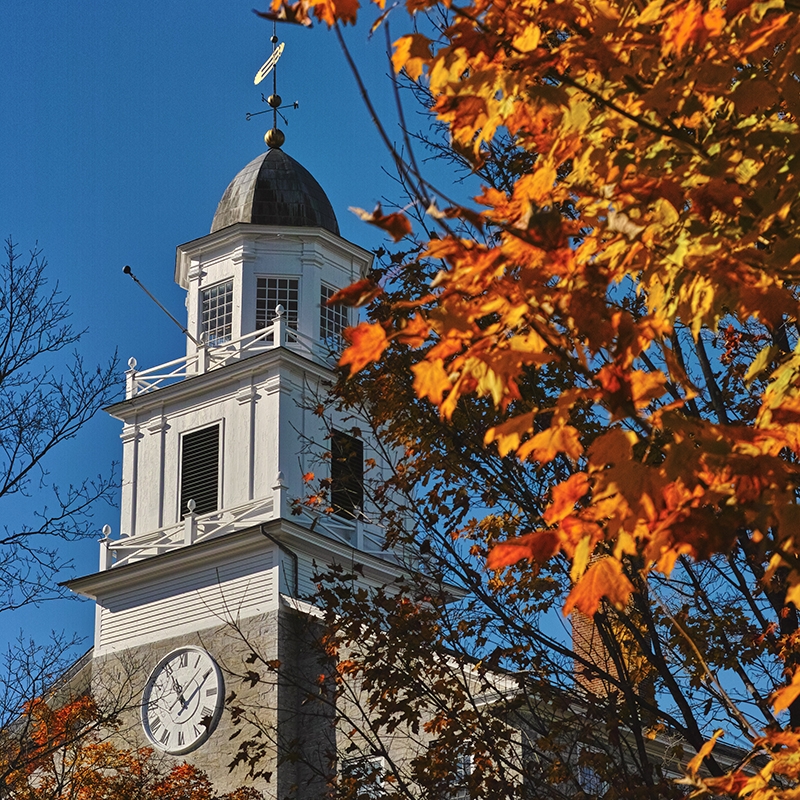 MIDDLEBURY, Vt. - The Middlebury Board of Trustees approved several new programs and initiatives—an English Language School at the Middlebury Institute of International Studies, a School of Abenaki, a new master's program in teaching Korean, and plans for a School in Puerto Rico—at its meeting October 21 through October 23. The meeting was the board's first to be held in person since January 2020.
"The new schools and programs will add further depth to Middlebury's robust language offerings and to the opportunities for study beyond the Vermont campus," said Middlebury President Laurie Patton. "As we look ahead, Middlebury will continue to be a leader in language education and immersive cultural and educational experiences."
Launching in summer 2022, the Middlebury English Language School will be located at the Middlebury Institute in Monterey, California, and will incorporate several of the Institute's intensive English programs. The School of Abenaki, established as a pilot in summer 2020, will become permanent in 2022. It is the 12th Middlebury Language School to be established. The School of Korean's new master's program—starting in summer 2022—will begin to meet the critical need for teachers who are trained practitioners, proficient in Korean language, and culturally competent. Once details for the School in Puerto Rico are finalized, the new school will join the 16 Middlebury Schools Abroad. The program is anticipated to begin in fall 2022. Additional details about the School in Puerto Rico will be announced at a later date.
Mental Health Resources, Admissions, Institutional Priorities, and Language Schools
On Friday, October 22, board members heard from Barbara McCall, Middlebury's executive director of the Center for Health and Wellness, about the mental health programming and services available to the College's students. McCall described Middlebury's offerings related to prevention, intervention, and postvention strategies and processes. The center has new leadership at the office, department, and divisional levels who are working together to assess programmatic, service, and staffing needs.
Dean of Admissions Nicole Curvin provided an update on the College's recruitment and outreach efforts to prospective students, including students of color and international students. Noting that applications were at a record high for the Class of 2025, Curvin said that it is important to continue to focus on national demographic shifts and underserved students. Partnerships with organizations such as the Posse Foundation and collaboration with other colleges and universities are also essential to the College's admissions efforts. Curvin noted that communicating about affordability is a primary focus for Middlebury as well, and a top concern for prospective students.
On Saturday, October 23, trustees heard from several members of the Senior Leadership Group. President Laurie Patton discussed Middlebury's institutional priorities, including financial sustainability and academic excellence. In one area of global engagement, Patton discussed the goal of restoring enrollments in the Schools Abroad to previous levels in anticipation of the transition from a pandemic to an endemic period. Patton and trustees also honored Gus Jordan, former executive director of the Center for Health and Wellness, who recently retired after 25 years at the College.
Steve Snyder, vice president for academic affairs and dean of Language Schools, gave an update on the summer 2021 Language Schools session and highlighted the challenges and opportunities for the schools in the postpandemic environment. Snyder said challenges include the lingering effects of the pandemic and hurdles around visas and travel for international faculty. Online learning and cross-institution collaborations present opportunities for growth and increased academic offerings.
Financial Update, Design Review, Gifts, and Actions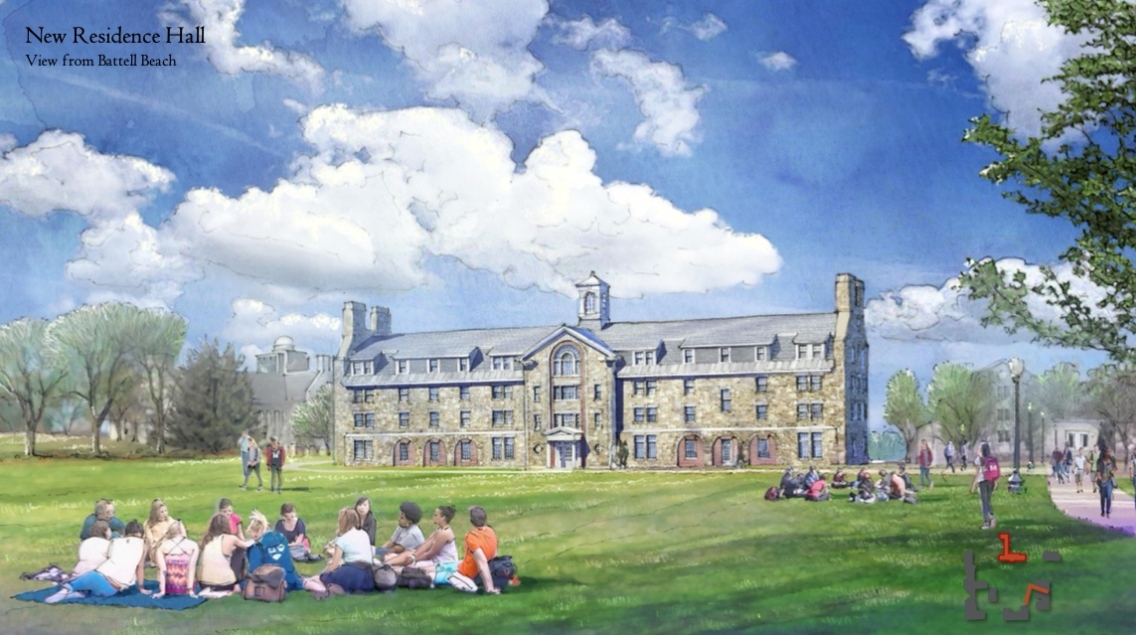 The planned four-story residence hall will house 276 first-year students.
David Provost, executive vice president for finance and administration, gave the financial overview. Most recent data are characterized by two themes, according to Provost: a lower-than-projected deficit and significant investment returns for the fiscal year ending June 30. Following the board meeting on Monday, October 25, he shared details of Middlebury's financial operating results and a report on the endowment for fiscal years 2020 and 2021 in a message to the community. Provost and Patton both reiterated their commitment to focus on salaries in the budget planning process for the fiscal year that begins July 1, 2022, and ends June 30, 2023.
Provost also updated trustees on the new first-year housing and student center projects. He said that the planned four-story, 78,000-square-foot residence hall will house 276 students and feature gathering spaces for socializing and studying. Aligned with Middlebury's commitment to universal design principles, every room will be fully accessible. The building will be located west of Coffrin Hall and the Château and north of Forest Hall and will replace Battell Hall, which will be taken down. Members of the Senior Leadership Group are working with the board on the timing of construction, which is expected to begin in one to three years.
To be located on the current site of Proctor Dining Hall and the adjacent tennis courts, the new student center will house multiple spaces for student organizations and most of the offices that serve students, from Student Financial Services to Student Activities. The center will include a spacious dining hall with seating for 1,200 people that will replace Proctor. The current tennis courts will move to the athletic facilities. Provost noted that this project is in the preliminary programming and design phase and would not begin for three to five years.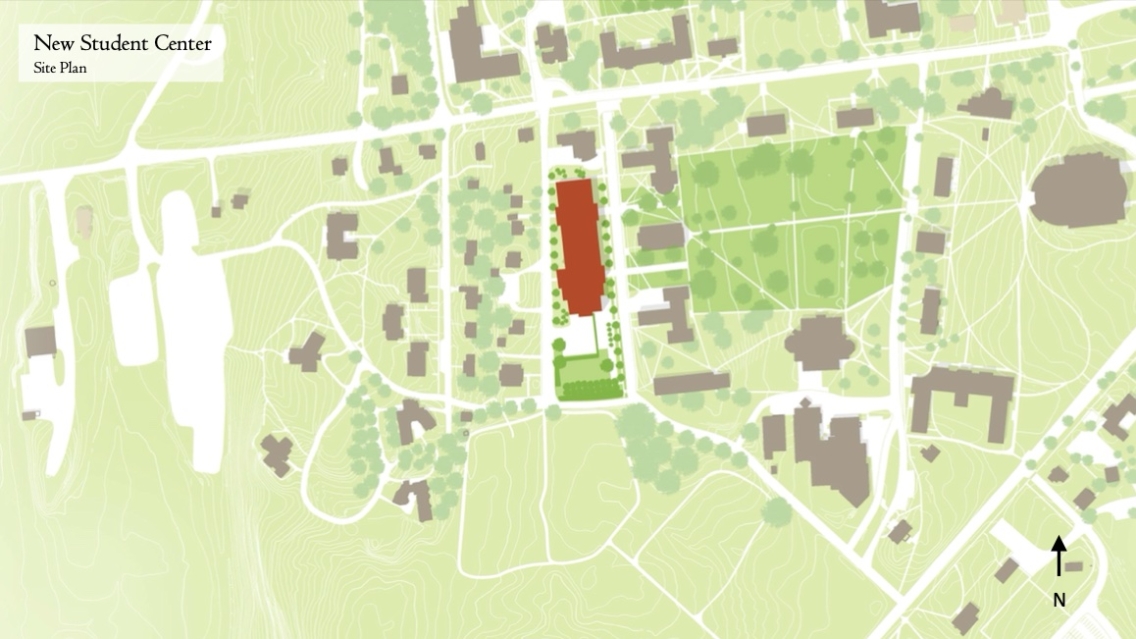 The new student center—now in the preliminary design phase—will be located on the current site of Proctor Dining Hall and the adjacent tennis courts.
Trustees also heard about fundraising progress. Colleen Fitzpatrick, vice president for advancement, reported that Middlebury has received two $10 million gifts. One of the gifts is from Ted '83 and Kathy O'Connor Truscott '83 and will support faculty and students by creating an endowed professorship in Black Studies, expanding financial aid for undergraduate and graduate students, and providing unrestricted support for institutional priorities.
An anonymous donor has made a $10 million gift that will be used to renovate the Christian A. Johnson Memorial Building—home to Middlebury College's Architectural Studies Program and Department of Studio Art—and to advance planning for a new museum that would be located on the north side of campus.
The board also took the following actions:
Approved 2022–2023 tuition and fees for the Middlebury Institute. There are 583 full-time and 112 part-time students enrolled at the Institute this fall—levels similar to those of the previous year. Enrollment in Translation, Interpretation, and Localization Management degree programs is at an all-time high of 264.

Accepted the results of the audits of Middlebury's fiscal year 2021, which ended June 30, 2021, and the College's retirement plan for the calendar year ending December 31, 2020.
The board will meet again February 10 through February 12.