Justin Morande '21.5 Awarded Watson Fellowship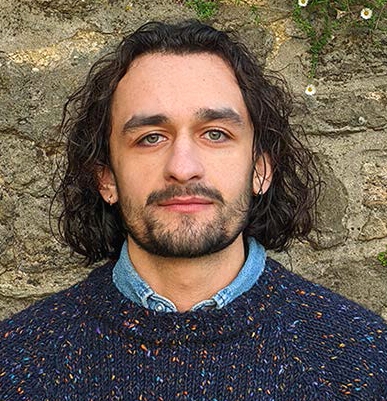 Justin Morande '21.5, of Williamstown, Vermont, has been awarded a Thomas J. Watson Fellowship, which supports a year of international travel focused on a self-designed independent project. Morande, who completed the architectural studies track in the Department of History of Art and Architecture, designed a project titled "Place and Placelessness: Architecture at a Crossroads," which will take him to Nepal for three-and-a-half months, Chile for three-and-a-half months, and Japan for five months.
"I brainstormed many potential projects, like exploring how architecture can be used to tackle issues surrounding climate change, immigration, and urbanization," says Morande. "While all these ideas could be potential Watson projects, none of them felt like my project, which is something Watson stresses."
Thinking of rural Vermont roots led Morande to explore place-based identity and how architecture influences that identity. He thought about how the state's identity had changed in recent decades with the onset of big box stores, strip malls, and bland developments.
"I feel the urge to counteract this loss," says Morande. "Through my project, I propose to continue exploring this idea and seeing how it manifests in countries and communities around the world."
As he compiled a list of potential countries, Morande researched architects practicing critical regionalism—an approach to design that "seeks to provide an architecture that is of modern times, but is rooted in geographical and cultural context."
He looked at countries with strong architectural heritages that had pockets of unique vernacular design, and he made connections with people and organizations in those countries with whom he could work and learn.
"I hope to spend significant time with woodcarvers in Nepal, indigenous artists and builders in Chile, and woodworkers in Japan," says Morande. "I am most excited to engage with the themes of my project on a variety of scales, and I look forward to working with the craftsmen whose art is equal to that of architects, and whose presence in this conversation on place-based identity is as essential as those of architects and heritage preservationists."
​​Each of his destinations offers a unique lens through which he can understand the themes of his project, says Morande.
"Nepal's architectural heritage and identity was largely influenced by the devastating 2015 earthquake, which destroyed world heritage sites and led to the rebuilding of the country with nontraditional reinforced cement concrete. Chile's Ministry of Public Works compiled and released two design guides that highlight indigenous groups' architecture and ways of perceiving space. They have since used those guides on over 20 public works projects which have strengthened indigenous identity in a world that alienates them. Japan has one of the largest economies in the world and in achieving this, their identity has been challenged by an international Western one. Despite being at the forefront of globalization, they have still maintained their identity-forming architectural heritage, largely through one of the world's most comprehensive conservation practices."
Morande's experiential learning path at Middlebury has built a strong foundation for his ambitious Watson year ahead. In the summer of 2020, he led a build crew for a Middlebury College and Habitat for Humanity collaboration that constructed student-designed affordable housing for the local community. He also took part in three community design/build projects in rural communities through the "Island|Mountain Design Assembly" program. In the first semester of his senior year, Morande spent the semester studying at the Middlebury College Center for Medieval and Renaissance Studies Oxford Humanities Program in England.
"Justin is truly a renaissance person," says Pieter Broucke, professor of history of art and architecture and head of the architectural studies track. "He used his architectural studies major to explore a broad range of academic issues and at the same time to acquire problem-solving skills that he could bring to bear in a variety of contexts."
Associate Professor of Architectural Studies John McLeod agrees. "Justin embodies leadership, imagination, independence, emotional maturity, courage, integrity, resourcefulness, and responsibility. His project will take him around the globe to investigate sense of place in various cultures and, in typical Justin fashion, I am certain he will turn the opportunity into something he can offer to the greater good."
For more information on the Watson Fellowship, visit the Middlebury College Fellowships office.