Middlebury Film Professor Ioana Uricaru Named 2022 Guggenheim Fellow, Receives Rome Prize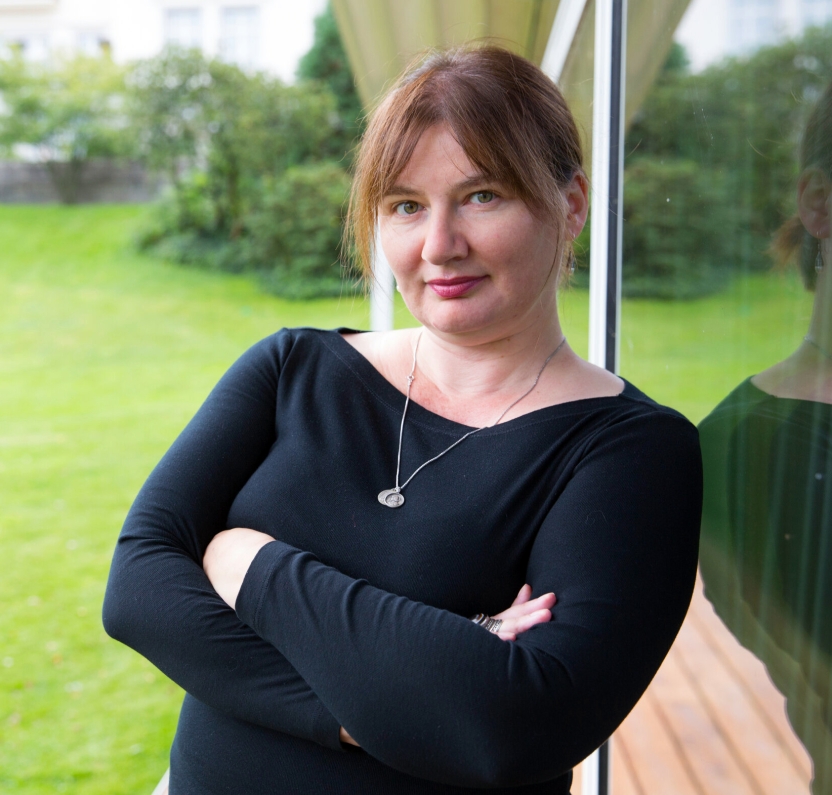 Associate Professor of Film and Media Culture Ioana Uricaru has been appointed a Guggenheim Fellow in film and video for 2022. She is one of 180 artists, writers, scholars, and scientists to receive the honor and was selected among 2,500 applicants. She has also received received the Rome Prize from the American Academy in Rome.
Guggenheim
Open to citizens and permanent residents of the United States and Canada, Guggenheim grants are awarded "on the basis of prior achievement and exceptional promise," according to the John Simon Guggenheim Memorial Foundation. They provide fellows with blocks of time in which they can work with as much creative freedom as possible and without any special conditions attached. Fellows may spend their grant funds in any manner they deem necessary to their work.
"As a department, we are incredibly proud to see our colleague honored by such a prestigious award," said Louisa Stein, chair of the Department of Film and Media Culture. "Moreover, her success demonstrates how students at our small liberal arts college have the opportunity to work with the highest level of filmmakers."
Uricaru, who joined Middlebury in 2012, teaches courses in directing, screenwriting, editing, and filmmaking for change, among other topics. She is also an active director and screenwriter whose films have been included in the official selections at festivals, including Cannes, Sundance, and American Film Institute (AFI).
She is especially interested in stories that reconsider the historical past, focus deeply on the details of lived experience, or interrogate the relationship between the United States and the rest of the world.
Uricaru's first feature film as a writer-director, Lemonade (2018), was developed through the Cinefondation Residency of the Cannes Film Festival and at the Sundance Directors' lab program. Lemonade premiered in the official selection of the Berlinale and went on to be showcased in dozens of international festivals, winning several best film awards, the Heart of Sarajevo for Best Director award, and an Independent Spirit Award nomination.
Uricaru was born in Romania and grew up during the country's communist dictatorship, experiencing the violent anti government uprising in 1989 and the equally traumatic transition that followed. She initially studied biology, graduating with a master of science in biochemistry from the University of Bucharest before she decided to become a filmmaker.
She relocated to Los Angeles in 2001 to study at the University of Southern California's School of Cinematic Arts, where she received her MFA in film and television production and a doctorate in critical studies.
"Ioana is richly deserving of this prestigious fellowship," said Jim Ralph, dean of faculty development and research. "She is a remarkable filmmaker, whose recent feature film Lemonade garnered well-earned praise and acclaim, and she is an innovative and visionary teacher."
Created and initially funded in 1925 by Senator Simon and Olga Guggenheim in memory of their son, John Simon Guggenheim, the John Simon Guggenheim Memorial Foundation has sought to "further the development of scholars and artists by assisting them to engage in research in any field of knowledge and creation in any of the arts, under the freest possible conditions."
"It is a special joy to celebrate the Guggenheim Foundation's new class of fellows," said Edward Hirsch, president of the Guggenheim Foundation and 1985 Fellow in Poetry in an announcement from the Foundation. "This year marks the Foundation's 97th annual Fellowship competition. Our long experience tells us what an impact these annual grants will have to change people's lives. The work supported by the Foundation will aid in our collective effort to better understand the new world we're in, where we've come from, and where we're going."
The Rome Prize
These highly competitive fellowships support advanced independent work and research in the arts and humanities. This year, thirty-eight American and four Italian artists and scholars received the fellowship. They will each receive a stipend, workspace, and room and board at the Academy's eleven-acre campus on the Janiculum Hill in Rome, starting in September 2022.
The Rome Prize and Italian Fellowship winners will be presented in person during the annual Arthur and Janet C. Ross Rome Prize Ceremony. Nationwide, the Rome Prize competition received 909 applications, representing 47 US states and territories and 19 different countries. Thirty-three Rome Prizes were awarded to 37 individuals—four prizes are collaborations—representing an acceptance rate of 3.6 percent.
Uricaru will spend her upcoming sabbatical year writing the screenplay for and developing her new feature "Ursa Major."