Middlebury Welcomes Khuram Hussain as Vice President for Equity and Inclusion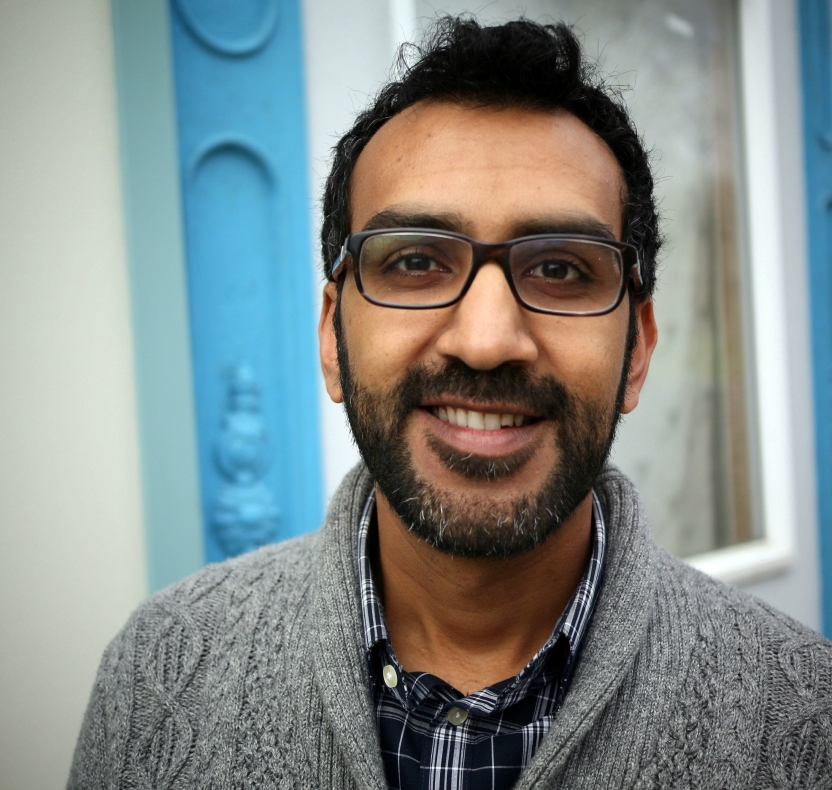 President Laurie Patton sent the following message in an email to the campus community on Monday, April 18.
Dear Middlebury Community,
I am delighted to share the news that Khuram Hussain has been named Middlebury's vice president for equity and inclusion. With deep experience as an administrator, scholar, and educator, Khuram comes to us from Hobart and William Smith Colleges (HWS) in Geneva, New York, where he currently serves as vice president for diversity, equity, and inclusion, and associate professor of education. Khuram will start working at Middlebury on July 1.
Khuram's appointment is the result of a competitive national search led by a committee of faculty, staff, and students in collaboration with the firm Storbeck Search. He will build on the excellent work that Professor Miguel Fernández has accomplished during his seven-year tenure as our chief diversity officer.
Khuram will report to me and serve as a key member of our Senior Leadership Group, while leading the talented staff of the Office of Institutional Diversity, Equity, and Inclusion (OIDEI), and staff the Board of Trustees' standing subcommittee on equity and inclusion. He will direct the implementation of our Action Plan for Anti-Racism, Diversity, Equity, and Inclusion and serve as a resource for our Language Schools, Schools Abroad, Bread Loaf School of English, the Middlebury Institute of International Studies, and all other Middlebury programs around the world.
The search committee was most impressed with the depth of Khuram's expertise on inclusion and equity issues, his ability to implement a vision with conviction and compassion, his commitment to liberal learning, and his work across many aspects and in many different offices of higher education.
In his current leadership role at HWS, he has coordinated the implementation of their Strategic Diversity Plan; developed the Council on Diversity, Equity and Inclusion; designed and implemented the STEM Scholars Program for historically underrepresented scholars in STEM fields; and partnered with Human Resources, faculty leadership, and administrative leadership to revise recruitment and selection policies and procedures to better support diversity, equity, and inclusion.
Khuram holds a PhD in cultural foundations of education from Syracuse University, where he was awarded the All University Dissertation Prize; a master's in American history from Binghamton University; and a bachelor's in American history and political science from Oswego University.
In addition to his DEI work, he teaches classes that explore social movements for racial justice in schools and the pedagogy of democratic, multicultural classrooms. His research examines social actors who work to reinscribe schooling as a site for culturally responsive, community-oriented, democratic learning. He has published numerous journal articles, and his book, Weapons for Minds: Visual Thought in Muhammad Speaks, 1960–1975, is under contract with Johns Hopkins University Press.
Khuram has also served as a dialogue facilitator, trainer, and consultant to schools, universities, government offices, nonprofits, and community organizations on issues of diversity and equity. His work has been recognized by the NAACP, the U.S. Armed Forces, and community and campus organizations nationwide. He is the cofounder of Tools for Social Change (TFSC), a dialogue-driven initiative that advances equity and inclusion in the Finger Lakes region of New York. As a member of TFSC, he helped design and facilitate Geneva's largest grassroots self-study on diversity, equity, and land use. Khuram also collaborated with the U.S. Department of Justice to sustain Geneva's Community Compact between communities of color and law enforcement.
I would like to take this opportunity to express my gratitude to the members of the search committee, who worked tirelessly to fill this essential position. They include Christal Brown, associate professor of dance, Twilight Artist in Residence; Myles Maxie '22, chair of Concerned Students of Middlebury; Chair of Community Council David Miranda Hardy, associate professor of film and media culture; Morgan Moore MA '22, Middlebury Institute of International Studies Student Council president; Sabino Morera, associate professor of Latin American and Hispanic studies, Middlebury Institute of International Studies; Mark Orten, dean of spiritual and religious life; Mark Spence '98, trustee, dean of student engagement at Noble and Greenough School; and Steve Snyder, vice president for Academic Affairs and dean of Language Schools, Kawashima Professor of Japanese Studies. Tara Affolter, associate professor of education studies, and Renee Wells, assistant vice president of education for equity and inclusion, also consulted with the search committee in the early months of the search.
Please join me in welcoming Khuram to our community and continuing the all-important work of equity and inclusion at Middlebury.
Sincerely,
Laurie Patton
President