Kate Reinmuth '17 Named Knight-Hennessy Scholar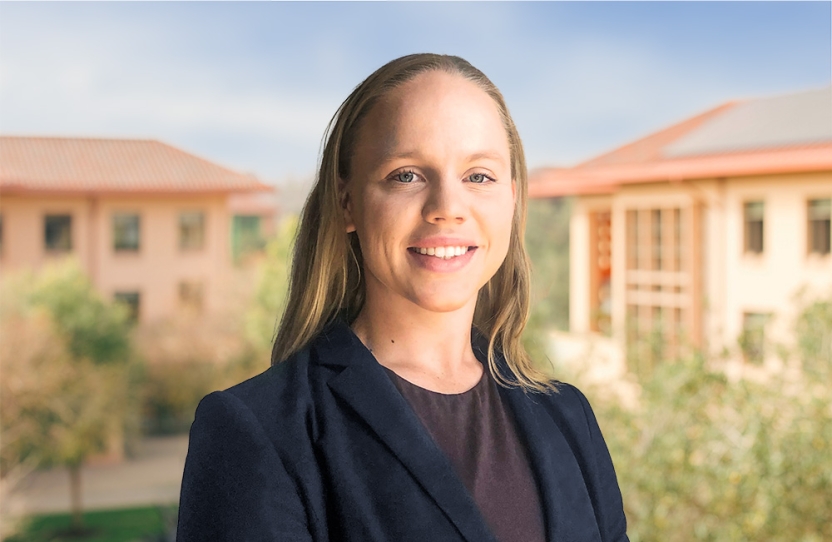 Kate Reinmuth, a member of the Middlebury Class of 2017, has been awarded the Knight-Hennessy Scholarship to support graduate studies at Stanford University. Reinmuth, of Olympia, Washington, is pursuing a PhD in economics at Stanford School of Humanities and Sciences jointly with a JD at Stanford Law School. She graduated summa cum laude from Middlebury with a bachelor's degree as a double major in economics and political science.
The 2022 cohort includes 70 new scholars, with students from 27 countries, who will pursue degrees in 35 graduate degree programs across all seven of Stanford's graduate schools. Knight-Hennessy scholars participate in the King Global Leadership Program and receive up to three years of financial support to pursue a graduate degree program in any of Stanford's seven graduate schools.
"I was fortunate to teach Kate in several courses at Middlebury, and to supervise her award-winning senior honors thesis in political science, so this award does not surprise me," said Matt Dickinson, professor of political science. "She is an exemplary scholar, and we have co-authored several papers on topics ranging from the presidential nominating process to health care to loyalty and expertise in Donald Trump's White House staff and are currently working on a study of the Biden White House—all this while she pursues degrees in economics and law! She has a bright future, and for selfish reasons I hope it is focused on the study of politics. In the meantime, I am proud to call her a colleague."
Reinmuth is planning for a career in national economic policy related to applied microeconomic topics ranging from innovation to inequality of opportunity to anticompetitive corporate behavior. She has spent time working with organizations like the Vermont Legislative Joint Fiscal Office, The Brookings Institution, the White House Council of Economic Advisers, and NERA Economic Consulting. At NERA, she analyzed the potential anticompetitive effects of proposed merger and acquisition transactions worth as much as $34 billion.
At Middlebury, Reinmuth was elected to Phi Beta Kappa and was awarded the Johnson Prize in economics and the Kvasnak Award in political science. As a member of the Panther women's soccer team, she was named a College Sports Information Directors of America (CoSIDA) Academic All-District student athlete.
"Kate was the ideal liberal arts student: smart as hell, hard-working, curious, broad-minded, passionate about all that she did, and committed to public service," said Peter Matthews, professor of economics and one of Reinmuth's advisors. "And if that weren't enough—an accomplished athlete."
Knight-Hennessy Scholars develops emerging leaders who have a strong multidisciplinary and multicultural perspective, a commitment to the greater good, and the tools needed to drive meaningful change. Scholars are selected based on their demonstration of independence of thought, purposeful leadership, and a civic mindset.
For More Information