Two Middlebury Graduates Awarded Gates-Cambridge Scholarships
Recent Middlebury graduates Yardena Gerwin '22.5 and Hoang Minh Hieu Nguyen '23, have been awarded the Gates-Cambridge Scholarship, which will fund a one-year master's degree at the University of Cambridge.
Gerwin and Nguyen will join 77 scholars from around the world as part of this year's cohort. 
"I am thrilled about the selection of Hieu and Yardena as Gates Cambridge Scholars—it is so well deserved," said Lisa Gates,) associate dean for fellowships and research (no connection to the Gates-Cambridge Scholarship). "This is a testament to their intellectual acumen, tenacity, and demonstrated commitment to improving the lives of others. The Gates Cambridge is an intensely competitive scholarship, so it is impressive we have two scholars selected in the same year."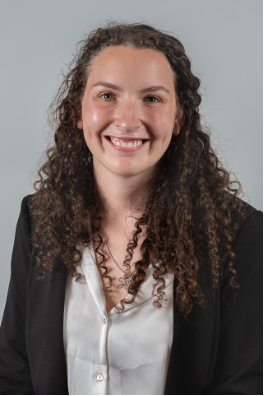 Yardena Gerwin
Gerwin was an independent scholar in disability studies and social determinants of health who used her academic research methodologies and theories of disability to interview people with disabilities in corporate positions. At Cambridge, she will pursue a master of philosophy in health, medicine, and society.
Her research investigated the relationship between employees who do not disclose disabilities and companies that do not grant workplace accommodations or include people with disabilities in diversity metrics. Gerwin said she wants to dedicate her work to breaking the cycle of poor workplace accommodations for employees with disabilities.
Gerwin's research at Middlebury prompted the Center for Career and Internships (CCI) to create a position for Gerwin, who served as a peer-specialist in career counseling for students with disabilities. explained Dee Gilbert, associate director for employee development, who worked with Gerwin to develop career-readiness resources for students with disabilities.
"Yardena is a fierce advocate for inclusion," "She helped students advocate for themselves and search for opportunities that celebrate the abilities of all people." 
Gerwin explained that the master of philosophy in health, medicine and society at Cambridge will help her unravel how inaccessibility has long excluded individuals with disabilities from spaces and places. "Ultimately, studying at Cambridge will equip me to help reshape institutions and create a more accessible future," she noted.
Hoang Minh Hieu Nguyen
Nguyen, a neuroscience major, focused his senior thesis on the potential of testosterone to treat  age-related memory loss. At the University of Cambridge, he will pursue a master of philosophy in medical science, exploring why some cancers—specifically glioblastoma—can resist therapy so rapidly. 
While interning in a neurology clinic at the Memorial Sloan Kettering Cancer Center, Nguyen observed many patients with glioblastoma, an incurable form of brain cancer. 
"One of the saddest moments I witnessed was when the doctor had to break the news to a patient who had just finished painful and extensive surgery, radiation and chemotherapy that their tumor had recurred," said Nguyen. "I remember the frustration of everyone in the room. Why does this cancer have that ability to resist therapy so quickly?"
Nguyen said he is looking forward to working with Dr. Richard Mair, assistant professor in neurosurgical oncology at the University of Cambridge, who has established a tumor bank program that may help answer some of Nguyen's research questions. 
At Middlebury, Nguyen has worked closely with Professor of Biology Mark Spritzer on various projects in his research lab. 
"Hieu has been an exceptionally independent, dedicated, and hard-working student," said Spritzer. "On top of his ability to excel academically, Hieu is a very grounded and kind-hearted person, and it has been a pleasure to work with him."
The Gates-Cambridge Scholarship was created in 2000 when the Bill and Melinda Gates Foundation announced a $210 million donation to the University of Cambridge. The international scholarship funds outstanding graduate students from outside the United Kingdom to study at Cambridge. Since the first class in 2001, Gates-Cambridge has awarded 2,104 scholarships to students from 111 countries.