Brian Foster '13
Coverage Team, Coinbase Institutional + Coinbase Ventures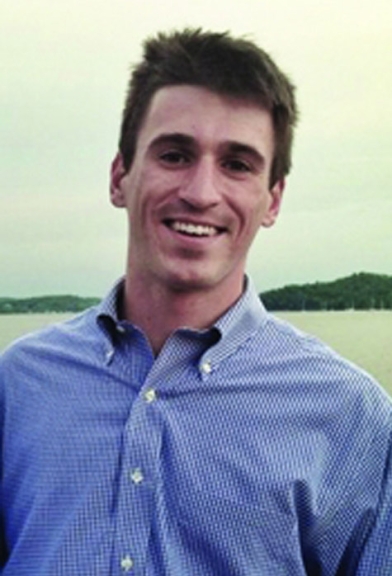 Additional Programs
English and American Literatures
Coverage Team, Coinbase Institutional + Coinbase Ventures
"Being an ENAM major makes you more valuable to your company."
Tell us about what you do. What do you love most about your job?
I work at Marker, a venture capital firm based in New York City and Herzliya, Israel. We invest in high growth tech startups, mostly at the series A stage onward. As an Analyst, I do a little bit of everything: outreach, product due diligence, investment pipeline management, marketing, etc. My favorite parts of the job are getting to interact with inspiring coworkers and learning something every day from entrepreneurs taking big swings of the bat.
What have been your key career milestones?
I became interested in early stage technology companies during the summer after my freshman year. At the time, I was launching a travel services startup called The Panther Group and quickly realized how critical technology was for scaling and managing operations. I spent time in college growing that business and working at a small seed fund called the Vermont Center for Emerging Technologies (VCET). During my junior summer, I also worked with Middlebury alum Brian Sirkia '12 at his startup, Rocket Listings. All of these experiences provided me with an outlet for hands-on learning beyond the classroom. It was a lot of trial and error.
By graduation, I had the bug and decided to join a venture-backed financial tech startup called BuysideFX (founded by Ty Danco, '78). We raised a seed round from a few angels, Atlas, and Google Ventures, built and shipped a software product, and navigated through our fair share of challenges. One of the perks of this job was that my boss encouraged me to help with fundraising and start building relationships with investors. This was a motivating factor because I knew I wanted to pursue VC long-term. Eventually, one of these investors, Rick Scanlon ('93), was crazy enough to make me an offer. I made the move to New York in July 2014, and so far, I've thoroughly enjoyed my time with Marker. The team is demanding, and I feel fortunate to have a window into two of the fastest-growing startup ecosystems in the world (NYC and Israel)/.
How has the ENAM major influenced your life after graduation?
The translation is indirect for most ENAM majors unless they continue in academia, and I'm no exception. But that's OK. Focusing so much time on reading and writing in college has served me well in all of my jobs. The context in the business world is different, to be sure, but many of the processes and modes of thinking bear similarity. For instance, a product due diligence report is essentially a research paper. You need to think across a variety of dimensions, talk to people, and distill everything into a conclusion that can be communicated to the stakeholders. Almost any marketing and sales project rests on the same framework. These are simplifications, of course, but I think they hold true.
How did being an ENAM major prepare you for your work and career?
ENAM helps you build a sensitivity to other people and their perspectives. This is useful all of the time; most of business is selling, and selling is listening and learning. I've found that it isn't very different at a startup than at a venture firm, at the end of the day. Each partnership and deal hinges on someone's ability to relate to another person by understanding their motivations and then aligning interests. It's so hard to be "on" in this way around the clock, so I'm working on it…but books and discussion sessions were great ways to train!
The other asset that ENAM leaves you with is confidence with writing. It's hard to overstate how central writing is to most jobs on a day-to-day basis. I would guess that in aggregate, we spend at least 50% of our time at Marker writing. Emails, reports…it goes on. Of course, at a company that builds products, more bandwidth will be dedicated to coding and operations, but these firms still rely heavily on sales and biz dev personnel who can write.
Finally, what advice or suggestions do you have for current ENAM majors as they consider their post-Middlebury futures?
I am a believer in looking beyond predictable career paths. For ENAM majors examples might be management consulting, teaching, graduate school, or journalism. These are great options, but you'll be competing with lots of other English majors and end up in a culture with similar people. This might be what you're looking for, which is fine. But there are entire industries out there starving for good writers and communicators. I am biased, of course, but tech and finance certainly qualify.
A second theme I've observed is that most undergrads overestimate—or maybe misunderstand—"risk" as they think about launching their careers. Parents, professors, and classmates encourage us to avoid risk altogether, but in fact, the alumni I know who are most satisfied about where they are seem to have made calculated bets that paid off in one way or another. If there's a commonality among them, I would say they chose to invest in specific relationships with people they respected, rather than defaulting out of the gate to the "safety" of a recognizable brand or the bigger signing bonus.
To get back to English: the degree will be valuable no matter what you do once you've landed somewhere, but it alone probably won't get you in the door. Fairly or unfairly, most employers don't have any idea how hiring an ENAM major will add to their bottom line. That's OK. The best companies look for something beyond what's on paper, and for good reason. So it's worthwhile to spend time refining and practicing your story. Be able to explain what ENAM taught you and how your analytical and writing ability can help them. Then, be able to show them what else you can bring to the table: creative thinking, a technical skill, a project you've worked on before, or some kind of unique interest, for example. It's a good idea to invest in other raw skills too, of course, like coding, design, public speaking, Excel modeling, trading, or a foreign language. Finally, I think it's helpful to really get to know the employer and their specific needs. It's easy to cut corners here when you're applying to a dozen places, but your story will be a lot more compelling if you can demonstrate that you really understand their business.
Learn More About the English and American Literatures Department at Middlebury