David Barker '06.5
Director of Fort Greene Park at NYC Parks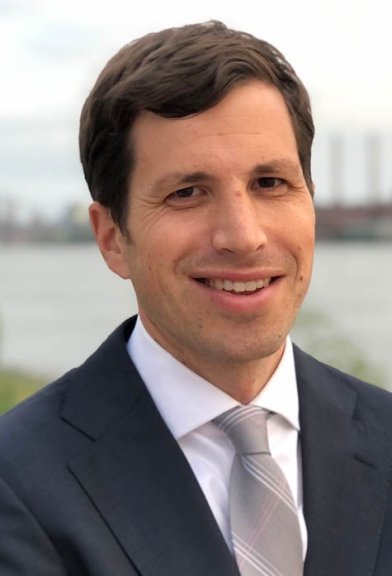 Geography major, Spanish minor
Director of Fort Greene Park at NYC Parks
"I loved Geography classes because they tackled tangible, real world issues and processes. You'd be reading an academic article about urban change in NYC and then be able to see up close what was being described on a fall break trip. Or you would make a connection between a lecture and the landscape in your hometown. In short, the major helped me understand how places develop and evolve and how the connections between people in places matter. It helped me see and appreciate details on the landscape that I would have otherwise missed. Yes, I used technical skills like Geographic Information Systems (GIS) early in my career but I probably rely on the more general, softer skills like being able to multi-task, work in teams, and write and speak well."
Tell us what you do.
I manage a busy and historic 30-acre park at the edge of downtown Brooklyn, overseeing maintenance, operations, and community relations. There's a lot of variety. On a typical day I might be leading a volunteer clean-up, meeting with a friends-of-the park group, or reviewing permit applications for concerts and other events.
What have you done since Middlebury?
After a short stint living with friends in Bozeman, MT, I was accepted into the NYC Urban Fellows Program, a 9-month city government fellowship with 30 other recent grads where you get placed at a city agency or mayoral office and have weekly meetings with city leaders. It was an amazing introduction to how a city runs. The fellowship placed me at the Parks Department where I helped implement an initiative to bring New Yorkers within a 10-minute walk of a park by building community playgrounds in over 200 schoolyards around the city. I have since held several different positions within the Parks Department in the realms of strategic planning, policy, and now operations.
How has the Geography major influenced your life after graduation? 
I loved Geography classes because they tackled tangible, real world issues and processes. You'd be reading an academic article about urban change in NYC and then be able to see up close what was being described on a fall break trip. Or you would make a connection between a lecture and the landscape in your hometown. In short, the major helped me understand how places develop and evolve and how the connections between people in places matter. It helped me see and appreciate details on the landscape that I would have otherwise missed. Yes, I used technical skills like Geographic Information Systems (GIS) early in my career but I probably rely on the more general, softer skills like being able to multi-task, work in teams, and write and speak well.
When did you know which major you were going to choose?
The first classroom I walked into (at 8 am, ugh!) was a Geography freshman seminar called Landscapes through Literature. I was pretty hooked on Geography from that point.
How did you decide what career path you wanted to pursue after graduating?
I interned with NYC Parks after reading a Middlebury Magazine article on former NYC Parks Commissioner and MIddlebury alumnus, Adrian Benepe. The parks field combined my love for the outdoors and tackled a lot of the urban processes and trends I studied in the classroom. The timing worked well because the Bloomberg Administration had just unveiled a super ambitious blueprint for park development. I wanted to be involved.
Finally, what advice or suggestions do you have for current Geography majors as they consider their post-Middlebury futures?
Be confident and know that while you might not be as technically savvy as someone with say an Urban Planning or engineering degree, the generalist skills you develop will serve you well in your career and earn you a seat at any table. Just because you took a bunch of mapping courses doesn't mean you need to only consider GIS technician jobs. Your knowledge of the mapping programs will help you be able to communicate and work with the GIS specialists. Also find a Middlebury club or student organization and get involved in a leadership role. The managerial skills you develop will be just as valuable as anything you learn in the classroom.
Connect with David on LinkedIn.
Learn more about the Geography Department at Middlebury