Gillian Lui '13
Sustainability Program Manager at REI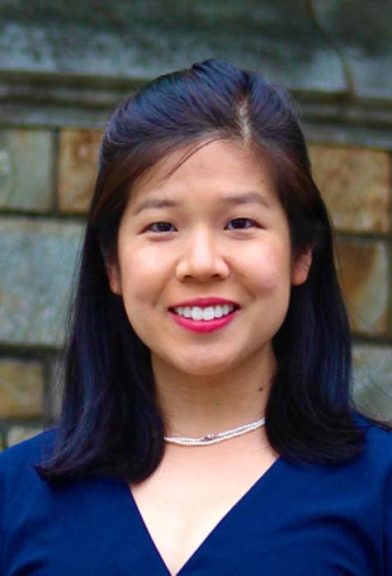 Environmental Studies and Biology (joint major), minor in Mathematics
Sustainability Program Manager at REI
"I knew I wanted to study environmental studies heading into my freshman year at Middlebury. I believed then, as I still do now, that climate change is the biggest challenge facing all of humanity today, and knew that a degree in environmental studies would unlock opportunities for me to build a career solving interdisciplinary climate challenges. What drew me to enrolling in Middlebury in the first place was, in part, the fact that I'd be able to study environmental discourse at the nation's oldest undergraduate environmental studies program."
Tell us what you do.
I am the Sustainability Program Manager at REI, an outdoor retail cooperative that aims to inspire and enable a life outside for all. In this role, I work to refine and execute against REI's climate strategy, covering a range of topics including decarbonizing REI's supply chain and operations; carbon accounting and reporting; carbon neutrality; environmental and climate justice; and Environmental, Social, and Governance (ESG) risk management — all with an eye towards scaling similar action at scale across the outdoor and retail industries. One of the things I like most about my role is its interdisciplinary nature; I get to work across various partnerships to tackle complex and meaningful climate and environmental challenges from all different angles.
What have you done since Middlebury?
After graduating from Middlebury, I pursued a research Master's degree in Forest Ecology and Conservation as a Keasbey Scholar at the University of Cambridge. My research focused on using emerging technologies to better understand patterns of global tropical deforestation. While I enjoyed engaging in the process of scientific discovery (which was part of what motivated me to go to grad school in the first place!), I was also itching to ensure the translation of the type of research findings I was producing into on-the-ground change.
So, after completing my degree, I transitioned into a Climate Research Fellow position at the Stanford Woods Institute for the Environment and The David and Lucile Packard Foundation. In this role, I advanced The Packard Foundation's US$50M annual climate grantmaking portfolio, driving solutions across land use, climate innovations, and clean energy, with a focus on mitigating the impacts of agricultural supply chains in Southeast Asia.
This work convinced me of the need to focus on driving business solutions to climate change, and inspired my transition to corporate advocacy non-profit Ceres. With Ceres, I helped Fortune 500 consumer brands manage social and environmental supply chain risks. Wanting to build more fluency at the intersection of business and the environment, I decided to pursue an MBA degree at Yale School of Management, with support from the Switzer Foundation. I spent the summer between my 2-year MBA program advancing climate strategy at transportation network company Lyft, through the Environmental Defense Fund Climate Corps Fellowship, and, after graduating with my MBA in Spring 2021, took on my current role at REI.
How has the Environmental Studies/Biology major influenced your life after graduation?
Working on climate change solutions inherently requires interdisciplinary thinking. Middlebury's Environmental Studies program - with core course requirements spanning the natural and social sciences - equips students particularly well in this regard. Layer on top of that Middlebury's fundamental commitment to the liberal arts, and Midd grads are armed with a vast fabric of relevant perspectives and frameworks for inquiry that they can lean into as their environmental careers progress.
Many of Middlebury's fist-class, hands-on field courses in the natural sciences also afforded me a deeper understanding of the environmental work that I went on to do after graduating. I appreciated how so much of the learning within the Environmental Studies program happens outside of the lecture hall: in lab, hiking through forests, wading through rivers. These sensory, first-hand learning opportunities directly complemented, for example, my Master's research, which involved observing forest dynamics through pixels on a computer screen.
When did you know which major you were going to choose?
I knew I wanted to study environmental studies heading into my freshman year at Middlebury. I believed then, as I still do now, that climate change is the biggest challenge facing all of humanity today, and knew that a degree in environmental studies would unlock opportunities for me to build a career solving interdisciplinary climate challenges. What drew me to enrolling in Middlebury in the first place was, in part, the fact that I'd be able to study environmental discourse at the nation's oldest undergraduate environmental studies program.
How did you decide what career path you wanted to pursue after graduating?
As a senior at Middlebury, working in corporate sustainability strategy wasn't even on my radar; back then, I was primarily interested in pursuing a career in academia. However, my career since Middlebury has taken me across the academic, philanthropic, non-profit, and corporate sectors. Although my career path has felt far from clear whilst I've been navigating it, the North Star that has guided the evolution of my career since Middlebury has been my commitment to working on the most impactful climate change solutions, and building out a toolbox of skills along the way that will best support this commitment. I was born and raised in Silicon Valley, and am a strong believer in these words from Steve Jobs: "You can't connect the dots looking forward; you can only connect them looking backwards." This idea has remained largely true for me. As long as you have some guiding principle around the kind of impact you want to have in this world, the individual stepping stones will fall into place as they should, and the collective path will crystallize in retrospect. Just be sure to enjoy the journey!
Finally, what advice or suggestions do you have for current Environmental Studies majors as they consider their post-Middlebury futures?
There is no better time to be studying environmental studies than now. Your talents and perspectives will be in high demand, so commit to doing some soul-searching around where specifically you want to continue growing into within this broad field, and pursue whatever surfaces from that discovery process wholeheartedly and with a growth mindset.
More tangibly, I think that being a so-called "T-shaped" individual is one of the best ways you can excel in interdisciplinary settings, including my current world of corporate sustainability strategy. What this means is that you have both general skillsets (the horizontal part of the "T") and deep expertise in a specific area or two (the vertical part of the "T"). A liberal arts degree is a great place to start to build the general skillset, and what will give you an extra advantage in the workforce is building out technical expertise (that's why I decided to pursue a specialized research Master's post-Midd).
Finally, there's a lot of inspiration to be gleaned from being at a school like Middlebury that "walks the talk" - on, e.g., carbon neutrality, clean energy and energy conservation initiatives, sustainable investments, land stewardship etc. Take full advantage of the broad and rich community of environmental practice outside of the classroom to continuously build and hone relevant skills, perspectives, and connections in the environmental arena.
Connect with Gillian on LinkedIn.
Learn more about the Environmental Studies Department at Middlebury