Leah Day VanHorn '07.5
Chief of Staff & Vice President of Strategic Initiatives, Central Park Conservancy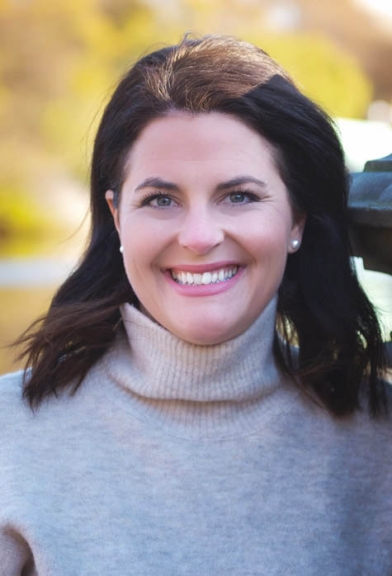 Theatre major, English minor
Chief of Staff & Vice President of Strategic Initiatives, Central Park Conservancy
"Follow your heart. Don't be afraid to venture outside of your major to explore subjects that might not be as comfortable but could help round out your experience at Middlebury. Theater students have a lot to offer to classes and peers outside of the theater program - be bold, be curious! I'd also suggest you not be afraid to reach out to alums who share your major to ask for advice or connections. We are a family!"
Tell us what you do.
The mission of the Central Park Conservancy is to preserve and celebrate Central Park as a sanctuary from the pace and pressures of city life, enhancing the enjoyment and wellbeing of all. The City of New York has entrusted the Central Park Conservancy with the complete day-to-day care of this iconic public space, which requires dedicated expertise from over 300 Conservancy employees who tend to the Park's complex maintenance, restoration, and architectural needs. I serve as a special advisor to the President & CEO of the Conservancy, helping to execute her strategic vision for Central Park and ensure organizational alignment with this vision across the Conservancy. I also work alongside the executive and senior leadership teams to initiate and execute strategic objectives and new ventures and organize and prioritize critical issues in order to facilitate efficient decision making.
What have you done since Middlebury?
Prior to joining the Conservancy, I spent ten years at Lincoln Center for the Performing Arts where I was the founding producer of the Lincoln Center Global Exchange, a gathering of world leaders dedicated to exploring how art and artists are catalyzing innovative solutions to urgent global challenges. I also spent four years growing a robust private event rental portfolio for Lincoln Center and two years as a member of the Strategy & Business Development team.
How has the Theatre major influenced your life after graduation? 
My focus on Theatre gave me the confidence and social emotional skills to make it in almost any field I chose to pursue. I am huge believer in the power of soft skills and the arts regardless of what your chosen career path may be. I currently work for a cultural organization that is not directly related to the arts and I consistently use the breathing, projection, communication, , organization, and collaboration skills that were instilled in me when a theatre student at Middlebury. Furthermore, the friendships I made in the Theatre Department still stand strong today. I cherish the creative freedom I was given and the strong support system I had in my professors and peers as I  explored my pursuit of the arts. One J-term class "Acting for the Camera" introduced me to a mentor who felt I might be interested in and good at Casting. I took that advice, got an internship at a Broadway casting house, and it opened up a whole new world to me - the business and administrative side of the arts.
When did you know which major you were going to choose?
End of first year.
How did you decide what career path you wanted to pursue after graduating?
I knew that in order to pursue Theatre, New York City was the place to be. I arrived shortly after Feb graduation - with very little money, lots of anxiety, and a lot of dreams and ambitions - to complete an unpaid internship at a small 99-seat theater for emerging artists. I was hired by a Middlebury alum and subsequently helped several other Midd alums land internships / jobs there. It became a sort of Middlebury "home away from home" in an otherwise very large scary city.
Finally, what advice or suggestions do you have for current Theatre majors as they consider their post-Middlebury futures?
Follow your heart. Don't be afraid to venture outside of your major to explore subjects that might not be as comfortable but could help round out your experience at Middlebury. Theatre students have a lot to offer to classes and peers outside of the theatre program - be bold, be curious! I'd also suggest you not be afraid to reach out to alums who share your major to ask for advice or connections. We are a family!
Connect with Leah on LinkedIn.
Learn more about the Theatre Department at Middlebury