Peter Burke '94
Assistant Vice President, John Hancock Financial Services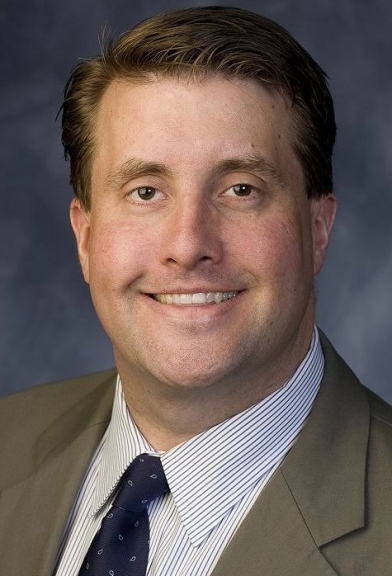 Additional Programs
Classical Studies
Assistant Vice President, John Hancock Financial Services
"Classics taught me to take the long view. Latin taught me to solve problems. And Middlebury taught me to know my audience."
What have been your key milestones since graduating from Middlebury?
When I graduated from Middlebury in 1994, I did not have a clear plan for the future.  I spent the year after I graduated as a Residence Hall Advisor.  So it was in 1995 that I put Middlebury in the rearview mirror.  A few weeks later, in July of 1995, I began working for the company that still employs me.
I have utilized my time at Hancock Financial Services to obtain several business, insurance, and financial industry designations, and have worked in Life Insurance, Mutual Funds, Annuities, and Long-Term Care. I began managing staff in 1996 when I took on a team of newly-hired call center representatives servicing Life and Annuities.  In 1998 I became a manager in Annuity Operations.  In 2003 I moved to Long-Term Care.  I moved into a director role, and then in 2007 into an officer role with the company. At every turn I sought the opportunity to learn what each new role had to teach me, to make the job my own, and to take course work and certification opportunities to broaden my knowledge. In more recent years I have joined the boards at a bank and a scholarship committee, both of which keep me connected to my local community.
How has the classical studies major influenced your life after graduation?
My education has influenced most facets of my life.  I guess the easiest example is my choice in literature.  Whether reading fiction, non-fiction, or fact-based fiction, I love work that spans decades and centuries, the origins and the evolutions, the accidents that move history.
How have the skills, knowledge or dispositions you learned as a classical studies major translated into your career?
Classics taught me to take the long view.  Latin taught me to solve problems.  And Middlebury taught me to know my audience. 
In studying the classics, it is impossible not to see the events of a period on a continuum of what came before and after.  That is the perspective I bring to every job, every management team, every project:  Are we solving different problems than we were six months ago?  Could we be where we are now without the work we have done to date?  The questions are rhetorical, but asking them is important so as to maintain confidence while moving forward during uncertain times.
In attacking problems, as with parsing Latin text, there is always a variety of ways to get at something very close to "right", without always being "literal".  In short, good enough sometimes has to be good enough.  Strive for better, refine, learn, refine again, but do not pursue elusive perfection; do not let perfect be the enemy of good. 
Finally, in writing papers, taking exams, arguing a point with friends or professors, it was essential always to know an audience.  The same is true in business and in life.  The most eloquent message will not resonate with its recipient if it is inconsiderate of the audience.
Did you know what career path you wanted to pursue after graduating?
Unequivocally, no.  I often joke that no one plans to major in classics and no one plans to be a financial services executive.  Each is incredibly enriching and edifying, but neither was my self-willed path. 
Finally, what advice or suggestions do you have for current classics majors as they consider their post-Middlebury futures? 
Realize that college has provided an expansive education.  The learning, the knowledge, the awareness you have pursued was all around you for four years.  The coursework was important, but still just a piece of the whole.  Apply the entire education to your life's work, personally and professionally.
Learn More About the Classical Studies Department at Middlebury