Rebecca Reingold '07
Associate Director, O'Neill Institute for National and Global Health Law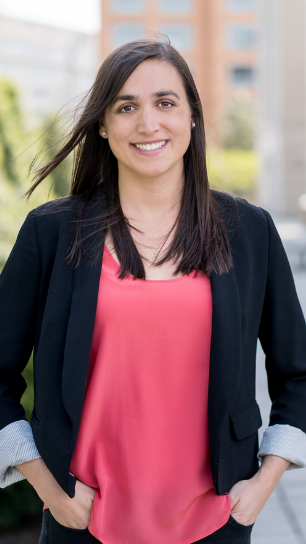 International and Global Studies/Anthropology, Latin American Studies, Spanish
Associate Director, O'Neill Institute for National and Global Health Law
"My IS major helped me develop various skills that I have used regularly throughout my career and continue to use today, namely the ability to think critically and creatively, incorporate interdisciplinary and intersectional analyses, write clearly and persuasively, and collaborate with people from many different parts of the world."
Tell us what you do.
At the O'Neill Institute, we develop innovative law and policy solutions for critical health problems at local, national and global levels. My work in the field of global health law focuses primarily on health and human rights, sexual and reproductive rights, and violence against women and girls in Latin America and the Caribbean.
What did you do after Middlebury?
I began my professional career with the NGO AmeriCares, identifying and responding to significant disparities in health globally through large-scale donations of medicines and medical supplies. My experience at AmeriCares not only strengthened my belief that access to basic health care services is a fundamental human right, but also convinced me of the need to work towards systemic change to address the root causes of poor health, particularly among women and girls.
That realization prompted me to attend law school, where I focused my studies on understanding how law, particularly international human rights law, can be used as a tool for solving health problems at local, national and global levels. During and immediately following law school, I sought out opportunities to serve as an intern and consultant for NGOs and international organizations working to advance the human rights of women and girls around the world, including Women's Link Worldwide, the Center for Reproductive Rights, and the Pan American Health Organization. I also served on the Board of Directors of Law Students for Reproductive Justice (now If/When/How) during this time.
Immediately prior to joining the O'Neill Institute, I served as an Advocacy Coordinator at International Planned Parenthood Federation/Western Hemisphere Region, advocating for the advancement of sexual and reproductive rights in global and regional United Nations processes and providing technical assistance to NGO partners from Latin America and the Caribbean.
What was the influence of your major on your professional and personal development?
My IS major helped me develop various skills that I have used regularly throughout my career and continue to use today, namely the ability to think critically and creatively, incorporate interdisciplinary and intersectional analyses, write clearly and persuasively, and collaborate with people from many different parts of the world. I still love traveling internationally, and feel very lucky that it continues to be a big part of my job.
When did you know which major you were going to choose?
If I remember correctly, I did not know which major I would choose until well into my sophomore year. I seriously considered at least three other majors before deciding to major in International Studies, which I ended up choosing because it checked the following boxes: global, interdisciplinary, flexible, and just a little bit structured.
How did you decide what career path you wanted to pursue after graduating?
I had a sense that I wanted to work at the intersection of public health and policy as early as my senior year of high school, when I took the elective course "Issues in Science". The course was an introduction to bioethics and sparked my interest in how complex health problems can intersect with questions of morality, religion, economic inequality and human rights.
Beyond being certain that I wanted to work on these issues in the non-profit sector, I did not have a clear idea of what my career path would look like when I graduated Middlebury. Each of the professional and educational experiences I have had since, however, have helped me to better understand what type(s) of job(s) I find most fulfilling and allow me to make a meaningful contribution in this field.
What is your advice for current students?
Consider working for a few years before pursing a graduate degree, network with lots of people working in your desired field to better understand the different career paths available, and be open to unexpected opportunities that present themselves during and after college.
Learn More About the International Studies and Global Studies Department at Middlebury