Sawyer Tadano '21
Assistant English Teacher, Kitami Board of Education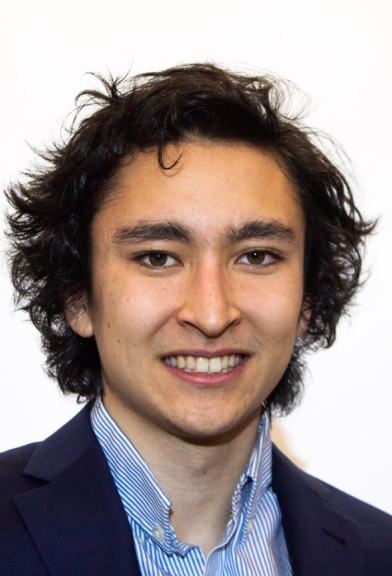 Japanese Studies and Physics (double major)
Assistant English Teacher, Kitami Board of Education
"Although the language skills and the cultural knowledge that I gained as a Japanese Studies major may be more applicable to my current role, my physics major has had a lasting impact on how I view the world. I was drawn to physics because it seeks to understand and explain the mechanics of the universe that we live in at the subatomic scale through particle physics but also at the scale of solar systems through general and special relativity. Although technological advances have allowed physicists to experimentally confirm the existence of the Higgs Boson and gravitational waves, our understanding of the fundamental rules that govern the universe remains incomplete. While this can be a frightening realization, I find it both humbling and exciting that there are truths about the universe that remain unknown to us. This fact keeps me grounded in my daily life and has helped me to appreciate the complexity of the world around us."
Tell us about what you do.
I am currently working as an assistant English teacher in Hokkaido Japan. I work at five different middle and elementary schools, teaching kids from third to eight grade not only English but also the value of learning about foreign cultures. In the classroom, I work alongside homeroom teachers, planning lessons and facilitating games to make learning English fun and engaging. During recess, you can usually find me in the gym playing dodgeball or tag. In addition to teaching, I am pursuing the first level of the CFA in addition to my Japanese language proficiency exam and hope to leverage these certifications to transition to a career in finance.
What have been your key milestones since graduating from Middlebury?
I graduated Middlebury at the end of May, flew to Japan at the beginning of July and began working as an assistant English teacher in August. I have only just begun my post-graduate life, but I look forward to creating future milestones!
What was the influence of your major(s) on your professional and personal development?
Although the language skills and the cultural knowledge that I gained as a Japanese Studies major may be more applicable to my current role, my physics major has had a lasting impact on how I view the world. I was drawn to physics because it seeks to understand and explain the mechanics of the universe that we live in at the subatomic scale through particle physics but also at the scale of solar systems through general and special relativity. Although technological advances have allowed physicists to experimentally confirm the existence of the Higgs Boson and gravitational waves, our understanding of the fundamental rules that govern the universe remains incomplete. While this can be a frightening realization, I find it both humbling and exciting that there are truths about the universe that remain unknown to us. This fact keeps me grounded in my daily life and has helped me to appreciate the complexity of the world around us.
When did you know which major you were going to choose?
Freshman year, I cast a wide net, taking classes in philosophy, anthropology, computer science, math, in addition to physics and Japanese Studies. As a sophomore, I continued to take classes in areas that I found interesting and let this process inform my decision to major in physics and Japanese studies. The multidisciplinary approach of a liberal arts education helps to develop strong critical thinking and communication skills that can be applied to most careers. Because of this, I was able to make my decision to major in physics and Japanese studies independently of deciding a career path.
How did you decide what career path you wanted to pursue after graduating?
I did not begin to seriously consider what career path I wanted to pursue until the end of my junior year at Middlebury. Studying abroad in Tokyo had helped me to realize that I wanted to be in Japan after graduation, but beyond that, I did not have a clear picture of what type of company or industry I wanted to work in. Although I enjoyed my physics classes, I knew that I did not want to work in a lab or go to grad school right out of college. With little direction in what career path to pursue, I turned to CCI who recommended networking with Middlebury alumni. Conversations with Middlebury alumni led me to take classes through Harvard Business School Online's CORE program which explored business fundamentals from microeconomics to financial accounting. Having had a positive experience taking these classes, I began applying to finance jobs in Japan the Fall of my senior year. Although I was unsuccessful in getting an offer, the job process challenged me to better articulate why I wanted to pursue a career in finance and improve my business Japanese. In the spring, I continued to apply to positions in Japan, but I found myself in May, less than a month before graduation, without a job offer. It was at this point that I decided to pivot and reached out to a connection I had made in Japan the summer before studying abroad, which led me to my current position as an assistant English teacher. While this is not the path that I had envisioned for myself at the outset of my job search, I am thankful for the opportunity to work in Japan, and I love that my job allows me to work with kids on a daily basis. As I look ahead towards my next step, I hope to leverage the knowledge gained from studying for the CFA as I apply to positions in finance this Fall.
Finally, what advice or suggestions do you have for current students as they consider their post-Middlebury futures?
For current Middlebury students considering their post-Middlebury futures I have two pieces of advice.
First, figure out what you enjoy doing. Reflect on what you enjoy about your major and pay attention to projects and assignments that excite you. Look into careers that align with your interests and don't be afraid to look at careers unrelated to your major because the critical thinking skills developed through a liberal arts education can be applied to any job.
Second, take advantage of the Middlebury alumni network. Networking gives you access to hundreds of alumni who are successful in their respective fields, and most are more than happy to help out a Middlebury student. Talking with alumni is not only an opportunity to learn about their experiences but also a chance to practice articulating your interest in a given career.
Good luck!
Learn More About the Japanese Studies Department at Middlebury
Learn More About the Physics Department at Middlebury
>>Go back to the Alumni Profiles page.