Actors From The London Stage: Much Ado About Nothing
–
Wright Theatre
96 Chateau Road
Middlebury, VT 05753
View in Campus Map
$25/$20/$10/$5
Open to the Public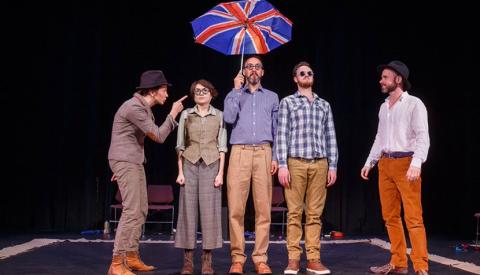 One of the most historied Shakespeare theatre companies in the world takes on the Bard's comedic masterpiece, exploring two wildly different romances, each wrapped in secrets and trickery. Co-founded by Sir Patrick Stewart in 1975, Actors From The London Stage embraces theatrical simplicity at its finest. Five actors take the stage, with minimal props and costumes, and direct themselves in a performance of a complete Shakespeare play, with each actor portraying multiple roles. Their goal: to interpret Shakespeare's text as a blueprint for a performance—and as a gateway to its wide-ranging, transformative poetry.
"Actors have a personal connection with dramatic texts, which is distinctive and different from the scholars. Our program gives the actor a unique platform from which to explore with professors and students what he or she does and why it is done."—Sir Patrick Stewart, Founding Director
Performance subject to change.
General Admission Tickets:
$25 General public | $20 Middlebury ID holders | $10 Youth (Under 21) | $5 Middlebury students
This series event is supported by the Departments of English and American Literatures and Theatre, and is made possible with generous support from Raphael and Jane Bernstein.
At the MAC, we remain hopeful that we will present live, in-person events for on- and off-campus audiences in spring term. Current guidelines allow for visitors to attend approved campus events and programs, including Performing Arts Series presentations. Full vaccinations with boosters (or valid medical or religious exemptions) and masks are required. Should campus circumstances change, we will contact ticket holders and post updates via ArtsMail and our website. Thank you.
Visitors cannot come to campus if any of the following apply:
They have tested positive for COVID-19 within five days of their arrival date.
They are experiencing COVID-19-like symptoms.     
They have been exposed to a COVID positive individual within five days and they are not fully vaccinated and boosted (if eligible for a booster shot). 
Visitors must follow CDC guidance (as applicable to their vaccination status or confirmed COVID-19 diagnosis within the previous 90 days) and the College's Visitor Policy before they are permitted on campus.
Sponsored by:

Performing Arts Series; Theatre; English & American Literatures