Faculty at Home Webinar Series with Christal Brown and Lida Winfield
–
Virtual Middlebury
Open to the Public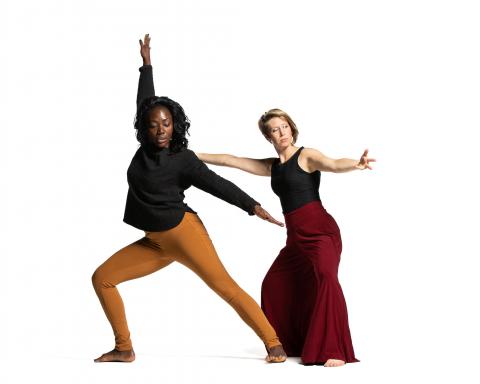 Same but Different is a dance-theater performance created and performed by Christal Brown and Lida Winfield. The scholar-artists explore their similarities and differences in a cultural commentary on race, age, and gender. In this webinar, the artists will share excerpts of the work and discuss how it is a reflection of their lived values, artistic practice, and communal existence.
Christal Brown, associate professor of dance, is the founder of INSPIRIT and Project: BECOMING, the creator of the Liquid Strength training module for dance, and the CVO of Steps and Stages Coaching, LLC. Christal is a mover and a warrior of change and transformation. Combining her athleticism, creativity, love for people, and passion for teaching, she creates works that redefine the art of dance, the creation of identity, and structures of power.
Lida Winfield, visiting assistant professor of dance, is an innovative and accomplished dancer, choreographer, spoken-word artist, and educator who performs and teaches nationally and internationally. She creates original work merging storytelling, dance, and visual art. Lida's artistic practice is inextricably linked to her role as an educator and is rooted in inclusion, access, and the recognition that our brains and bodies work differently and this difference is a valuable asset.
Sponsored by:

Provost's Office; Office of Advancement