Join some of Middlebury's expert and engaging faculty members for interactive talks—from home.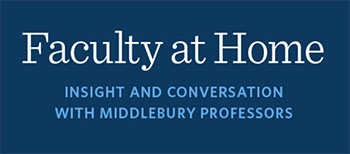 Faculty at Home extends Middlebury's academic reach to our community around the world. This webinar series invites you to engage in the digital space, to stay connected with faculty members, with big ideas, and with each other.
Moderated by Caitlin Knowles Myers, John G. McCullough Professor of Economics, and Sarah Stroup, associate professor of political science, this series will stimulate thought-provoking online conversations for the benefit of the Middlebury community far and wide. Faculty at Home is supported by numerous staff members—some of whom are still working from home.
A note about webinar times:  All webinars are 45 minutes long and all, except one, begin at 4:15 p.m. Eastern Time.  The webinar on February 15, 2022, will begin at 7:00 p.m. Eastern Time. 
Generally, we open up the webinar 5 - 10 minutes ahead of the start time.  This offers attendees the chance to let everyone know (via Zoom chat) that they are present and where they are joining from.  Zoom settings only allow attendees to see the chat activity from the time they log in, so if you'd like to say hello, consider logging in early.
See the list on the left of this page to find recordings of webinars that have already occurred.  Recordings are posted about a week after the live event.
Ajay Verghese
Is ethnic violence in the non-Western world a legacy of colonialism or the precolonial period? Professor Verghese evaluates these competing perspectives using the influential case of Hindu-Muslim violence in India. He has constructed a new dataset of all conflicts between Hindu and Muslim states from 1000 to 1850 AD and finds that historical violence began around 1700 AD—before the British ruled the subcontinent. 

Ajay Verghese (PhD, George Washington University), assistant professor of political science, wrote his first book, The Colonial Origins of Ethnic Violence in India, in 2016. He has published articles in Modern Asian Studies, Terrorism and Political Violence, the Journal of Development Studies, and Politics & Society, and his article in Politics and Religion received the Ted Jelen Award. He is currently writing his second book, which examines secularization in Hinduism, a project that has been funded by the Fulbright Program and the American Institute of Indian Studies.

Hosted by Caitlin Myers, John G. McCullough Professor of Economics.
 
Gregory Pask
Smell is the most important sense in the life of an insect. It drives critical behaviors such as foraging for food, finding a mate, and locating an egg-laying site. But ants living in a colony also need to communicate with their sisters! And some fireflies have gone to the "dark side" and no longer produce dazzling courtship displays at night. Our current research fueled by Middlebury students aims to understand how these powerful sensory systems evolved.
 
Gregory Pask (BS, Muhlenberg College; PhD, Vanderbilt university), assistant professor of biology, is an insect neurobiologist in his second year at the College. You can find him in Middlebury adventuring in nature with his family, playing pickup basketball, raving about Marvel comics, or enjoying a maple creemee.

Hosted by Sarah Stroup, associate professor of political science.
Monday, January 24
Paratexts: What they are and what they can teach us about Arabic literature in translation
Dima Ayoub
What happens to our reading of modern Arabic literature in English translation if the role of the paratext, instead of the text, is foregrounded? Paratexts are any aspect of a text's accompanying material. These include titles, subtitles, prefaces, forewords, afterwords, notes, introductions, epigraphs, blurbs, book covers, and dust jackets. This talk focuses on the ubiquitous use of paratexts in translations of Arabic literature from 1950s to the present as a crucial site of translation in translation.

Dima Ayoub (BA, University of Windsor; PhD, McGill University), is assistant professor of Arabic, C.V. Starr Junior Faculty Fellow in International Studies, and the former director of the Middle East Studies program. Her book manuscript Paratext and Power: Modern Arabic Literature in Translation rewrites the social and cultural history of modern Arabic literature in translation by centering the role of publishers, translators, and paratexts, in addition to writers. Professor Ayoub specializes in translation studies, feminist and queer theory, and postcolonial studies. Parallel to her book project, she is currently developing a digital archive of modern Arabic literature in English, French, German, and Spanish translation.

Hosted by Caitlin Myers, John G. McCullough Professor of Economics.
Tuesday, February 15
Embracing Tradition, Memories, and Reconciliation for Intercultural and Cross-Generational Empowerment and Transformation
Sanae Eda, Kristen Mullins, Hideko Russell, and Linda White
Embracing Tradition, Memories, and Reconciliation for Intercultural and Cross-Generational Empowerment and Transformation is a project at Middlebury College that involves the translation, analysis, and archiving of historical records of Tenryumura, a mountain village in Nagano Prefecture, Japan. Tenryumura is a community whose history includes a complex and acknowledged role in wartime Japan; and a desire to understand and keep this history, and its lessons, known. The scope and goals of the project are being developed in collaboration with, and at the request of, leaders of Tenryumura. The webinar will include discussion about how this project and the relationships that make it possible have developed over the past years, and the potentially broad implications of this work.

Sanae Eda (MA, University of Puerto Rico; PhD, The Ohio State University), associate professor and director of the Middlebury College School in Japan, began her career at Middlebury in the Language Schools in 1994. She has served as director of the School in Japan since 2010. 

Kristen Mullins, assistant director of Middlebury College Center for Community Engagement (CCE) and specialist of Intercultural and Global Programs and the CCE, has been partnering with the School in Japan since 2016 to offer collaborative community-connected opportunities for Middlebury students.

Hideko Russell (BA University of Sacred Heart (Japan); MA, Middlebury Institute of International Studies), associate professor and program head of Japanese Translation and Interpretation, began her career as a freelance translator and interpreter in Japan. She lives in Monterey and focuses on translating nonfiction books.

Linda White (BA, Michigan State University; MA, Cornell; PhD, University of Colorado), associate professor of Japanese, wrote Gender and the Koseki in Contemporary Japan: Surname, Power, and Privilege, a book that analyzes feminist activism to change the household registration law in Japan. She teaches in International and Global Studies and is a core member of the Gender, Sexuality, and Feminist Studies program.

Hosted but Sarah Stroup, associate professor of political science.

Please note time for this webinar. 
Louisa Burnham
Limoux Negre struck out on his own in the early 14th century. Calling the Church a bunch of cheaters, he rejected orthodox beliefs and replaced them with a heretical hodgepodge that astonishes us as much as it horrified the contemporaries who burned him at the stake. Mary was a surrogate mother, Jesus was a murderer, and the world was created from coagulated urine. In an age of intolerance, Limoux espoused equal salvation for Jews, Muslims, and Christians. Who was Limoux Negre? What stories lay in his past?
 
Louisa Burnham (AB, Harvard; PhD, Northwestern) teaches all things medieval in the History Department but has a particular passion for heretics.  

Hosted by Caitlin Myers, John G. McCullough Professor of Economics.
Emily Bartels, Beverly Moss, and Tom McKenna
How do free-verse poetry nights, donated pears, indigenous survival stories, graduate Shakespeare courses, and documentary film point toward a more just and equitable world? Anchored in graduate study at the Bread Loaf School of English, BLTN teachers in public schools across the U.S. and abroad share practice for transformative teaching and learning. Join Bread Loaf Teacher Network's leaders to learn the enduring features and practices of a professional learning network focused on advocacy literacy and youth engagement. 

Emily C. Bartels (BA, Yale; PhD, Harvard) is dean of the Middlebury Bread Loaf School of English and professor of English at Rutgers University (New Brunswick). A Shakespearean scholar specializing in representations of race, Emily came to BLSE in 1995 and, well, never went home.  

Beverly J. Moss (BA, Spelman; PhD, University of Illinois at Chicago) is director of the Bread Loaf Teacher Network and associate professor of English in the Rhetoric, Composition, and Literacy program at The Ohio State University. Beverly's scholarship and teaching focus on literacy in African American community contexts. She spent several years as a BLSE faculty member before transitioning to directing BLTN. 

Tom McKenna (BA, Middlebury; MA, Bread Loaf) is BLTN director of communications. Tom's affiliation with BLTN spans 30 years, from his earliest years teaching in rural Alaska through later years in urban Alaska classrooms, school administration, and university teaching. 

Hosted by Sarah Stroup, associate professor of political science.
Ata Anzali
In this lecture, Professor Anzali will first share the most commonly accepted view among Muslims regarding the process by which the Qur'an came to be the book that it is now. He will then compare and contrast this view with the latest academic theories that have been developed to shed light on the intricate process that led to the formation of the most sacred source of Islamic faith, the Qur'an.

Ata Anzali (PhD, Rice University, Houston), associate professor of Islamic studies, has been teaching at Middlebury since 2012. He has had extensive traditional training in Islamic seminaries in Iran and received his PhD in the study of religion after he moved to the United States. He is the author of 'Mysticism' in Iran: The Safavid Roots of a Modern Concept.

Hosted by Caitlin Myers, John G. McCullough Professor of Economics.