Join some of Middlebury's expert and engaging faculty members for interactive talks—from home.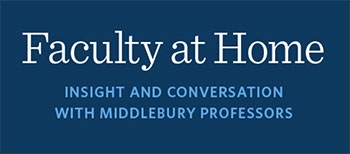 Faculty at Home extends Middlebury's academic reach to our community around the world. This webinar series invites you to engage in the digital space, to stay connected with faculty members, with big ideas, and with each other.
Moderated by Caitlin Knowles Myers, John G. McCullough Professor of Economics and Sarah Stroup, Associate Professor of Political Science, this series will stimulate thought-provoking online conversations for the benefit of the Middlebury community far and wide. Faculty at Home is supported by numerous staff members—almost all of whom are working from home.
Fall 2021
We will be announcing our line up for 2021-22 later in the summer of 2021.  In the meantime, please enjoy the recordings of the webinars that were held previously.  Links to the recordings are below and on the upper left of this page (on three subpages).