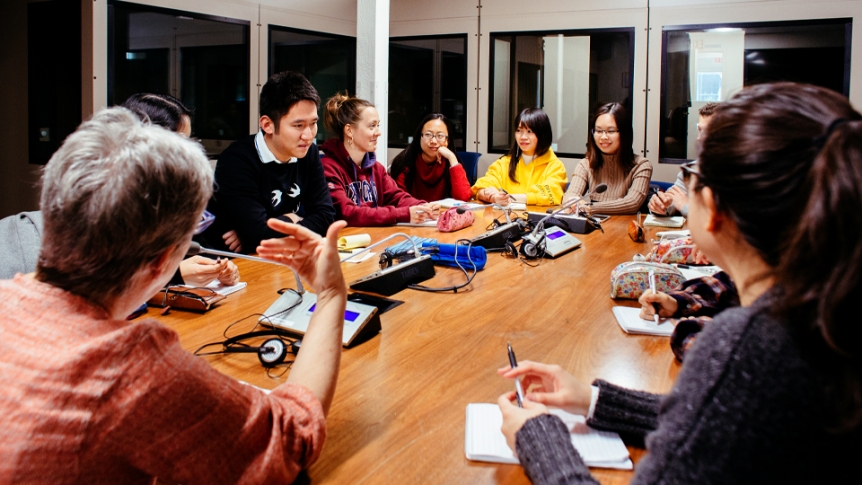 We are a community full of creative and ambitious people with brilliant and compelling ideas for the future, and Middlebury engages in strategic planning to make sure we are being the best educational institution we can be. 
The world around us is changing, creating new challenges and new possibilities that we want to equip ourselves and our students to embrace. We need to continue to break new ground in higher education and make a difference in the world. Resources are finite and the priorities we set for their use need to be based on a shared framework for decision making.
Middlebury's strategy is guided by the Strategy and Programs Committee of the Board of Trustees and carried out by the president and the provost's Academic Council. The provost regularly consults with the College's faculty Strategy Committee, the Institute Council, and the deans of the schools on how to best sustain the mission, vision, distinction, directions, and principles of our strategic framework.
Our Strategic Framework
Our most recent strategic planning process culminated in our Envisioning Middlebury Strategic Framework.
The framework is an active strategy that requires continual participation by the community that crafted it. It is not a checklist of things to do, but rather a strategy that will guide Middlebury's work now and into the future.
The framework includes the following:
A mission statement that describes who we are on our best day.
A vision statement that imagines the world we want to help create.
Our distinctions—strengths shared by the many programs and disciplines that comprise Middlebury's educational opportunities.
The directions that will inform our next decade of evolution.
The principles that bind our community together and undergird all our decisions.
Middlebury's Strategic Framework was adopted by the Board of Trustees in May of 2018. Since then, new initiatives have been prioritized for institutional support using this framework.  
Current Areas of Focus
Each year, specific areas of focus are articulated by Middlebury's leadership. This year, the following four themes will guide prioritization:       
Further our global connections 
Build upon Middlebury's goals around intercultural communication
Integrate or connect existing efforts across Middlebury
Focus on expanding our commitment to the environment
Active Strategic Initiatives
After reviewing initiatives proposed by faculty and staff across Middlebury, the provost's Academic Council selected a number of initiatives to receive support. These projects come from many areas of Middlebury and vary widely in content and in scope and development. 
Office of the Provost
9 Old Chapel Road
Middlebury, VT 05753