Bert Johnson
Professor of Political Science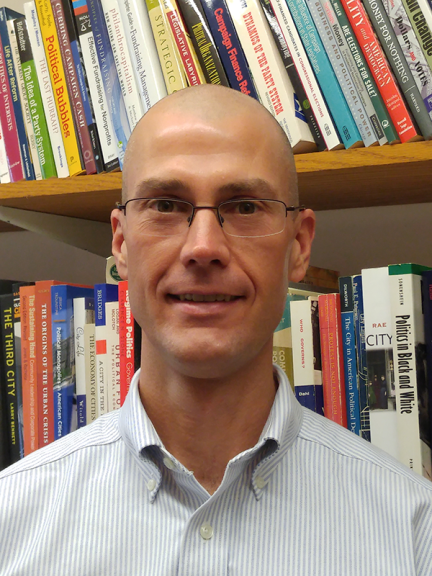 Office

Munroe Hall 304

Tel

Email

Office Hours

Wednesday 2:30 - 4:30, Thursday 3:45 - 4:45 and by appointment
Additional Programs
Bert Johnson (B.A. Carleton College, 1994; Ph.D. Harvard University, 2003) has taught American politics at Middlebury since 2004. His research and teaching interests include campaign finance, federalism, and state and local politics. Johnson is author of Political Giving: Making Sense of Individual Campaign Contributions (Boulder: FirstForum Press, 2013), and coauthor (with Morris Fiorina, Paul E. Peterson, and William Mayer) of The New American Democracy (Longman, 2011). His articles have appeared in Social Science History, Urban Affairs Review, and American Politics Research. He is owner and author of Basicsplainer.com.
Recent course syllabi are available here.
Office hours signup sheet is here.
Courses Taught
Course Description
The Future of U.S. Democracy
America's democracy faces greater challenges to its functionality, legitimacy, and perhaps continuity than at any time since the Civil War. Anti-racism protests confront entrenched institutions, systemic racism, and legacies of the past. Populist leaders upend longstanding democratic norms and disparage democracy's foundations. The pandemic threatens public health and the economy. Candidates contest the validity of election procedures, parties engage in voter suppression and disenfranchisement, and conspiracy theories—spread via social media—erode trust. Meanwhile, foreign actors exploit the same social media to sow disinformation and aid candidates of their choice. In this course we consider each of these challenges and debate whether and how they are changing democracy in America. (Pass/Fail)
Terms Taught
Winter 2021
Requirements
AMR, NOR, SOC, WTR
Course Description
Senior Thesis
(Approval Required)
Terms Taught
Spring 2019, Spring 2020
Course Description
Introduction to American Politics
This course introduces the institutions and practices of American government and politics. The aim is to give students a firm understanding of the workings of and the balance of power among the American Congress, President, bureaucracy, and court system. We begin with the Constitution, which provides the set of founding principles upon which the American government is based. We then look at how American citizens make decisions about politics. Finally, we examine how political institutions, interest groups, parties, elections, and legislative bodies and rules aggregate diverse, often conflicting preferences and how they resolve or exacerbate problems. 3 hrs. lect./disc. (American Politics)/
Terms Taught
Spring 2019, Fall 2020, Fall 2021, Fall 2022
Requirements
AMR, SOC
Course Description
Frontiers in Political Science Research
Nothing is more controversial among political scientists than the topic of how to study politics. In this course, we consider a variety of advanced techniques for studying political phenomena, including statistical methods, game theory, institutional analysis, case study techniques, experiments, and agent-based modeling. We will work with concrete examples (drawn from major political science journals) of how scholars have used these techniques, and consider the ongoing philosophical controversies associated with each approach. Students will have the opportunity to conduct original research using a method and subject of their choosing. (Any political science courses) 3 hrs. lect.disc (Methods)
Terms Taught
Fall 2020, Spring 2022, Spring 2023
Requirements
DED, SOC
Course Description
Federalism, State and Local Politics
What are the unique political opportunities and constraints facing state and local governments? How have these changed over time? In this course we examine the relationships between different levels of government in the U.S. federal system, considering the particular tasks and dilemmas facing states and cities, and scrutinizing the complex interactions between governments that characterize federalism in the United States. Topics include local political culture, intergovernmental grants, state parties, and state political economy. Vermont, New York, and California will receive special scrutiny. 3 hrs. lect./disc. (American Politics)/
Terms Taught
Spring 2019, Spring 2021, Spring 2022, Spring 2023
Requirements
AMR, SOC
Course Description
The U.S. Politics of Race, Gender, and Class
Race, gender, and class have long shaped American politics. They have formed the basis for social movements, have structured institutions, and have affected the way political actors–from voters to activists to elected officials–have made their day-to-day decisions. What do political scientists know about the roles that race, gender, and class play in politics, separately and together, and what do we yet have to learn? (PSCI 0102 or PSCI 0104) 3 hrs. sem. (American Politics) /(Critical Race Feminisms)
Terms Taught
Spring 2021, Fall 2022
Requirements
AMR, SOC
Course Description
City Politics
Cities have always been central to political life in the United States, but scholars disagree over how power is distributed in cities, which groups exercise the most authority, how cities relate to their economic and political environments, and whether it is legitimate to view cities as microcosms of state or national politics. We will consider these general debates as we read major works on U.S. urban politics, addressing issues such as racial and ethnic politics, immigration, suburbanization, and cities' positions in the global economy. (PSCI 0102 or PSCI 0104) 3 hrs. sem. (American Politics)/
Terms Taught
Fall 2021
Course Description
Independent Projects
A program of independent work designed to meet the individual needs of advanced students. (Approval required)
Terms Taught
Spring 2019, Fall 2019, Winter 2020, Spring 2020, Fall 2020, Winter 2021, Spring 2021, Fall 2021, Winter 2022, Spring 2022, Fall 2022, Winter 2023, Spring 2023, Fall 2023, Spring 2024
Course Description
Honors Thesis
(Approval required)
Terms Taught
Spring 2019, Fall 2019, Winter 2020, Spring 2020, Fall 2020, Winter 2021, Spring 2021, Fall 2021, Winter 2022, Spring 2022, Fall 2022, Winter 2023, Spring 2023, Fall 2023, Spring 2024