Welcome to Our Fall Season
Though Middlebury College's Mahaney Arts Center remains closed to the public due to the pandemic, the show must go on! Middlebury's Performing Arts Series is proud to announce an all-virtual fall 2020 season, featuring eight free, online concerts by nationally and internationally renowned musicians.
The season opens with two concerts that celebrate the artistic achievements of artists of color. Five of the eight concerts come to us from the Chamber Music Society of Lincoln Center, curated by longtime Performing Arts Series friends, cellist David Finckel and pianist Wu Han. Finally, we wrap up the fall with an exclusive concert by the Jupiter Quartet, who first appeared on our stage a decade ago, and whose star has risen ever since. With bonus content, live chats, and online residency activities, audiences will enjoy dynamic interaction with these extraordinary artists, all from the safety of home.
All concerts will be accessible via the Mahaney Arts Center's Digital Stages project, every Friday night at 7:30 P.M. from September 25 through November 13. Concerts will remain online for several days, for those who miss the Friday night events. All concerts will be free and available to all.
The all-virtual fall continues the Performing Arts Series' 101-year tradition of enhancing Middlebury's curriculum and igniting cultural and creative exploration by presenting a diverse spectrum of world-class performances and residencies for the greater Middlebury community. Middlebury is proud to have Vermont's longest-running Performing Arts Series—1,159 performances since 1919!
2020-2021 Season
We're excited to reveal the Fall 2020 Performing Arts Series. Unlike any previous season, this fall will feature eight, online concerts—all free to members of our campus and community. Bonus content, live chats, and online residency activities will ensure we still have dynamic interaction with our artists—all from the safety of home. We'll tell you about the rest of the season later this semester, when we know more about what 2021 will bring.

We are looking forward to sharing this vibrant, virtual season with you!
Friday, September 25, 2020
Imani Winds
Celebrating 20 years of music making, the Grammy-nominated Imani Winds have led both a revolution and the evolution of the wind quintet. Their dynamic playing, adventurous programming, imaginative collaborations, and commitment to education have inspired audiences of all ages and backgrounds. Though their playlist embraces traditional chamber music repertoire, they also reach forward into the 21st century, expanding the wind quintet repertoire by commissioning music from new voices that reflect both historical events and present times.

We planned to bring you this groundbreaking quintet last April, but now we proudly open the 20–21 season with the Imani Winds in an exclusive virtual concert, featuring works by John Harbison, Paquito D'Rivera, and Jeff Scott. This event is part of a digital residency that will also bring the Imani Winds into Middlebury College music classes.

"The signature contribution of this group [is] a technical ease with extravagant gestures, intense production of sound, and the daring expressive liberties that come only after musicians have developed a sixth sense of ensemble-bonding. Imani's got it all."—Philadelphia Inquirer

A Nelson Fund event.

Free
Friday, October 2, 2020
Sphinx Virtuosi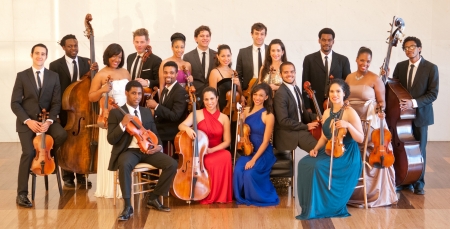 One of the nation's most dynamic professional chamber orchestras, this self-conducted ensemble is comprised of 18 top Black and Latinx classical soloists. Its national tour includes annual stops at Carnegie Hall and Miami's New World Center, bringing fresh, diverse programming to leading venues around the country. They engage in immersive outreach to bring classical music to communities nationwide, including students of all ages.

Their virtual concert program, entitled This Is America, draws inspiration from the country's most promising voices of today. "Despite the physical isolation imposed by the pandemic, we are unified through our shared commitment to social impact through our expression…we seek to find new ways to lift the voices of our black and brown communities through the lens of our black and brown musicians."

"Electrically charged performances of as high a caliber as any other professional group, but with the vital energy of a life-and-death mission."—New York Concert Review

A Nelson Fund event.

Free
CMS: FRONT ROW
The Chamber Music Society of Lincoln Center (CMS) has developed a new digital initiative enabling local venues to present CMS: FRONT ROW, a series of exceptionally high quality, digital, chamber music concerts. Middlebury is one of the national broadcast sponsors of the series, featuring beautifully shot, full-length HD performance videos from the CMS archive with remarks and Q&A sessions with the artists. Featuring multiple artists who've become dear to our campus, the series is curated by CMS co-artistic directors and Performing Arts Series friends David Finckel and Wu Han. This series will sustain audiences and provide a new way to experience this beautiful art form from the virtual "Front Row," in the comfort and safety of listeners' homes.

Our CMS: FRONT ROW broadcasts are part of the Nelson Fund series, and made possible with generous support from Raphael and Jane Bernstein.
Friday, October 9, 2020
David Shifrin, Clarinet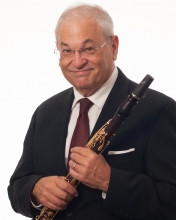 The Middlebury Performing Arts Series presents Avery Fisher Prize-winning clarinetist David Shifrin, one of only two wind players to have been awarded the prestigious prize since the award's inception in 1974. Shifrin is in constant demand worldwide as an orchestral soloist, recitalist, and chamber music collaborator. In this virtual concert, he'll perform works by Mozart, Bassi, and Duke Ellington. Fun fact: Duke Ellington performed on Middlebury's Performing Arts Series in 1960. This dynamic program also features violinists Danbi Um and Bella Hristova, violist Mark Holloway, cellist Dmitri Atapine, and pianist Gloria Chien. 

Free
Friday, October 16, 2020
Michael Brown, Piano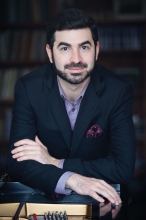 Described as "one of the leading figures in the current renaissance of performer-composers" by the New York Times, pianist Michael Brown is the winner of both Lincoln Center's 2018 Emerging Artist Award and a 2015 Avery Fisher Career Grant. He makes regular appearances with orchestras and festivals across the U.S. and was selected by pianist András Schiff to perform an international solo recital tour. In this online performance, Brown will play works by Barber and Mendelssohn, plus one of his own compositions, and will be joined by violinist Chad Hoopes, violists Paul Neubauer and Matthew Lipman, cellist Nicholas Canellakis, double bassist Joseph Conyers, and pianist Gilles Vonsattel—many of whom have appeared in our own Robison Hall. 

Free
Friday, October 23, 2020
Arnaud Sussmann, Violin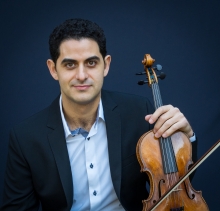 Winner of a 2009 Avery Fisher Career Grant, violinist Arnaud Sussmann has distinguished himself with his unique sound, bravura, and profound musicianship. Minnesota's Pioneer Press writes, "Sussmann has an old-school sound…a rare combination of sweet and smooth that can hypnotize a listener." Sussmann will perform Bach's Brandenburg Concerto No. 4 and Chausson's Concerto in D Major for Violin, Piano, and String Quartet. For this concert he is joined by flutists Sooyun Kim and Tara Helen O'Connor; violinists Bella Hristova, Francisco Fullana, Kristin Lee, and Yura Lee; violist Richard O'Neill; cellists Dmitri Atapine and Nicholas Canellakis; double bassist Xavier Foley; pianist Wu Han; and piano-harpsichordist Hyeyeon Park. 

Free
Friday, October 30, 2020
Alessio Bax and Lucille Chung, Pianos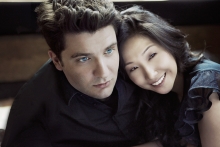 The real-life marriage of concert pianists Alessio Bax and Lucille Chung—with their abundant artistic chemistry, passion, and stunning virtuosity—has led to one of the most appealing and impressive piano duos of our time. In the words of the UK magazine Music and Arts, "Theirs is a marriage of wondrous colors and dexterous aplomb, subtly balanced to make a musical performance sound as one." Bax and Chung will perform Mozart's K. 449—and the Middlebury premiere of Bartók's Sonata for Two Pianos and Percussion—with a supremely talented group of collaborative musicians: violinists Bella Hristova and Arnaud Sussmann, violist Paul Neubauer, cellist Sophie Shao, double bassist Joseph Conyers, and percussionists Ayano Kataoka and David Rosenbaum.

Free
Friday, November 6, 2020
Gilbert Kalish, Piano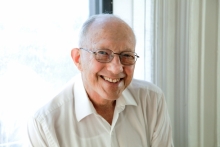 The profound influence of pianist Gilbert Kalish as an educator and pianist has established him as a major figure in American music-making, receiving the Richard J. Bogomolny National Service Award for his significant and lasting contribution to the chamber music field. He also holds the rare distinction of the longest Middlebury Performing Arts Series relationship, having first played on campus in 1966. Performing works by Crumb, Schubert, and Brahms, Kalish will be joined by soprano Lisette Oropesa, clarinetist David Shifrin, violinist Nicolas Dautricourt, violist Paul Neubauer, and cellist Torleif Thedéen. This concert is additionally made possible with generous support from Olin C. Robison.

Free
Friday, November 13, 2020
Jupiter Quartet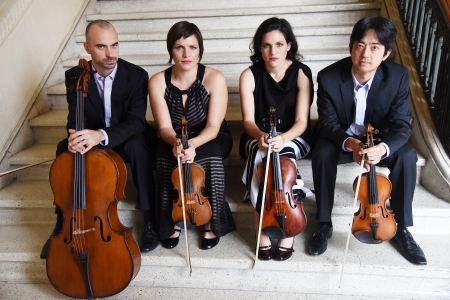 The Jupiter String Quartet is a particularly intimate group, consisting of violinists Nelson Lee and Meg Freivogel, violist Liz Freivogel (Meg's older sister), and cellist Daniel McDonough (Meg's husband, Liz's brother-in-law). Now enjoying their 17th year together, this tight-knit ensemble is firmly established as an important voice in the world of chamber music. Among their many honors are top prizes at the Banff International String Quartet Competition, Fischoff National Chamber Music Competition, Young Concert Artists International auditions, the Cleveland Quartet Award, and the Avery Fisher Career Grant.

Middlebury enjoys a long and fruitful relationship with the Jupiters, who first visited campus in 2010. Though they have often treated us to core string quartet repertoire such as Beethoven and Bartók, they are also strongly committed to new music. For this they concert, they will treat us to a program of Mendelssohn, George Walker, and Michi Wiancko.

"Jupiter, always talented, has reached that stage where musical expression, not technical proficiency, has become the focus … an intensely alert investigation of the musical possibilities in each work."—Boston Classical Review

This Nelson Fund event is made possible thanks to the Sunderman Family Concert Endowment Fund, in memory of Dr. F. William Sunderman Jr. and Dr. Carolyn Reynolds Sunderman.

Free