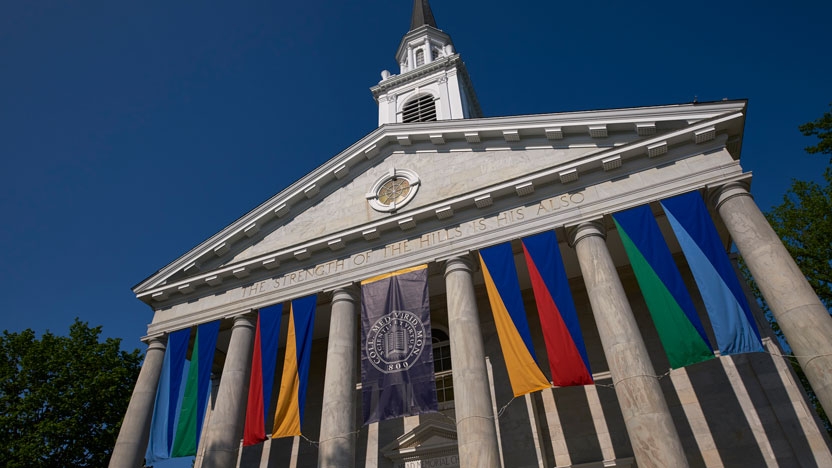 These are just a few of the many activities and events that fill the campus calendar, but they are ones many families, alums, and current students look forward to every year.
Orientation
New student orientation is a multiday program that focuses on academics, tradition, and community. Students meet with academic advisors, participate in traditions and events, and engage in community-building activities to learn the values of scholarship and community while connecting with classmates.
Fall Family Weekend
Fall Family Weekend is an opportunity for families to visit campus and participate in a wide variety of academic, social, cultural, and athletic events beginning with open classes on Friday.
Homecoming
Fall is a beautiful time of year in Vermont, and alumni and families often flock to campus for Homecoming to enjoy peak foliage, classic New England fall weather, and plenty of sports and campus traditions.
February Celebration
Each winter, the College hosts the unusual yet traditional Feb Celebration, when the graduates make their way down the trails at the Middlebury Snow Bowl in caps and gowns.
Winter Carnival
Middlebury's carnival is the oldest student-run carnival in the nation, started in 1923. Winter Carnival is traditionally held in February over three days. Central to the weekend is the NCAA ski events for alpine and Nordic skiers. Other festivities include a bonfire, fireworks, snow-sculpture making, an ice show, a comedy club, and the Carnival Ball, hosted by the Middlebury College Activities Board.
Commencement
Middlebury College usually hosts an outdoor Commencement ceremony so that our graduates may invite as many family, friends, and guests as they wish. Tickets are not required for the outdoor Commencement.
Reunion
Each year, the College hosts a Reunion weekend of fun and activities to celebrate Middlebury alumni.