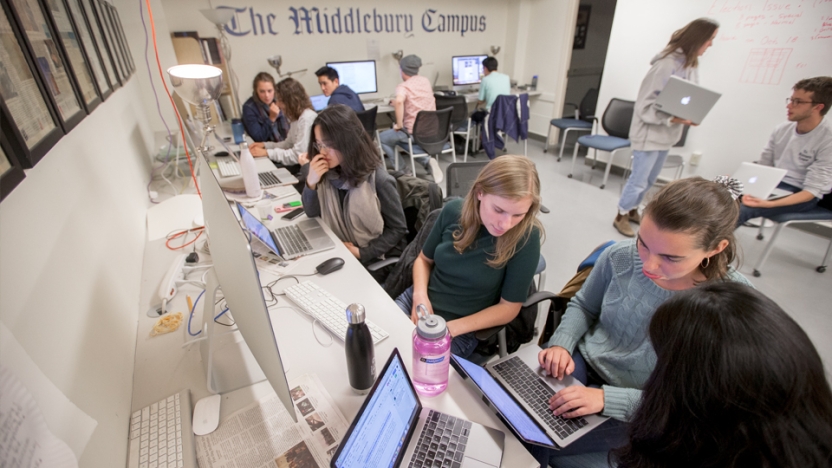 There are plenty of opportunities to find one's niche at Middlebury, whether through student activities, student government, programs and events, or groups and affiliations.
Student Activities Office (
SAO

)

We oversee programs designed to enhance students' college lives through social, cultural, spiritual, educational, student government, and physical co-curricular experiences. Student Activities is committed to helping students connect with one another and to facilitating involvement in a wide variety of activities. The Student Activities Team provides support for more than 200 student organizations, develops student leaders, and advises students in producing dozens of programs a year. We are located on the first and second floor of the McCullough Student Center.
Student Organizations
Middlebury has over 200 student organizations including a cappella, debate, publication, visual art, club sport, recreation, community service, food, cultural, academic, spiritual and religious life, political and activist, and social organizations. The Student Activities Office supports all registered student organizations, as well as students who wish to start a new organization on campus. Visit the link above to visit our campus engagement platform called Presence.
Student Government Association
The Middlebury Student Government Association (SGA) aims to accurately and equitably represent student voices and concerns on important issues. It also serves as the vehicle through which students can actively participate in the formulation of institutional policy affecting student life at Middlebury. We make student appointments to student-, joint student/faculty-, and trustee-councils and committees. We also allocate student activities fees and enable student organizations to receive funding and operate over the course of the year. The SGA has and continues to serve and represent the student body, and is committed to listening to students and implementing effective, long-lasting change.
Middlebury College Activities Board
The mission of MCAB is to enrich the quality of student life by orchestrating innovative programming, upholding College traditions, and providing a platform for students to design and execute their own events. Their four committees—Concerts, Social, Traditions, Speakers—are comprised of creative, collaborative, and community-minded MiddKids.
Middlebury Outdoor Programs
The Middlebury campus is spectacularly positioned between the Green Mountains and the Adirondacks. This location gives us easy access to a remarkable array of outdoor environments and classrooms. Middlebury Outdoor Programs LINK provides gear and resources for getting outside.
Community Council
The Community Council serves as a forum in which all segments of the College community have a voice on nonacademic issues on campus. With a membership that represents students, faculty, and staff, their deliberations and decisions consider the interests and concerns of the whole community.
The Middlebury Campus
The Middlebury Campus is the College's official student newspaper. One hundred percent student run, the paper, also known as the Campus, is published most Thursdays during the academic year. The paper covers stories across six sections: News, Opinion, Local, Arts and Sciences, Sports, and Cartoons. The staff is composed of an editor in chief, managing editor(s), section editors, and staff writers, photographers, and cartoonists.
Student Employment on Campus 
Securing a part-time job on campus allows students to acquire and hone certain workplace skills, knowledge, and abilities that can be the foundation for building a résumé.