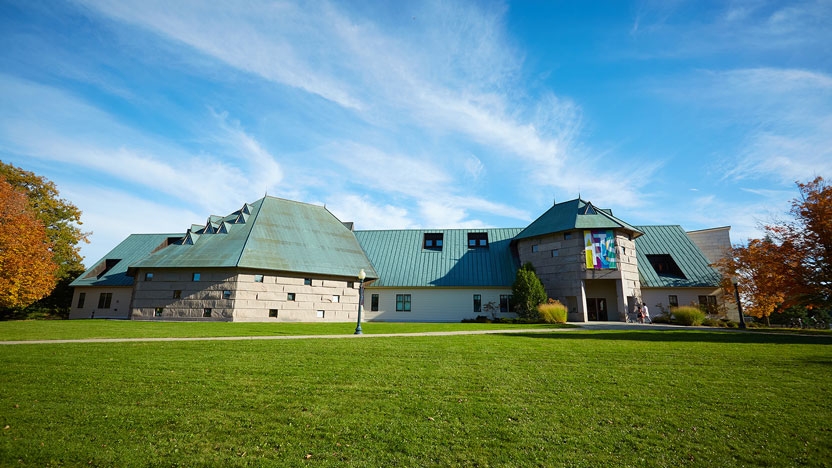 A Hub of Arts Activity
The Kevin P. Mahaney '84 Center for the Arts serves as a hub of arts activity on campus. Opened in 1992 as the Middlebury College Center for the Arts, this visual and performing arts facility serves the College and the surrounding communities. Its primary purpose is to provide an environment for the creation of art, and to invite audiences to experience the work of local, national, and international artists.  The building was renamed in 2007, helping to usher in its 15th anniversary season.
Known on campus as the "the MAC," the Mahaney Arts Center is home to the Middlebury College Museum of Art, the black-box style Seeler Studio Theatre, the dance theatre, and Robison Hall, a stunning 370-seat recital hall. The academic year is filled with a variety of exciting performances and exhibitions, offering our college community a unique opportunity to participate in the arts.
The arts extend beyond the walls of the MAC as well, with film and media culture programs in Dana Auditorium and the Axinn Center, theatre productions in Wright Theatre and the Hepburn Zoo, studio art shows in Johnson, independent student exhibitions in the Center Gallery in McCullough, special events in Mead Chapel, and more.
The CFA is now the MAC
You may have noticed the new name Mahaney Arts Center on our website and posters. You're not imagining things—we have streamlined our name!
Our building has undergone many name changes over its 25-year history.
Opened in 1992 as the Center for the Arts (CFA), the building was often referred to as the Center for Fine Arts, or simply the arts center.
 
In 2007, the building was renamed the Kevin P. Mahaney '84 Center for the Arts, or Mahaney Center for the Arts for short.
 
Not long thereafter, the acronym was adjusted to MCA. Although it appears that way in arts publications and college scheduling applications, it never really caught on. We still hear the building referred to as CFA and/or MCFA by students, faculty/staff, and community members alike.
So let's clear things up…
The official building name is unchanged and remains Kevin P. Mahaney '84 Center for the Arts.
But our informal name is now Mahaney Arts Center. And our new acronym is MAC.
Our Architecture
The Kevin P. Mahaney '84 Center for the Arts was designed and built by Hardy Holzman Pfeiffer Associates (1987–1992) as a venue for art exhibition and performance (including a surround concert hall, a studio theater, and a dance performance space), as well as a home for academic programs in theater, music, and dance.

In this facility Middlebury acquired not only a lively center for its varied arts enterprises but also an instructive work of art in its own right. Its designers set out with purpose to make it challenging, surprising, irreverent—anything but easy to take for granted. They wanted to pose problems and stimulate responses on the part of its users that would bring into focus many of the issues that post-modern architects were confronting as they sought to move away from the impersonal universal solutions, ideal Platonic forms, and "less is more" philosophy of the High International Style.

While accommodating specific functional programs with distinct identities in what amount to almost independent sub-buildings, they also created a deconstructive collage through the collision of two organizational systems—the orthogonal grid of a huge clapboarded shed (expressed with blue columns, exposed beams, skylights and courtyard paving patterns) and a great circle that spins off tangentially-related satellite volumes of distinctive forms and materials—cyclopean pink granite, gray granite curbstones, metal tiles. Contrasting textures and colors ensure the simultaneous reading of the component parts and competing systems. Vocabularies are juxtaposed in startling ways—high culture William Morris papers and flake board; custom-crafted baroque cherry railings and corrugated fiberglass; rusticated stone and vernacular block; found-object runway landing lights and warehouse fixtures. Expressions of interior and exterior become confused. Concepts of cubism are made material as varied pathways, balconies, and angled staircases lead the viewer through changing perspectives of indeterminate space over time. As is the case with the art displayed in its galleries and taking place within its performance halls, the Mahaney Center for the Arts is an invitation to experience, ponder, question, and arrive at new perceptions.
Glenn M. Andres
Christian A. Johnson Professor of Art
Director of the Arts