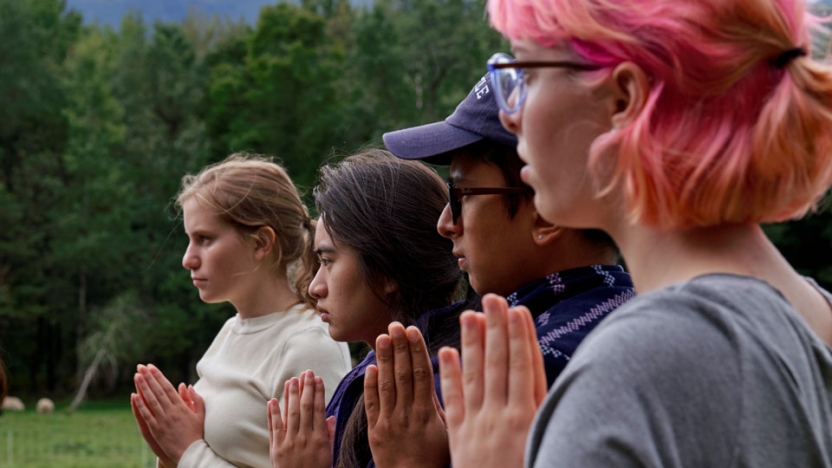 Life at college can be exciting, with great classes, lots of people, and a new community. But it can also be stressful and demanding—physically, emotionally, socially, and intellectually.
Middlebury supports your abilities to develop positive health skills and to care for yourself within the college environment over the course of your four years here.
Center for Health and Wellness
The Center for Health and Wellness promotes student well-being in a confidential environment. Parton's medical, counseling, and sports medicine staff are available free of charge to help students with physical, emotional, or interpersonal issues.
MiddSafe
MiddSafe advocates are Middlebury students committed to providing a safe and confidential resource for students in need of support and information around sexual assault, stalking, dating violence, domestic violence, and other personal violations. The student-staffed hotline is available 24/7 when undergraduate classes are in session on campus at 802-377-0239.
The online advocate tool is available 24/7/365 and provides virtual access to campus and community resources.
Additionally, health and wellness education staff members are confidential advocates. 
Public Safety
The Department of Public Safety provides services to the campus community 24 hours a day, seven days a week. The department includes uniformed security officers and telecommunications staff. Officers conduct patrols of campus properties and buildings, respond to campus emergencies, and enforce College rules and policies, including those related to parking. Public Safety officers do not have power of arrest but work closely with local law enforcement agencies. For emergency services, students should call 443-5911 or 911.

ID Cards: The MiddCard is your official form of identification at Middlebury. Students are required to carry the cards at all times. It qualifies students for certain privileges and gives appropriate access to residence halls equipped with enhanced access.
Emergency Phones and Call Boxes: Emergency phones are located at the entrances of residence halls equipped with enhanced access, in parking lots, and along some walkways.
Safety Escorts: Public Safety officers will provide safety escorts to and from on-campus locations during the hours of darkness when personal safety is a concern.
Transportation On and Off Campus
MiddRides: MiddRides is an evening transportation service on and around campus that is available during the academic year when classes are in session. Specific schedule information is available by calling 443-RIDE.
ACTR Bus: Middlebury College students, staff, and faculty ride in-town ACTR buses for free. ACTR buses provide regularly scheduled bus services in town and to the Middlebury College Snow Bowl with stops on the Middlebury College campus. ACTR also offers commuter buses to Burlington, Rutland, and neighboring towns. Staff and faculty ride commuter buses (both CCTA and ACTR) for free when they pick up a bus sticker from Human Resources. Students must pay for commuter buses. For more information call 802-388-1946 or 800-685-RIDE (7433).
Common Health Concerns
Getting accurate and up to date health information is very important. We have researched the best sites for quality health information and encourage you to use them!
If you have health questions or concerns that would best be addressed with a conversation and assessment by a health professional, please call our nurse line at (802) 443-3290.