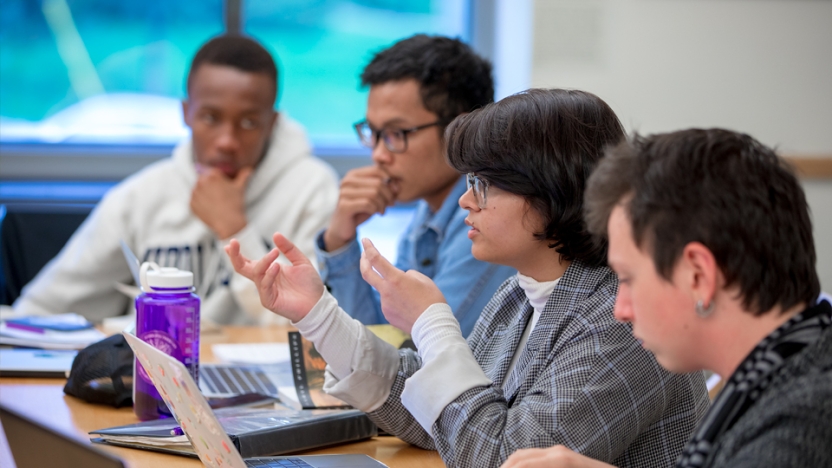 Middlebury prepares students to be active citizens and leaders who can address the world's most pressing problems.
A balance of individual and community health and growth is reflected in our community standards:
Cultivating respect and responsibility for self, others, and our shared environment;
Encouraging personal and intellectual courage and growth;
Manifesting integrity and honesty in all decisions and actions;
Promoting healthy, safe, and balanced lifestyles;
Fostering a diverse and inclusive community committed to civility, open-mindedness, and finding common ground.
With its ever-expanding focus on academics, Middlebury College ensures that each student's undergraduate education includes a breadth of experiences across many fields and disciplines. An emphasis on writing in all disciplines sharpens each student's capacity for critical thinking and expression.
Academic advising is a key to your success at Middlebury, from your first-year seminar to declaring a major to exploring preprofessional programs.
Academic Resources
Whether it's the robust offerings from the Center for Teaching, Learning, and Research, or the Axinn Center for Humanities, or our state-of-the-art libraries, Middlebury provides access to academic resources and organizations that enhance the undergraduate learning experience. 
These are some of the most commonly reviewed.
Experiential Learning
Leadership, creative thought, and intellectual risk taking: these are skills that many Middlebury students are eager to develop as they look ahead to four years of college and life beyond.
There are a multitude of experiential learning opportunities for you, on and off campus. Through the Center for Community Engagement, the Center for Careers and Internships, and the Innovation Hub, you can explore careers, classes, funding competitions, symposiums, service learning, and volunteer opportunities, as well as workspaces for ideation and collaboration. Middlebury helps students try new things and take their creative ideas forward.
Winter Term
During Middlebury's super-focused winter term in January (also known as J-term), each student enrolls in only one academic, credit-bearing course, and faculty members each teach only one course. Students can study at the College or, after their first year, away from campus; independently or as participants in a course; in their major fields or in disciplines they have never studied before. The winter term curriculum consists of a variety of interdepartmental and departmental courses of various levels.
Other Middlebury Schools and Programs
Middlebury Language Schools
Middlebury College has a reputation for excellence in language teaching at its undergraduate College, intensive summer programs, and Schools Abroad. During the summer, the Language Schools offer courses from beginning to graduate level in Arabic, Chinese, French, German, Hebrew, Italian, Russian, and Spanish; study is also offered in Japanese, Korean, and Portuguese. Approximately 1,500 students attend from all 50 states, the District of Columbia, and more than 50 foreign countries. Students sign the Language Pledge®, a promise to speak only the language they are studying for the duration of their time in the program. This complete linguistic immersion, combined with rigorous classroom learning, highly skilled professors, and scores of in-language cocurricular activities, helps students achieve dramatic breakthroughs, no matter their proficiency level. The Language Schools sessions take place on campus at Middlebury College and at Bennington College in Bennington, Vermont. 
Middlebury Institute of International Studies at Monterey
The Middlebury Institute of International Studies is a graduate school for people who want to make positive change in the world. The Institute's master's degrees focus on critical areas in rapidly growing fields, including international security, human rights and social change, language and culture, sustainable development, education, and trade. They are designed to complement your undergraduate liberal arts education with a professional graduate experience that will prepare you for an international career. As a Middlebury College student, you can take graduate-level courses at the Middlebury Institute for a semester or longer. You also have the opportunity to earn a master's degree in a shortened period of time—typically one year or 18 months as opposed to two years. Not only does this save you time and money, but you graduate fully prepared to enter the workforce in a meaningful way.
Bread Loaf School of English
The Bread Loaf School of English offers an unparalleled array of pioneering graduate courses in literature, pedagogy, creative writing, and theater arts. Bread Loaf's intensive summer program engages a dynamic community of innovative thinkers with world-renowned faculty at campuses in Santa Fe, New Mexico; Oxford, United Kingdom; and Ripton, Vermont. Rising undergraduate seniors may attend and apply graduate credits to their Middlebury degrees or get an early start on an MA in English. Special scholarships are available for recent graduates of Middlebury College.
Bread Loaf Writers' Conferences
Bread Loaf Writers' Conference, founded in 1926, is the cornerstone of the Bread Loaf Writers' Conferences, which have grown to include Bread Loaf Environmental Writers' Conference, Bread Loaf Translators' Conference, and Bread Loaf in Sicily. Some of the world's most notable writers and translators come each summer as faculty. A number of full scholarships are available to Middlebury students.
School of the Environment
Middlebury's prominence in environmental studies has produced a global network of alumni, families, and friends involved with environmental advocacy organizations. At the School of the Environment, students spend six weeks in Yunnan, China, drawing from this network and developing concrete skills with which to make positive change in the world.