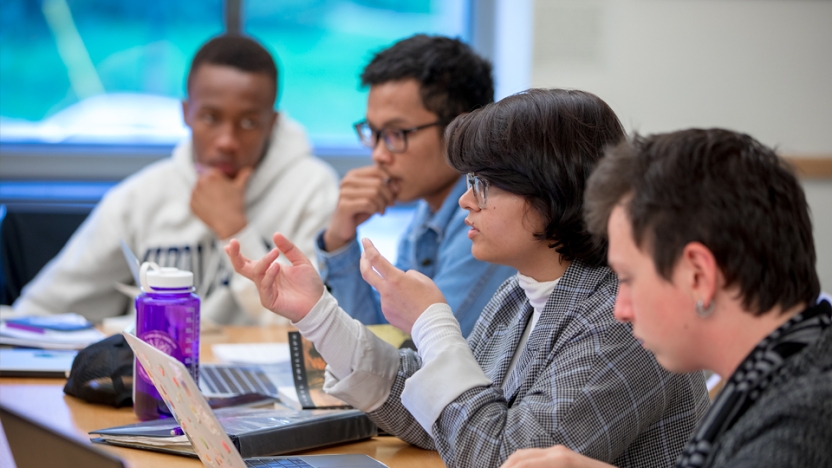 Middlebury prepares students to be active citizens and leaders who can address the world's most pressing problems.
A balance of individual and community health and growth is reflected in our community standards:
Cultivating respect and responsibility for self, others, and our shared environment;
Encouraging personal and intellectual courage and growth;
Manifesting integrity and honesty in all decisions and actions;
Promoting healthy, safe, and balanced lifestyles;
Fostering a diverse and inclusive community committed to civility, open-mindedness, and finding common ground.
Academic Departments
With a growing array of areas to choose from, our academic departments and programs ensure that each student's education includes breadth of experience across many fields and disciplines. An emphasis on writing in all disciplines sharpens students' capacity for critical thinking and expression.
First-Year Seminars and First-Year Advising
All students begin their first semester with a first-year seminar. These small-group courses allow students to participate actively in their own learning and to acquire the writing and speaking skills necessary for independent, intellectual achievement throughout college and beyond.
Students in class together live in the same residential communities, allowing them to extend classroom discussions into the residence halls. First-year seminar instructors also serve as academic advisors to their students, helping with course selection and planning until students declare majors.
Your first one-on-one meeting with your advisor takes place during orientation, shortly after you arrive on campus. During this meeting, you can expect to discuss your hopes and expectations for a liberal arts education at Middlebury and the courses and areas of study that interest you.
Curricular Requirements
Middlebury's curriculum is designed to ensure an education that includes breadth of experience across many fields and disciplines, as well as in-depth study in one area defined by the major. An emphasis on writing in all disciplines sharpens students' capacities for critical thinking and expression.
Majors
A major is the area of study in which a student takes the most courses and explores in the greatest depth. Each department has designed its major to ensure that students not only learn key content but also the methodologies, languages, and modes of thinking and expression that characterize that discipline. It is also possible to pursue a joint major that combines and synthesizes two areas of study, or to pursue two separate majors, but these paths require considerable planning with an advisor. A student may also choose to pursue a minor area of study.
Minors
Less comprehensive than a major, a minor is a cluster of courses designed to provide a basic level of proficiency in a particular field.
Distribution Requirements
To encourage breadth of learning in our liberal arts curriculum, our distribution requirements ensure students take classes in seven of eight different academic categories:
Literature
Arts
Philosophical and religious studies
Historical studies
Physical and life sciences
Deductive reasoning and analytical processes
Social analysis
Foreign language
Students are also required to complete one course on each of at least three of the following regions, as well as a course focused on the process of comparison between and among cultures and civilizations, or on the identity and experience of separable groups within cultures and civilizations:
South and Southeast Asia, including the Pacific
North Asia, including China, Korea, Japan, and the Asian steppes
The Middle East and North Africa
Sub-Saharan Africa
Europe
The Americas
Declaring a Major
A major requires a minimum of 10 fall and spring semester courses. Students may take no more than 16 fall and spring semester courses and, in addition, no more than two winter term courses in a major department or program (one of which may be senior work). All students must officially declare a major by the end of the third semester.
Any student who wishes to complete a second major must officially declare by the end of the fourth semester. After the fourth semester, students wishing to add a second major, or change majors, must petition and gain approval from the new department or program to ensure that the student can complete the major by the end of the eighth semester. Some highly structured programs, particularly those involving study in the foreign languages or the natural sciences, are facilitated by a declaration of a major by the end of the second semester.
Preprofessional Programs
Our undergraduate program focuses on the liberal arts but offers specific curricula and resources designed to prepare students for professional careers, regardless of a major.
Health Professions helps students fulfill curricular requirements for further graduate study to become a medical practitioner.
Pre-Law prepares students to be competitive applicants for law schools.
Education Studies trains students as teachers, with an option for professional certification and double major.
Pre-Engineering provides background for graduate study and potential collaboration with another institution for a dual degree program.
Architectural Studies prepares students for graduate work in architecture.
ROTC
Middlebury College, in partnership with the University of Vermont Army ROTC Program, provides leadership training to motivated college students interested in serving as commissioned officers in the United States Army after graduation.
Class Attendance
Professors will share their attendance policies with students on the first day of class, but the general idea will be the same: missing classes means missing opportunities to engage thoughtfully with the work, exchange ideas with peers, and learn fully and deeply. If students anticipate missing a class or miss a class unexpectedly, it is important to communicate with professors and deans immediately. Professors may be able to work with students to extend deadlines, and under exceptional circumstances, such as serious illness, deans may help provide additional support. Students participating in varsity athletics should refer to the student handbook and review "Guidelines for Handling Athletics—Explained Absences" under "Course Registration and Conduct of Courses" in the academic policies section for specific instructions.
Advising
Academic advising is central to the Middlebury experience, whether in your first-year seminar or in the final stages of completing a major and writing your thesis. Throughout the college years, students work individually with professors to develop multiyear strategies that reflect their interests, strengths, and academic goals. Students begin the first semester with a first-year seminar, and the instructor of that small-group seminar serves as their advisor until they declare majors. At that time, students choose professors in the departments or programs of their majors to serve as their advisors. In addition, students find advising support through their deans and from other professors and staff members who may have valuable information and insights to share.
Evaluation
Every class includes a sufficient amount of written, oral, and practical work so that both students and professors are able to evaluate their progress. Professors strive to encourage free discussion, inquiry, and expression and to evaluate students solely on academic merit, not on the basis of opinions or conduct unrelated to academic standards. For fall and spring semesters, the final examination period usually begins two to three days following the end of classes and lasts for five days. An unexcused absence from a preannounced examination will result in a grade of F for that unit of work. If students have compelling personal circumstances, illnesses, or injuries that prevent or prevented them from completing an exam or other large assignment, students must contact their dean.
Withdrawal, Suspension, and Readmission
It is not uncommon for students to take a semester or even a year off at some point during their studies. In most cases, this is a voluntary withdrawal. Students must notify their dean of an intention to withdraw for a semester (or longer), and must contact their dean again several months in advance of return (by June 15 for a fall semester return and by November 1 for a spring semester return). Students generally may not return in winter term after a withdrawal.
Occasionally, students experience challenges that compromise their ability to function in a healthy manner on campus. When students are unable to function safely and effectively in our academic and residential environment, we may support their voluntary withdrawal or, in very rare cases, enact an involuntary withdrawal. Students must address the issue of concern with an appropriate professional before they return to Middlebury.
Students may also be withdrawn for academic reasons or be suspended for major policy violations. When students are withdrawn for academic failure, they may return to Middlebury when they can demonstrate that they have addressed whatever issues led to their academic struggles. This is usually accomplished by enrolling at another four-year college for a semester and earning grades of B– or better in a four-course liberal arts program.
Winter Term
During winter term in January (also known as J-term), each student enrolls in only one academic, credit-bearing course, and faculty members each teach only one course. Students can study at the College or, after their first year, away from campus; independently or as participants in a course; in their major fields or in disciplines they have never studied before. The winter term curriculum consists of a variety of interdepartmental and departmental courses of various levels.
Students can also undertake a winter internship after their first year instead of formal study. Normally, a department may require its students to take no more than one of its winter term courses, in addition to winter term senior work, during four years, allowing students to choose how they spend winter term. Students are urged to explore the curriculum by taking winter term courses in substantially different areas in their first two years. A minimum of two and a maximum of four winter term courses will count toward the graduation requirement of 36 credits.
Study Abroad
Each year about 50 percent of the junior class studies abroad in more than 40 countries at more than 75 different programs and universities. Middlebury has Schools Abroad in Argentina, Brazil, Cameroon, Chile, China, France, Germany, India, Italy, Japan, Jordan, Morocco, Russia, Spain, the United Kingdom, and Uruguay. Middlebury also has exchange agreements in England with the University of East Anglia and the University of Nottingham. Externally sponsored (non-Middlebury) programs are also available in several countries. Study abroad is an integral part of a student's academic experience, and students from all majors choose to do it. For those studying foreign languages and cultures, study abroad is a natural component of their degree. Students majoring in international and global studies or international politics and economics are required to study abroad. Students should plan early in their academic program in preparation for study abroad.
Summer Programs
Summer programs provide students with opportunities for travel- or field-based courses, professional internships, and exciting experiential learning programs that would be difficult to accommodate during the school year. Summer also offers Middlebury students optional extra course experiences that are not part of the regular academic year. Some summer course programs carry Middlebury academic credit and can count toward graduation requirements as outlined in the academics section of the College handbook. Need-based financial aid, as determined by Student Financial Services, may be available to current financial aid recipients participating in summer course programs.
Academic Centers
Rohatyn Center for Global Affairs (RCGA)
RCGA is Middlebury College's flagship site for the production and dissemination of knowledge about international and global issues. Through a diverse set of programs, the center reaches across boundaries of language, culture, and geography to engage students' capacities for rigorous analysis and independent thought in a rapidly changing world. 
Center for the Comparative Study of Race and Ethnicity
The Center for the Comparative Study of Race and Ethnicity serves the Middlebury College community through its support for pedagogy and research that employs interdisciplinary approaches toward the understanding of formations of race and ethnicity. It encourages scholarship that considers race and ethnicity as intersecting with class, gender, sexuality, religion, age, disability, language, communication, migration, and the environment in human relations. The center and its affiliates are committed to broad discussions of race and ethnicity in local, regional, national, transnational, and global contexts. 
Center for Teaching, Learning, and Research (CTLR)
With nearly half of all Middlebury students utilizing its services, the CTLR is a hub of educational inquiry and academic growth in writing, oral presentations, quantitative reasoning, and time management, as well as peer mentoring, and course-content tutoring. Students can also get information and advice about undergraduate research opportunities for several nationally competitive fellowships and scholarships, such as Fulbright, Watson, Rhodes, and Truman. The CTLR is located on the main floor of the Davis Family Library. 
Disability Resource Center (DRC)

In recent years, the DRC has helped nearly 15 percent of the student body at Middlebury. We provide confidential accommodations for students who have disabilities that impact learning, vision, hearing, mobility, or physical or psychological health. Such accommodations can include extended time on exams, distraction-reduced exam spaces, screen-reading software and audiobooks, note takers, interpreting services, readers, scribes, and more. We also provide housing and dining accommodations when needed. Students are highly encouraged to contact the DRC to find out more about accommodations. 
International Student and Scholar Services (ISSS)
ISSS provides advising, programs, and support to our international students, staff, and faculty. Middlebury enrolls more than 250 international undergraduates from more than 75 countries. ISSS manages the College's involvement in the U.S. government's Student and Exchange Visitor System (SEVIS), as well as institutional compliance with immigration regulations. They coordinate Early Arrival, the preorientation program, for international students and the Friends of International Students (FIS) host program. ISSS also serves as a place of support for students who have international roots by having lived abroad or having immigrated to the U.S. 
Franklin Environmental Center at Hillcrest
Environmental stewardship is an integral part of the Middlebury experience. It's visible in the habits of individuals, the actions of the Environmental Coalition—a robust consortium of student organizations whose missions relate to sustainability and environmental justice—and in overall institutional initiatives:
Carbon neutrality, achieved in 2016
Sustainable Solutions Lab
The Knoll, the College organic garden
Our Biomass system
Integration of sustainability at Middlebury Schools Abroad

LEED

 Platinum Franklin Environmental Center at Hillcrest
Other Middlebury Schools and Programs
Middlebury Language Schools
Middlebury College has a reputation for excellence in language teaching at its undergraduate College, intensive summer programs, and Schools Abroad. During the summer, the Language Schools offer courses from beginning to graduate level in Arabic, Chinese, French, German, Hebrew, Italian, Russian, and Spanish; study is also offered in Japanese, Korean, and Portuguese. Approximately 1,500 students attend from all 50 states, the District of Columbia, and more than 50 foreign countries. Students sign the Language Pledge®, a promise to speak only the language they are studying for the duration of their time in the program. This complete linguistic immersion, combined with rigorous classroom learning, highly skilled professors, and scores of in-language cocurricular activities, helps students achieve dramatic breakthroughs, no matter their proficiency level. The Language Schools sessions take place on campus at Middlebury College and at Bennington College in Bennington, Vermont. 
Middlebury Institute of International Studies at Monterey
The Middlebury Institute of International Studies is a graduate school for people who want to make positive change in the world. The Institute's master's degrees focus on critical areas in rapidly growing fields, including international security, human rights and social change, language and culture, sustainable development, education, and trade. They are designed to complement your undergraduate liberal arts education with a professional graduate experience that will prepare you for an international career. As a Middlebury College student, you can take graduate-level courses at the Middlebury Institute for a semester or longer. You also have the opportunity to earn a master's degree in a shortened period of time—typically one year or 18 months as opposed to two years. Not only does this save you time and money, but you graduate fully prepared to enter the workforce in a meaningful way.
Bread Loaf School of English
The Bread Loaf School of English offers an unparalleled array of pioneering graduate courses in literature, pedagogy, creative writing, and theater arts. Bread Loaf's intensive summer program engages a dynamic community of innovative thinkers with world-renowned faculty at campuses in Santa Fe, New Mexico; Oxford, United Kingdom; and Ripton, Vermont. Rising undergraduate seniors may attend and apply graduate credits to their Middlebury degrees or get an early start on an MA in English. Special scholarships are available for recent graduates of Middlebury College.
Bread Loaf Writers' Conferences
Bread Loaf Writers' Conference, founded in 1926, is the cornerstone of the Bread Loaf Writers' Conferences, which have grown to include Bread Loaf Environmental Writers' Conference, Bread Loaf Translators' Conference, and Bread Loaf in Sicily. Some of the world's most notable writers and translators come each summer as faculty. A number of full scholarships are available to Middlebury students.
School of the Environment
Middlebury's prominence in environmental studies has produced a global network of alumni, families, and friends involved with environmental advocacy organizations. At the School of the Environment, students spend six weeks in Yunnan, China, drawing from this network and developing concrete skills with which to make positive change in the world.