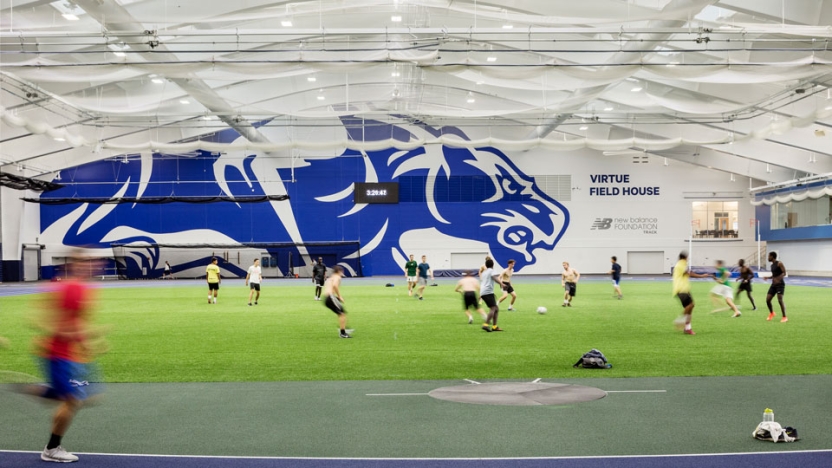 Athletics are an essential part of the overall educational and social experience at Middlebury College.
The College provides programs that are comprehensive and varied, offering athletic opportunities to all students:
A physical education/wellness program that stresses good health, physical fitness, and lifetime activities.
A vigorous intercollegiate sports program that strives for achievement and excellence.
An intramural program that encourages students of varied abilities and skills to participate in a wide range of recreational athletic activities.
A club sports program that offers intercollegiate competition and recreation in a structure created and driven by students.

Physical Education Requirement
Every student must earn two physical education credits. Middlebury has a tradition of offering classes that concentrate on lifetime sports so that students will benefit from skills and knowledge now and after graduation, such as fencing, ballroom dance, and golf. From certification classes (CPR, first aid) to fitness, courses are mainly introductory and are offered in four- or five-week intervals each semester.
Team Sports
Middlebury's student-athletes demonstrate that a pursuit of excellence on the playing field is compatible with the pursuit of excellence in the classroom, and that a combination of the two lends itself to a more complete educational experience. Furthermore, Middlebury's size and balanced curriculum allow two- and three-sport athletes to compete throughout the year without jeopardizing their academic standing.
The College's varsity teams compete within the NCAA Division III and the New England Small College Athletic Conference (NESCAC).
Varsity Sports: Superb coaching and training facilities provide a setting in which student-athletes can develop themselves as both players and individuals.
Club Sports: Club sports provide more opportunities for competition and recreation in rowing, sailing, rugby, cycling, water polo, and other sports. We rely on student leadership and strive for a healthy balance of academics and extracurriculars.
Intramural Sports: Intramurals provide a varied program of activities to meet the competitive and recreational needs of all students. Faculty and staff members are also encouraged to participate. An individual's skill level is not as important as the player's desire to participate and to enjoy the experience of good fun, sportsmanship, and competition.
Cheering Section
Even if you don't play varsity sports, you can still be involved by cheering them on. All regular-season games and many postseason games are free, so we encourage your support of the teams.
Live Coverage
Families can keep tabs on Panther athletics from afar through our live coverage, including live stats as well as video when available. Find more information about live coverage on the Athletics site.
Facilities
Middlebury has more athletic facilities than we can possibly describe here. Indoor facilities include the 11,600-square-foot multilevel fitness center, the Chip Kenyon '85 Arena, a 2,200-seat ice hockey arena, and an Olympic-size natatorium, as well as the newly opened Bostwick Family Squash Center and recently completed Virtue Field House, which features a 21,000-square-foot turf field, a track, and other fitness options. Outside are several fields, including three synthetic fields.
In addition, Middlebury's athletes train and compete at several off-campus facilities, which are also open to the general public.

Ralph Myhre Golf Course
Middlebury's 18-hole golf course is located on the edge of campus and is open to the public. The driving range and restaurant are also worth visiting. Students can purchase day, term, or season passes at reduced rates.
Middlebury Snow Bowl
The Snow Bowl operates three chairlifts—two triples and one double—to serve 17 trails and several glade areas for skiing and riding. State-of-the-art snowmaking ensures quality, and the historic lodge features the original fieldstone fireplace and a full-service cafeteria. The Ski and Board Shop provides rental equipment and other services, and the Snow School offers lessons for all abilities. Students can purchase day or season passes at reduced rates.
Rikert Nordic Center
The Carroll and Jane Rikert Nordic Center, located at Middlebury's Bread Loaf campus, offers 50 kilometers of maintained trails augmented by newly installed snowmaking capabilities. Rental equipment, repairs, waxing rooms, and lessons are available. Students can purchase day or season passes at reduced rates.
Climbing Wall
Discover our climbing wall in the Nelson Field House, towering above the tennis center. Open daily with student staff, our wall welcomes all abilities to play around in the vertical realm. Top-rope routes are numerous, though many enjoy bouldering along the 100-foot base. Shoes, harnesses, and chalk are provided for free. 
Off the Beaten Path
For some off-the-beaten-path recreation, be sure to try these Middlebury gems as well:
• The Trail Around Middlebury—TAM—is the town's most popular natural resource for enjoying walking, mountain biking, and trail runs of a variety of lengths and challenges.
• The Green Mountain National Forest and Vermont's Long Trail, stretching across the landscape to the east, offer hiking, running, biking, and outdoor exploration of all kinds.
You Can Play
Middlebury joined several other schools to release our own short video for the national You Can Play campaign, promoting inclusion and diversity for all athletes, coaches, staff, and fans.