Diversity, Equity, and Inclusion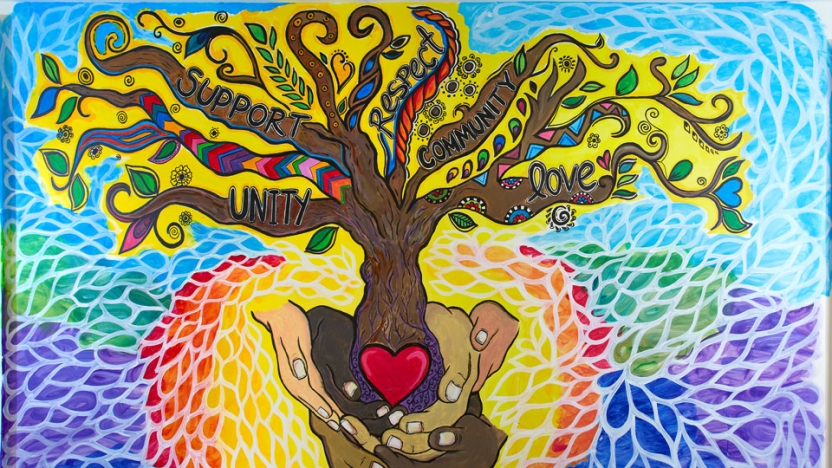 We are deeply committed to creating a diverse and welcoming community with full and equal participation for all individuals and groups.
We work together daily to foster a respectful and engaged community that embraces all the complexity and individuality each person brings to campus. We are dedicated to learning, growing, and becoming our best selves. Groups of people from a variety of backgrounds and with differing viewpoints are often more resilient and adaptive in solving problems and reaching complex goals than more homogeneous groups. They coalesce into an effective community that benefits from the talents and identities of each individual. On campus, we offer students the opportunity to connect in different ways.
Read more about our institutional commitment.
Civil Rights and Title
IX

Office

Middlebury is committed to creating and maintaining a diverse, equitable and inclusive campus environment where we value openness, curiosity, rigor, and equality. Discrimination, including harassment, is antithetical to our values and mission, and, therefore, Middlebury seeks to eradicate unlawful discrimination based on protected personal characteristics in its educational and employment environments.

Visit our Civil Rights and Title IX Office for more information and opportunities to get involved.
Anderson Freeman Resource Center
The Anderson Freeman Resource Center (AFC) is named in honor of Mary Annette Anderson, valedictorian of the Class of 1899 and the first woman of color to graduate from Middlebury College, and Martin Henry Freeman, salutatorian of the Class of 1849 and the first black president of a U.S. college or university. The AFC provides advocacy and support for students of color, students who are the first in their families to attend a four-year college (first-generation), students from low-income backgrounds, and queer and/or transgender students. In conjunction with the Center for the Comparative Study of Race and Ethnicity, the AFC also provides resources and programming that encourage the holistic development of Middlebury's increasingly diverse undergraduate student body as they attain their goals of academic achievement and personal growth while exploring and sustaining their identities and cultures.
Community Bias Response Team
The Community Bias Response Team (CBRT) works to address the impact of comments, behaviors, actions, or practices that are perceived as biased. CBRT coordinates a system through which members of the Middlebury community can report incidents of bias and offers a range of processes that can be used to address the harm caused by bias. CBRT supports impacted individuals and groups, provides education, and facilitates dialogue with the aim of repairing harm and preventing future incidents.
Charles P. Scott Center for Spiritual and Religious Life 
Middlebury welcomes students of all religious traditions and nonreligious world views. We celebrate this diversity as a strength. The Scott Center offers support for the many student-led religious, spiritual, and contemplative groups that meet regularly on campus, and provides opportunities for interfaith dialogue through retreats, an intentional living community at the MOSAIC Interfaith House, and gatherings of all kinds. The chaplains and staff also help students make connections between academic work and the exploration of deep and abiding questions through special programs and discussions.
DACA

 and Undocumented Student Support

Middlebury welcomes and supports students who are undocumented or DACA-designated throughout their time at the College. Miguel Fernández, Middlebury's chief diversity officer, serves as the on-campus point person for current undocumented and DACA students.
Disability Resource Center 
Middlebury values the diverse identities and lived experiences of students and honors disability as a core social identity and fundamental aspect of human diversity. The Disability Resource Center (DRC) NEW LINK advances Middlebury's commitment to equity, inclusion, access, and full participation by advocating for and working to foster an environment that promotes the academic, personal, and professional development of all students. The DRC collaborates with students, staff, and faculty to eliminate or minimize barriers and thereby increase access for people with disabilities. The vision of the DRC is a universally accessible campus that fosters the full participation of every member of the community and that limits the need for individual accommodations.
LGBTQIA

+

Middlebury College strives to create a safe space for queer and transgender community members. There are many active and welcoming resources for LGBTQIA+ individuals and allies throughout the institution and off-campus.

The Anderson Freeman Resource Center uses the phrase queer and/or transgender interchangeably with LGBTQIA+ to describe the students part of the LGBTQIA+ community. This is to provide the most inclusive of language for those in the queer and trans communities. We acknowledge that not everyone under the queer umbrella identifies with the label of queer to describe their gender identity, gender expression, and/or sexual orientation; this is the same for transgender—nonbinary, genderfluid, and agender folx may or may not identify with the label of transgender. We use queer and/or transgender recognizing the broadness of identity, and we use both queer and transgender as umbrella terms. We do this to acknowledge the limits that LGBT, LGBTQ, LGBTQ+, and LGBTQIA+ have in representing the entirety of the queer and transgender community. You will hear us use LGBTQIA+ in conversation with people who may not feel comfortable using queer, as it depends on personal reclamation to be used. 

Please contact Janae Due (jdue@middlebury.edu) with any questions. 
May Belle Chellis Women's Resource Center
The Feminists' Resource Center at Chellis House is a social engagement space where scholars and activists meet to produce and share knowledge on social justice issues particularly attentive to gender, race, class, sexuality, ability, and other vectors of difference. Focused on feminist world-making, the center gives students, staff, and faculty the opportunity to acquire insights into this knowledge production through intimate discussion groups, public talks, and activist and artistic projects. It cultivates collaborative relationships with community organizations in Vermont and engages in a sustained exchange with major national and international organizations dedicated to the advancement of gender justice. As such, the center enables various aspects of the larger Middlebury vision of immersive learning and a full participation in diverse communities. In sum, the Feminists' Resource Center at Chellis House is a place where theory becomes praxis.
Opportunity Grants
Middlebury College is fortunate to have donors who have set up funds to help ensure that all students have access to the full Middlebury experience. These funds help students with financial needs gain access to participation in all aspects of a Middlebury education. These funds may cover expenses that wouldn't be covered by other forms of funding—such as wage relief for students who wish to take a fee-based winter term course like MiddCORE. Some of this funding has been specifically designated to support high-need international students and first-generation students.