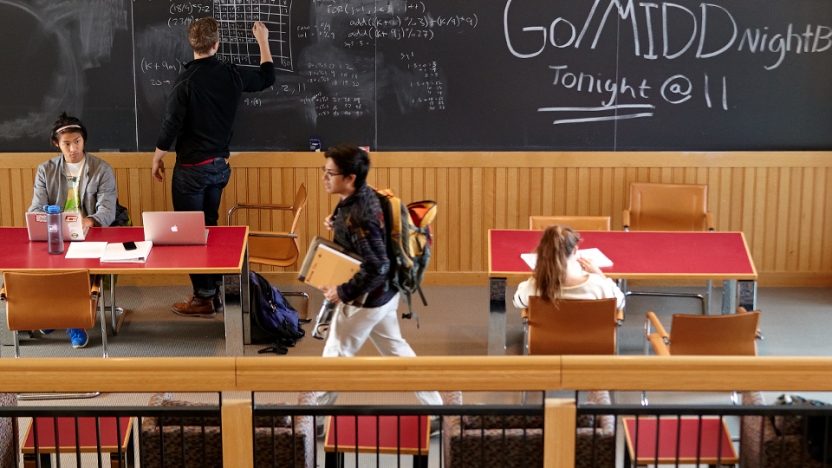 BannerWeb
BannerWeb is Middlebury's online database for all students' academic and personal information. Log in with your Middlebury email address and password.
Campus Maps
We have a range of printable and interactive maps that can help you find your way around campus.
College Publications
In addition to occasional mailings, families can receive the following communications:
College Store
The College Store offers products and services to help with your transition into the residence halls at the start of the year.
Computers
Both Windows and Apple computers are supported on campus. The College Store sells Apple computers, which incoming students are eligible to purchase with an education discount.
Other computer companies also offer educational discounts. Wi-Fi is available in residence halls.
COVID-19 Updates
Please check the Campus Status and Community Announcements webpages for the latest information regarding COVID-19 policy for the fall.
Email
Email is the primary mode of all-College communications—check your account regularly.
Enrollment Billing and Student Financial Services
 Student Financial Services assists students and families with financial aid, student billing and payments, education loans, student health insurance and financial literacy support. Middlebury uses Nelnet Campus Commerce to provide electronic billing and payment services. Students access their bill and account information online; no paper billing statements are mailed. When their electronic bill is ready to view at Nelnet, students will receive an email notification to their Middlebury email from sfs@middlebury.edu. Once students receive their notification email, they can log into their Nelnet account to add authorized payers, make payments, and enroll in monthly payment plans. - Bills are issued each semester in early July and November and are due by August 15 for the fall semester and December 15 for the spring semester. - Bills include tuition, room and board, and the student activity fee, as well as other charges, such as health insurance for students who enroll in the College's plan. - Middlebury provides several payment options  for paying the bill. Visit Billing Information for additional details or contact Student Financial Services at 802-443-5158 or sfs@middlebury.edu.
Family Change of Address
Families and alumni can change their mailing address in the Middlebury's database by filling out this form.
Fax Services
Incoming faxes may be sent to 802-443- 2068, which is in the College Mail Center and accessible only to Mail Center staff members. The fax is delivered to the student's mailbox. Please be sure the fax includes both the student's name and box number. In addition, an outgoing-only fax machine is located in Davis Family Library 142 via the copier. There is no charge to fax from this machine.
Local Banking
The Cashier's Office is open 8:30 a.m.–4 p.m., Monday–Friday, for students to cash checks up to $50. One day's notice is required for larger checks. Several banks in town accept student accounts and have ATMs:
Citizens Bank
36 Middle Road
Key Bank
47 Creek Road
National Bank of Middlebury
30 Main Street
ATM on campus
People's United Bank
114 South Village Green
Vermont Federal Credit Union
1 Court Street
Lodging for Families
We recommend that you make lodging reservations well in advance of your intended arrival dates.
Mail
Mail and packages are delivered to students' mailboxes in McCullough Student Center. Your address is as follows:
Student Full Name [ID#]
Box # Middlebury College
14 Old Chapel Rd
Middlebury, VT 05753
Mailbox information is posted on BannerWeb in August for students arriving in September and in January for students arriving in February. Students have access to their mailboxes from 7 a.m. to midnight daily. The business window has weekday hours from 10 a.m.–4 p.m. and is also open Saturday 10 a.m.–noon in September and February. Postage stamps can be purchased at the College Bookstore and MiddXpress, our convenience store in the McCullough Student Center.
For packages, we recommend using a service you can track, such as UPS, FedEx, and insured, certified, or registered mail. Students receive an email when their packages have been processed and they will need their IDs for pickup. Packages should not weigh more than 50 lbs.
Please do not send packages before August 30.
Medical Insurance
Middlebury requires all students to have a U.S.-based medical insurance policy for medical bills, should they arise. If your family plan will not cover you and you do not have an individual plan, you need to purchase one. Students arriving in September will receive email notifications beginning in July from Gallagher, our student health insurance partner, to either enroll in or waive (with proof of other coverage) the Student Health Insurance Plan. Students arriving in February will be able to enroll or waive coverage starting in November.
Phone Service
Courtesy telephones are provided in all residence halls in common areas and hallways. These phones may be used for emergency calls to 911 or Public Safety, calls to on-campus locations, and local and toll-free calls. Long-distance calling requires a calling card.
Cell Phone Service
Verizon Wireless, AT&T Wireless, and Sprint offer the best reception for the Middlebury area. Prepaid cards are also an option. For details on any company's coverage, please visit their websites. To check coverage, use the Middlebury zip code: 05753.
Chosen Names and Pronouns
Middlebury recognizes that some members of our community use names other than their legal names to identify themselves. You can indicate your chosen first name regardless of whether or not you have legally changed it—provided that it is not for the purpose of misrepresentation (i.e., inappropriate names or avoiding legal obligation).
Chosen first names that differ from your legal name will be used solely for Middlebury's internal systems. You can also indicate your gender pronoun(s) (him, her, them, etc.) and name prefix (Mr., Ms., Miss, etc.). If you have any questions, do not hesitate to reach out to Renee Wells at rwells@middlebury.edu.
Find more information about chosen names and pronouns.
A Note to Families about FERPA
One of the ways in which we reinforce students' development into mature adults is by emphasizing responsibility and accountability for their behavior. When academic or behavioral issues arise, our deans, staff, and professors work directly with students to resolve most matters. Middlebury College typically contacts families or guardians when students are in situations that seriously impact their status at the College including, for example, discipline proceedings, hospitalizations, serious academic difficulties, and situations endangering health and safety. Each student's dean will reach out to the parents or guardians under these circumstances. It is not unusual for students to receive academic warnings in their first year while they adjust to Middlebury College requirements.
Resources are available to help students plan their work, arrange for tutors, strengthen their study skills, or improve their time management skills. At the end of each semester, grades are posted on a secure website to which students have access, and we strongly encourage students to share this information with their families. As you prepare for your student's college years, it is important to understand that Middlebury College programs are governed by the federal Family Educational Rights and Privacy Act (FERPA). FERPA generally prohibits colleges from disclosing personally identifiable information from student education records without a student's written consent, unless an exception applies.
Education records include information such as Social Security numbers, class schedules, grades, and disciplinary records. Exceptions permit disclosure without a student's written consent for financial aid, for disclosures to other institutions where the student seeks or intends to enroll, in response to subpoenas, in certain disciplinary matters, for health and safety emergencies, and for disclosures to parents of dependent students at the discretion of the institution. See the complete FERPA policy.