McCullough Student Center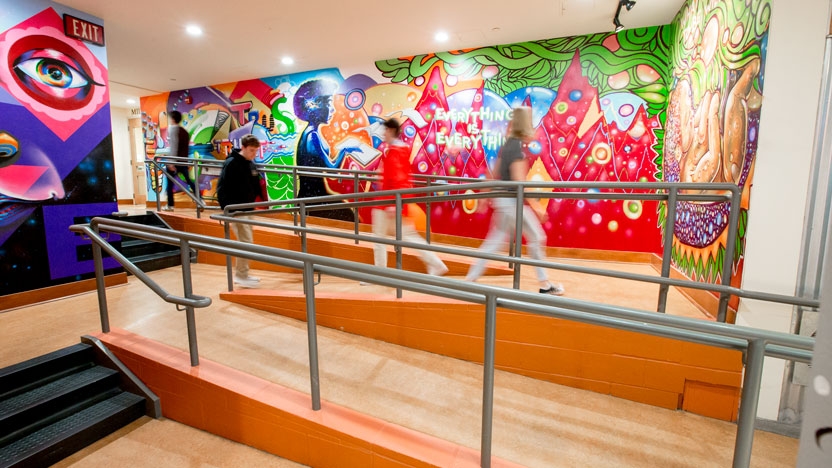 McCullough Student Center serves students, faculty, guests, and Middlebury community members by providing events, programming space, meeting space, information, food services, and a relaxing yet interesting environment.
Dining Options
The Grille
Crossroads
Sushi With Gusto
Midd-Xpress Convenience Store
Business Services
Tickets and Information Desk
Student Mail Room
ATM and Laundry Card Machines
Meeting Rooms
Mitchell Green Lounge
The Crest Room
The Grille Conference Room
College Offices
Student Activities Office
Student Government Association
Dining Offices
Performance Spaces
There are several performance and event spaces in McCullough, including the Center Gallery for art across from the Grille. For more information about space scheduling and specifications contact Event Management.
McCullough Student Center Social Space
Built in 1911 and renovated in 2009, the Social Space supports McCullough's mission of providing a venue for students and student organizations to perform and to bring world-class performances. This space features flexible configurations including cabaret, traditional stage and concert.
Depending on how the space is used, it can accommodate from 100 to 500+ people. It is equipped with a Kawai baby grand piano and comes with a state-of-the-art sound and lighting package.
The Social Space may be reserved by student organizations and College departments. The venue has been use for a wide variety of events, including theatre presentations, cabaret revues, music performances of all kinds, dance performances, lectures, dance parties, forums, and meetings.
Technical Assistance
Student Activities provides technical support to students or student organizations who wish to program events in the McCullough Student Center. Requests for technical support must be made at least two weeks in advance through Event Management.
Typical set-ups include the following:
Microphones and lighting for speeches, debates, or ceremonies
Sound system and special lighting for parties and dances
Concert sound for bands or musical performers
If you are looking to reserve McCullough for an event or party please contact Event Management. Technical Services are arranged after space has been reserved.