Middlebury Outdoor Programs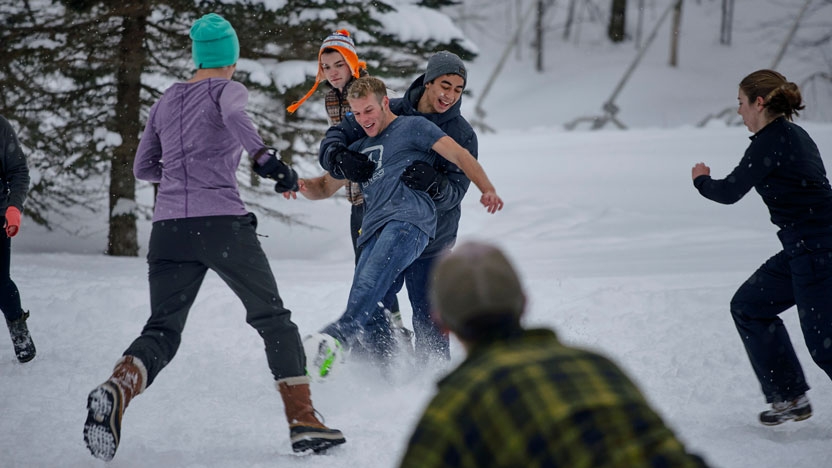 Middlebury College sits between the Green Mountains of Vermont and the Adirondacks of New York in a remarkable setting for outdoor exploration and enjoyment.
Alpine cliffs, lakes and rivers, ski trails, sweeping views, and agricultural landscapes surround our campus, with massive Lake Champlain nearby.  As part of Student Activities, Middlebury Outdoor Programs provide equipment, facilities, knowledge, skills, and leadership to help our community explore the outdoors.
Goals and Beliefs
Wilderness provides us with the opportunity to be engaged; developing skills, practicing leadership, and strengthening our community through support and inclusion. Our programs promote responsible stewardship of our environment and each other while encountering the risks, challenges, beauty and pleasure of time spent outdoors.
Develop outdoor skills, risk management, and leadership through training, mentorship, and practice.
Promote environmental stewardship through direct experience in the natural world.
Provide small group experiences in which participants experience supportive community, inclusion, open communication, and teamwork.
We believe exploring wilderness and the outdoors teaches responsibility and stewardship for one's self, their community, and our shared environment.
We believe that thoughtfully designed outdoor experiences provide the opportunity to learn, reflect, and practice leadership skills.
Student Clubs
Explore these active clubs on Presence and get involved:
Middlebury Mountain Club
Freeheelers Telemark Club
MiddFly Flyfishing Club
Tinder
Midd Climbers
Trainings and Trips 
MOP offers courses, trips and expeditions in a wide variety of outdoor activities. Canoeing and kayaking, rock and ice climbing, telemark skiing, backpacking, and winter camping are among the courses we offer. Courses, trips and expeditions often are free, or have financial aid available.
Facilities
Gear Room: 2000' sq gear room that provides free use of camping equipment
Climbing Wall: 50 x 120' Entreprise wall, open daily in Nelson Field House
Bike Shop: Shared tools, space, and experienced staff to help with your bike needs
Burgin Lodge: A rustic cabin for 12 on the nordic trails of Bread Loaf
More adventure is found at the Snow Bowl Ski Area, Rikert Nordic Center, and the Knoll Organic Farm!
Wilderness First Aid Courses
Wilderness First Aid skills are essential knowledge for all outdoor leaders, as well as those interested in personal adventures. MOP sponsors both Wilderness First Aid (WFA) and Wilderness First Responder (WFR) courses taught by SOLO. Sign up.
Expeditions
MOP periodically offers trips venturing beyond our typical programming areas in New England and New York. These trips typically occur during the various recesses in our academic calendar. Past favorites include Backcountry skiing in the Gaspe region of Quebec and climbing expeditions to Red Rock and Joshua Tree National Park.