Global Sustainability Alums Speaker Series – Inaugural Event
–
Robert A. Jones '59 Conference Room
148 Hillcrest Road
Middlebury, VT 05753
View in Campus Map
Open to the Public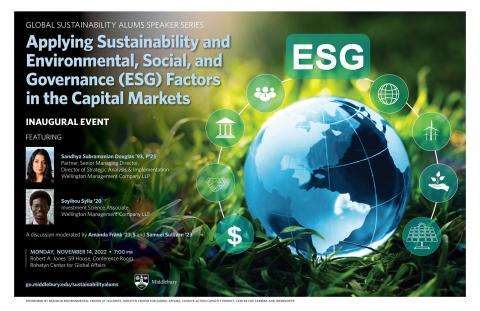 This inaugural event will feature two alums from Wellington Management Company LLP in a discussion about Applying Sustainability and Environmental, Social and Governance (ESG) Factors in the Capital Markets:
Sandhya Subramanian Douglas '93, P'25, Partner, Senior Managing Director, Director of Strategic Analysis and Implementation
Soyibou Sylla '20, Investment Science Associate
The conversation will be moderated by Amanda Frank '23.5 and Samuel Sullivan '23.
Off campus?  Register here to join via Zoom webinar.
Wellington was one of the first firms to integrate climate science with asset management by appointing a climate scientist from Woods Hole Research Center in 2018.  Sandhya and Soyibou will share their firsthand experiences with this initiative and some perspectives on their own professional journeys in sustainability since graduating from Middlebury.
Sustainability is at the heart of much of what we do, teach, and value at Middlebury. Many alums have carried a commitment to sustainability directly into their professions—often with national and international impact. What have they been doing on the frontlines to achieve a more just, sustainable future? What are their thoughts on tackling some of the world's most pressing crises? How did they get from Middlebury to where they are today? And what can we learn from their achievements, efforts, and setbacks?
The new Global Sustainability Alums Speaker Series brings Midd alums back to campus to discuss these issues and more. Each event will be moderated by students.
Visit go/sustainabilityalums for more details about this event, including speaker bios.
Sponsored by Franklin Environmental Center at Hillcrest, Rohatyn Center for Global Affairs, Climate Action Capacity Project, Center for Careers and Internships.
Sponsored by:

Rohatyn Center for Global Affairs; Environmental Affairs; Center for Careers & Internships