Movement Matters Maree Remalia
–
Mahaney Arts Center Dance Theatre
72 Porter Field Road
Middlebury, VT 05753
View in Campus Map
Closed to the Public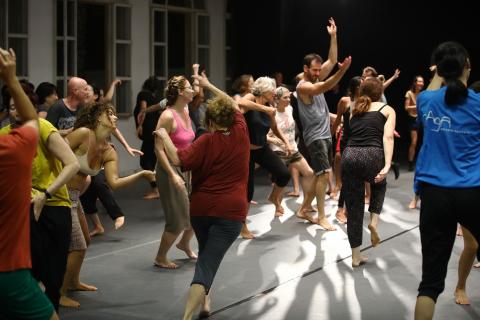 Guided Movement Experience: Gaga/people Class + Structured Improvisation
This guided movement experience is part of the week-long Feminist Joy Residency, a collaboration among GSFS's Feminist Joy class, the Middlebury Dance Department and Art Museum. Folks from across disciplines and identities are welcome – no previous experience is necessary. Class begins with a Gaga/people Class and flows into structured improvisation and reflection. It is an opportunity to connect to the week's themes around feminist joy through embodied movement exploration – a chance to feel, notice, and engage the senses. As we respond to verbal prompts and game-like structures, activate the voice, stretch, and ground through breathing and imagery we cultivate self-discovery and connection with fellow movers and open to new possibilities and practice being with complexity. Wear clothing comfortable for moving; bring a water bottle and journal. Masks are required.
Open to Middlebury College students, faculty, and staff.
FEMINIST JOY RESIDENCY, APRIL 4-8, 2022 
During this week-long residency, a course on Feminist Joy, the Dance Department, and the Art Museum all collaborate with guest artist Maree ReMalia in the classroom and beyond. Through interactive events open to the college community, you can join them in disrupting gendered and raced histories of pleasure and in exploring avenues for joy. Through moving our bodies, reflective writing, and visual art, we support reclaiming and amplifying personal and collective pleasure for all bodies. Masks are required for all events.
This week-long residency was made possible with generous support from The Mahaney Arts Center, the program in Gender, Sexuality and Feminist Studies, the Art Gensler fund, the Middlebury Dance Department, the Middlebury College Museum of Art, and the Axinn Center Public Humanities Lab Initiative.
BIO: Maree ReMalia is a choreographer, performer, teaching artist, and certified Gaga instructor. An adoptee born in South Korea and raised in Ohio, movement has supported her in an ongoing process of self-discovery, liberation, and expression. In her work as a dance artist, she invites others into these unfolding processes with a focus on care and connection. Her collaborative performance projects have been presented in the U.S. and abroad and she has enjoyed performing in the work of independent artists and regional companies. Since earning her MFA at The Ohio State University, she was selected as the Andrew W. Mellon Interdisciplinary Choreographer for Middlebury College Movement Matters Residency and has been faculty at Colorado Conservatory of Dance, Lion's Jaw Performance + Dance Festival, Point Park University, University of Florida, and University of Wisconsin. www.mareeremalia.com
Photo credit: Ascaf Avraham
Sponsored by:

Dance