TedEx Middlebury: Caught in the Act
–
Mahaney Arts Center, Olin C. Robison Concert Hall
72 Porter Field Road
Middlebury, VT 05753
View in Campus Map
$8 Midd students and $20 everyone else.
Open to the Public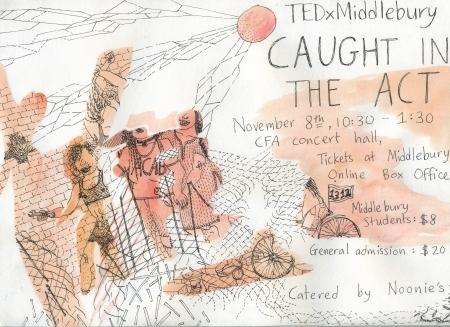 A TEDx event is a local gathering where live TED-like talks and videos previously recorded at TED conferences are shared with the community. TEDx events are fully planned and coordinated independently, on a community-by-community basis. The content and design of each TEDx event is unique and developed independently, but all of them have features in common.
The theme of TEDx Middlebury this year is 'Caught in the Act', which, for us, aims to spark dialogue or discourse about the boundaries we create, the spaces we navigate, and how our identities and work play out in the world. It suggests an awareness of one's surroundings, an appreciation of grey areas, and the importance of certain pursuits, especially when they cross arbitrarily constructed lines.
This years student speaker will be Casey Wanna..
Tickets available through the Box Office at http://www.middlebury.edu/arts/boxoffice .
Sponsored by:

Programs on Creativity and Innovation