Visualizing Reproductive Justice: A Call To End Fake Clinics Exhibition Opening
–
Middlebury College
Middlebury, VT 05753
Open to the Public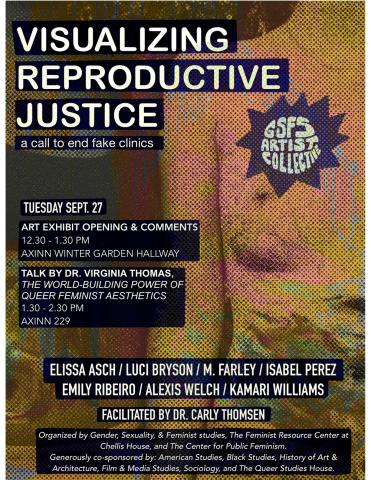 This two-part event includes a reproductive justice exhibit featuring art that focuses on crisis pregnancy centers, as well as a talk about art as a vehicle for social justice by Dr. Virginia Thomas.
Exhibit Opening
12:30-1:30 pm, Tuesday, Sept. 27
Axinn Winter Garden & Axinn Center, Room 229
Exhibit features art by Middlebury's Public Feminism Fellows: Kamari Williams, Isabel Perez, Alexis Welch, Elissa Asch, Luci Bryson, Emily Ribeiro, and Meg Farley.
Virginia Thomas's talk, "Envisioning Reproductive Justice: The World-Building Power of Queer Feminist Aesthetics"
1:30-2:45 pm
Tuesday, Sept. 27, Axinn Center, Room 229
This talk will challenge the enlightenment-based concept of aesthetics as separate from the material world in order to more fully consider the role of aesthetics in bringing about reproductively just material and relational practices. Drawing upon Sylvia Wynter's work on the world-making power of aesthetics and Alexis Pauline Gumb's conceptualization of mothering as a queer feminist act of creation that is not inherently tied to biological reproduction, this talk invites us to envision reproductive justice with and through aesthetics as a material act. Reflecting on themes in the Middlebury student-created art exhibit about crisis pregnancy centers and the experimental installation artwork of Geo Wyeth, this talk will introduce the material consequences and implications of queer, feminist aesthetic action.
Location: Axinn Winter Garden Hallway
Sponsored by Gender, Sexuality, and Feminist Studies and The Feminist Resource Center at Chellis House with support from Black Studies, History of Art and Architecture, American Studies, Film and Media Studies, and Sociology.
Sponsored by:

Film & Media Culture; History of Arts and Architecture; Gender, Sexuality, & Fem Studies; Sociology; Black Studies