The Knoll serves as a site to explore topics of connection, resilience, and regeneration. We offer regular Garden Volunteer Hours programming and partner with courses and on- and off-campus community partners.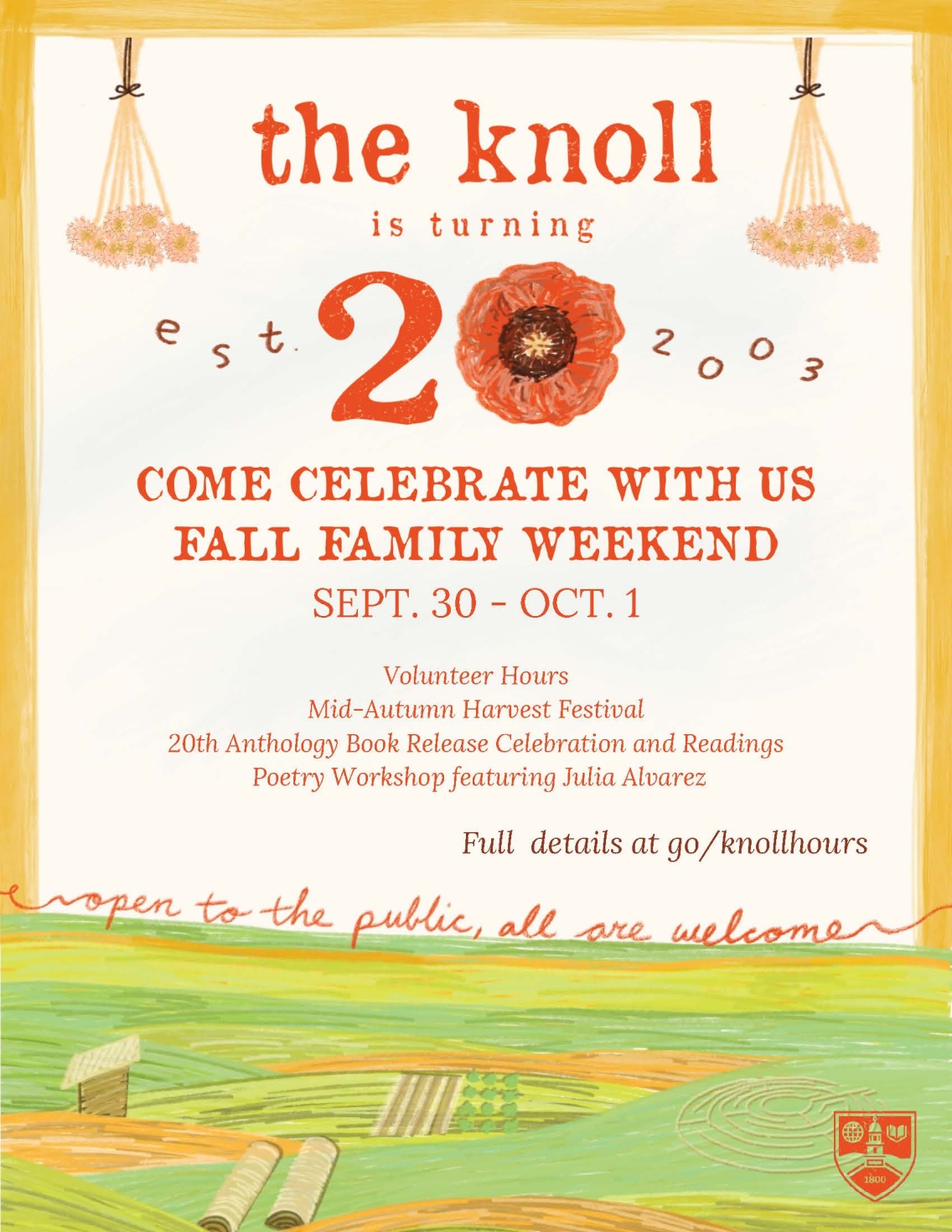 Celebrating the 20th Anniversary!
We're delighted to celebrate the Knoll's 20th Anniversary during Fall Family Weekend!

Friday, 9/29 from 9-11am and 1-3pm: All are welcome (families, too!) to join us for Garden Volunteer Hours

Saturday, 9/30 from 1-4pm | Mid-Autumn Harvest Festival at the Knoll. All are welcome to join! 


中秋节 in Chinese
月見 Tsukimi in Japanese
추석 Chuseok in Korean
Tết Trung Thu in Vietnamese
We'll celebrate the moon and the harvest with seasonal food, fun, activities, and performances featuring student musicians, Abenaki music and storytelling by Jesse and Joseph Bruchac, and a garlic planting work-song activity led by Bennett Konesni '04.5. Enjoy Knoll produce taste tests (fresh and prepared as kimchi and jeon), Chinese calligraphy and wushu, mooncake tastings, cider pressing, watercolor, collage, and more!
 *Note, our Rain Location/Plan includes a time shift from 2-5pm in the lobby at Mahaney Arts Center. We'll confirm here two days in advance!
Sunday, 10/1 from 11am-12:30pm | Growing with the Knoll: 20 Years in the Garden - Book Release Party!
Location: Main campus, Abernethy Room at Axinn Center. We're delighted to release our community sourced book filled with memories, photos, art, and poetry submitted by 50+ alumni, students, faculty, staff, and friends. Light refreshments provided, followed by a short program and readings from contributors. All are welcome to drop-in or linger to catch up with "Knolld friends." We will have copies of the book available for browsing and sale - you can also purchase yours
online at the College Bookstore
(forthcoming: release date is early September).
Sunday, 10/1 from 2-4pm | Poetry Workshop with Julia Alvarez
Location: the Knoll. Rain location: Axinn Center. The Knoll welcomes Writer in Residence Emerita, award-winning Dominican-American novelist, poet, and writer Julia Alvarez, for an immersive poetry workshop at the Knoll. In case of location change due to weather, please visit go/knollhours/ for up-to-date information. Space will be limited, please
sign up here
by Friday, September 15th if you are interested and we will confirm participation by Monday, September 18th.
the following weekend, we'll wrap the 20th Anniversary events with…
Friday, 10/6 from 6-8pm | Knolci (Dolci x Knoll collaboration) Dinner
Location: Atwater Dining Hall. Featuring a celebration of Knoll- and locally-grown produce in a multi-course fancy dinner created by the Dolci + Knoll team. Please note, this is a ticketed event co-organized by Dolci and the Knoll
Garden Volunteer Hours
The garden has been almost entirely powered by volunteers and interns for 20 years, and we are grateful you are here. 
Our Fall 2023 Garden Volunteer Hours will start Monday, September 11th and run until Friday, November 3rd 
Mondays: 1-3pm BIPOC affinity hours
Tuesdays: 1-3pm
Fridays: 9-11am and 1-3pm
Please be sure to check out www.go.middlebury.edu/knollhours for the latest daily updates in the event of cancellations due to weather, and for updates.
Physical Education Credit
Starting in Fall 2020, we have offered physical education credit for attending at least four sessions (8 hours) of Volunteer Garden Hours in one semester. 
To furrow, to winnow, to hand mow, to harvest, to broadfork, to wheelbarrow, to broadcast, to mulch, to scout, to steward… What goes into gardening at the Knoll, and why? Join us in working outside while we learn about and carry forward the practices of hand work in the learning garden at the Knoll. We will explore a variety of techniques and approaches to caring for soil and understanding cycles of regeneration. All meetings will open with a welcome and a short, guided contemplative practice. No previous experience is required, bring your questions and a willingness to try something new.
To receive PE credit participants must attend at least four gardening sessions (2 hours each). Please be sure to sign-in on the attendance sheet when you come; there's no need to sign up in advance.
For all garden volunteers: Please bring a full water bottle and wear closed-toed shoes, and layers suitable for movement in the weather. All other supplies provided, and there is no cost to participants. Please direct questions to Megan Brakeley, associate director, at mbrakeley@middlebury.edu.
Self-guided Tours and Activities
For Fall 2020, we are pleased to share some resources for self-guided, physically distant exploration of the Knoll. Check out the digital handout introducing the Knoll created by Maya Gomez '20 and a Seek & Find Scavenger Hunt for solo or paired use.
Want to learn more? 
Get involved with Knoll Friends student organization by emailing lead organizer Crystal Zhou '23.5.
You can read our annual program reports spanning the 20 years of the Knoll's evolution at go/knollreports, check out the Knoll's student-run blog at go/knollblog, and follow the Instagram account (@middknoll) to stay up to date with the latest.
Local Resources

Middlebury's integrated commitment to sustainability means that we support local, environmentally committed vendors whenever possible. Here are a few Vermont-based organizations that share our vision for the future.