Climate Change Webinar to Focus on Sustainable Energy Transition in Vermont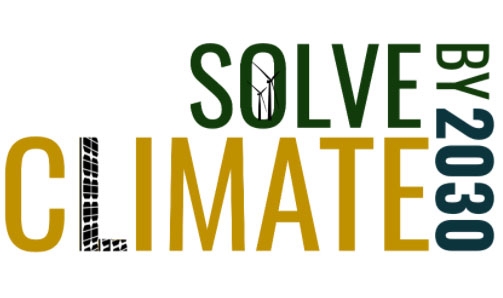 MIDDLEBURY, Vt. – On Tuesday, April 13, the Middlebury College Franklin Environmental Center will sponsor a public webinar, "Climate Solutions for Vermont," on behalf of "Solve Climate By 2030," a global teach-in designed to accelerate local solutions to climate change. The Vermont webinar is one of more than 100 events in 50 countries, 47 states, Puerto Rico, and the District of Columbia. It will feature the work of Middlebury students and their community partners for an environmental studies course for seniors. The students are collaborating with local organizations to address current sustainability issues in the region and elsewhere.
"Vermont farmers, educators, brewers, manufacturers, healthcare providers, policymakers, families, and individuals are all equal members of the Vermont community," said Kate Holly '21, an environmental studies major taking the course this spring and a member of the webinar's three-person panel. "We can act on the individual level, as I believe we all should, but we should also be looking to take action together as a community. There is hope in this unified action."
The Vermont panel, which will be moderated by Jonathan Isham, professor of economics and environmental studies, is scheduled to include:
Holly is in a group of 12 students in the course, co-taught by Diane Munroe, assistant director for community-based learning, and Isham, that is focusing on climate and energy justice in Vermont and beyond. In another section of the class, co-taught by Kate Crawford, assistant professor of environmental studies, and Munroe, 14 students are studying toxic chemicals in the environment, a problem requiring solutions that integrate science, policy, consumer behavior, advocacy, and creative communication.
During the Zoom-based webinar, which will air live on Tuesday, April 13, at 7:00 p.m. and requires registration, the panelists will offer their perspectives on pursuing a just and sustainable energy transition in Vermont, presenting three ongoing class projects designed to support a diverse climate-economy workforce, affordable clean-energy methods of transportation for low-income households, and zero-net energy housing for migrant workers on dairy farms.
Registered participants will have the opportunity to ask questions during the webinar, which will be recorded for public use by Vermont educators and others.
The environmental studies capstone course supports Energy2028, Middlebury's 10-year sustainability initiative announced in 2019, which rests on four pillars: transitioning to 100 percent renewable energy sources; cutting energy consumption by 25 percent; divesting from fossil fuels; and integrating Energy2028 with the educational mission of the College. "The forthcoming webinar gets at the heart of Middlebury's mission," said Jack Byrne, dean of environmental affairs and sustainability, "to help students engage their communities, think consequentially, and act creatively at this crucial time for our environment."