An Art Project for Those Who May go Unseen and Unheard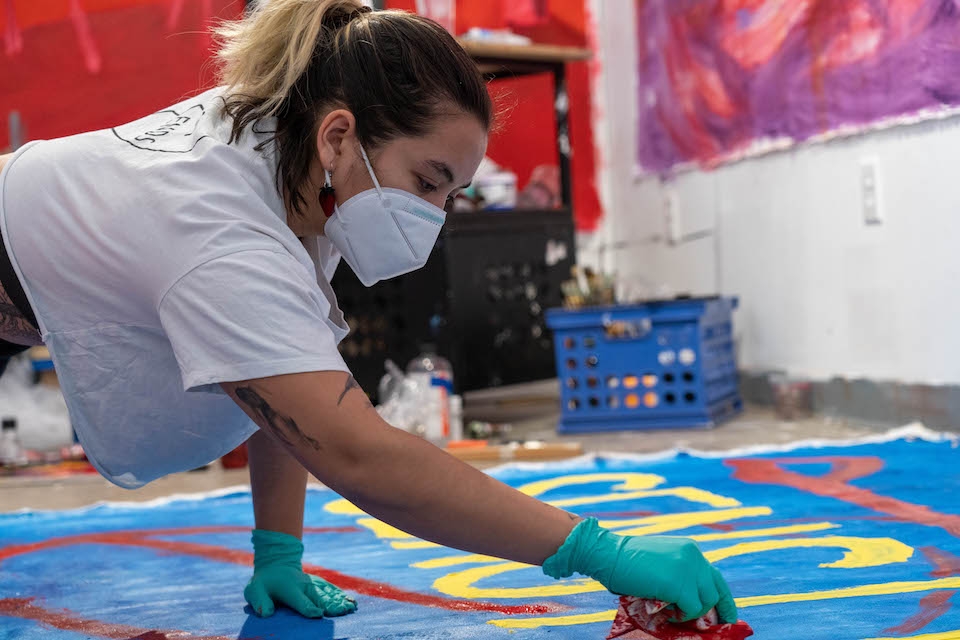 Sienna Bucu '22 has been awarded a $10,000 Projects for Peace grant to take on an ambitious art installation project in the public schools of her hometown, Union, New Jersey.
 "We Are Here: Engaging in Art for Resilience and Reclamation of Space" is being designed for students with behavioral and academic setbacks, students in need of extra social-emotional support, and students interested in art across the district to create site-specific murals and installations.
"The plan is to create a working environment where students can foster creativity, allow themselves space to heal, and to give back to their community. For this project, the process of creating is just as important, if not more, than the final result," Bucu said. "The act of seeing each other and themselves making a lasting impression on the walls is an act of radical self and community care." 
Bucu, a studio art major with minors in philosophy and art history, will look to identify six to ten students per school to collaborate on the project, and also work closely with teachers in the district and its board of education. The resulting artwork will amplify students' voices and draw attention to mental health initiatives. Murals will be produced for Union High School and the district's two middle schools. The district's seven elementary schools will each be the subject of smaller drawing projects.
"This project intends to be a marker of place – students who may go unseen and unheard will now have a permanent display of their presence made by their own hands," Bucu said. "The impressions on the walls signify that they will not be forgotten or dismissed. They matter."
Projects for Peace is a global program that encourages young adults to develop innovative, community-centered, and scalable responses to the world's most pressing issues. Along the way, these student leaders increase their knowledge, improve skills, and establish identities as peacebuilders and changemakers. Projects for Peace is hosted by Middlebury College's Center for Community Engagement. Participation at Brandeis is facilitated by the International Center for Ethics, Justice and Public Life.