Colorado College Grads Plan Art Workshops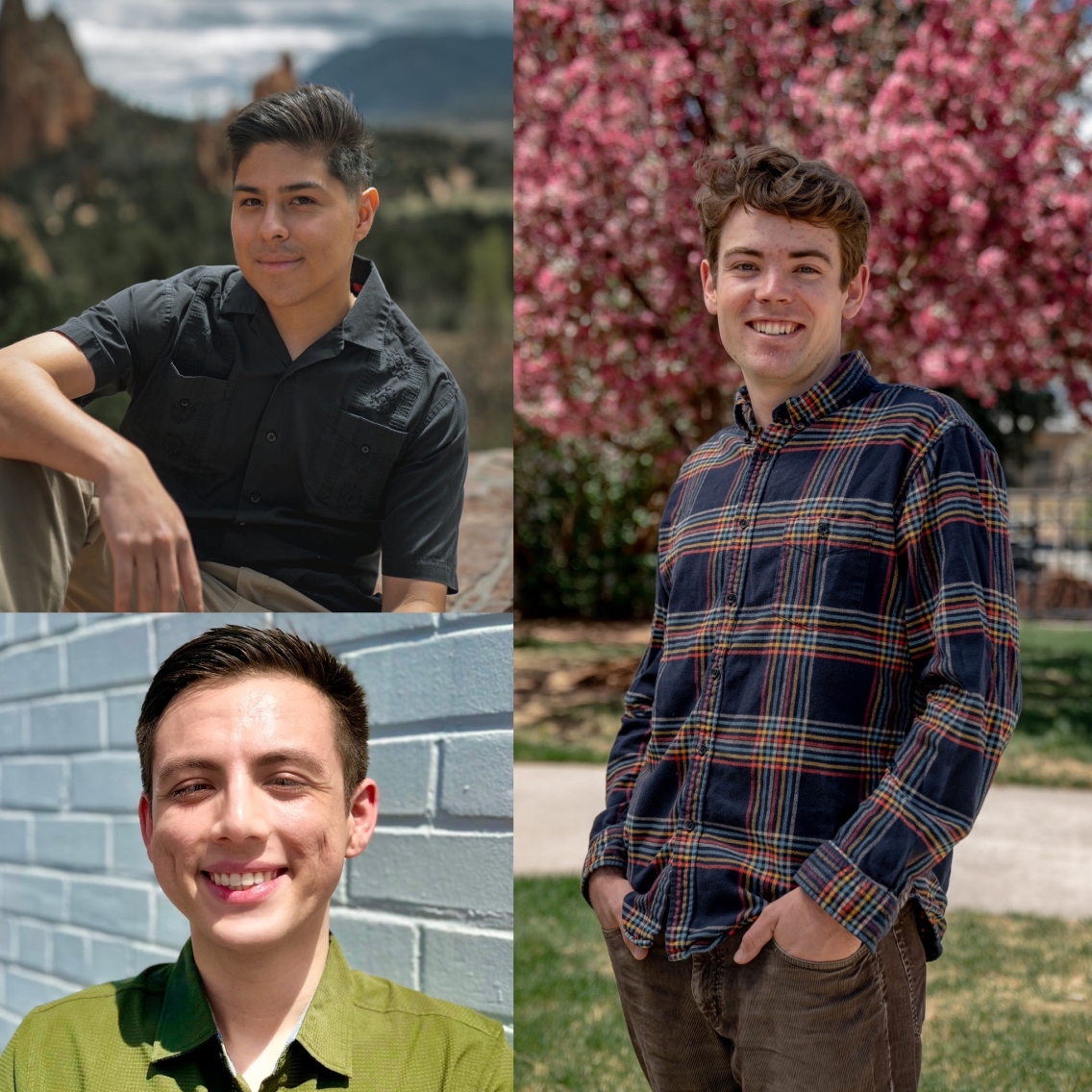 Cormac McCrimmon '23, Andres Madrigal '23, and Manuel Uribe '23 have won a Projects for Peace for their proposal to use art in creating social change in Brazil.
Their project will connect high school students in Salvador da Bahia, Brazil, with local artists through a series of art workshops.
"Our goal is to highlight the power of art to illuminate injustice and create social change," says McCrimmon, a history major.
"It is an honor to have been selected to receive the Projects for Peace grant," says Uribe, who majored in romance languages with a concentration in Portuguese, Spanish, and French.  "With this grant, I hope my team and I can have a meaningful, positive effect on the school we are working with and the visual artists we are inviting to lead workshops with students.
"Through the Projects for Peace grant, we have the opportunity to make a sustainable impact," says Madrigal, an organismal biology and ecology major and Spanish and Chicanx-Latinx studies minor. "We hope to nurture a vibrant artistic community that can continue to thrive long after our project concludes."
McCrimmon, Madrigal, and Uribe first thought of this idea during an accelerated Portuguese block in Salvador last summer with Naomi Wood, associate professor and chair of the Spanish and Portuguese departments. While abroad, the three students met local artists Ani Ganzala and Eder Muniz, who use art to empower local communities and create change. The three [Colorado College] students were inspired by these artists and wanted to find a project that would amplify the work Ganzala and Muniz were doing.  
"Our project embodies the spirit of collaboration, embracing the diverse perspectives and experiences of participants, artists, educators, and community members, fostering a sense of collective ownership and pride," says Madrigal.
"One of the best parts about CC is the plethora of opportunities," says McCrimmon. "I'm grateful for the opportunity to have been able to study abroad, learn Portuguese, and take on a project like this."
As recipients of the award, McCrimmon, Madrigal, and Uribe received $10,000 to implement their project. They will spend two months in Salvador this summer implementing 12 art workshops for local young people in partnership with Colégio Estadual Evaristo da Veiga, a predominantly Black and low-income community school which serves 630 students between the ages of 13 and 18.
"The CC student team has thoughtfully developed a project that incorporates peacebuilding and tackles tough subjects, including racism, through creativity and artmaking," says Laura Hines, campus liaison for the Davis Projects for Peace.
"Our workshops will provide an opportunity for young people from low-income neighborhoods to learn from talented, local artists and improve their craft," the students wrote in their proposal.
"Since winning the award, we have continued fine-tuning our project plan and working with local contacts to ensure the successful implementation of our project," says McCrimmon. "We are all thrilled to return to Salvador and see how it unfolds."
Prior to arriving in Salvador, McCrimmon, Madrigal, and Uribe will continue to work with community partners, teachers at the school, and other local contacts to plan and prepare for the workshops. Fred Bomsucesso, a geography teacher at the school, has been instrumental in coordinating the details between the school and the three CC grads.
"Ultimately, I hope that we, the students, and the artists can all mutually learn and grow from each other, inspiring each other through our artistic endeavors and honing in on the transformative power of art," says Uribe. "I hope to work in collaboration with the artists and the students to develop this knowledge of art as a vehicle of great social change, and bring this into my own life as a dancer and visual artist."
About 100 students a year are awarded a $10,000 grant to implement a "Project for Peace," through the Projects for Peace program, which was established in 2007 by philanthropist Kathryn Wasserman Davis.