Projects for Peace Alum Stanislav Knezevic Wins Yenching Scholarship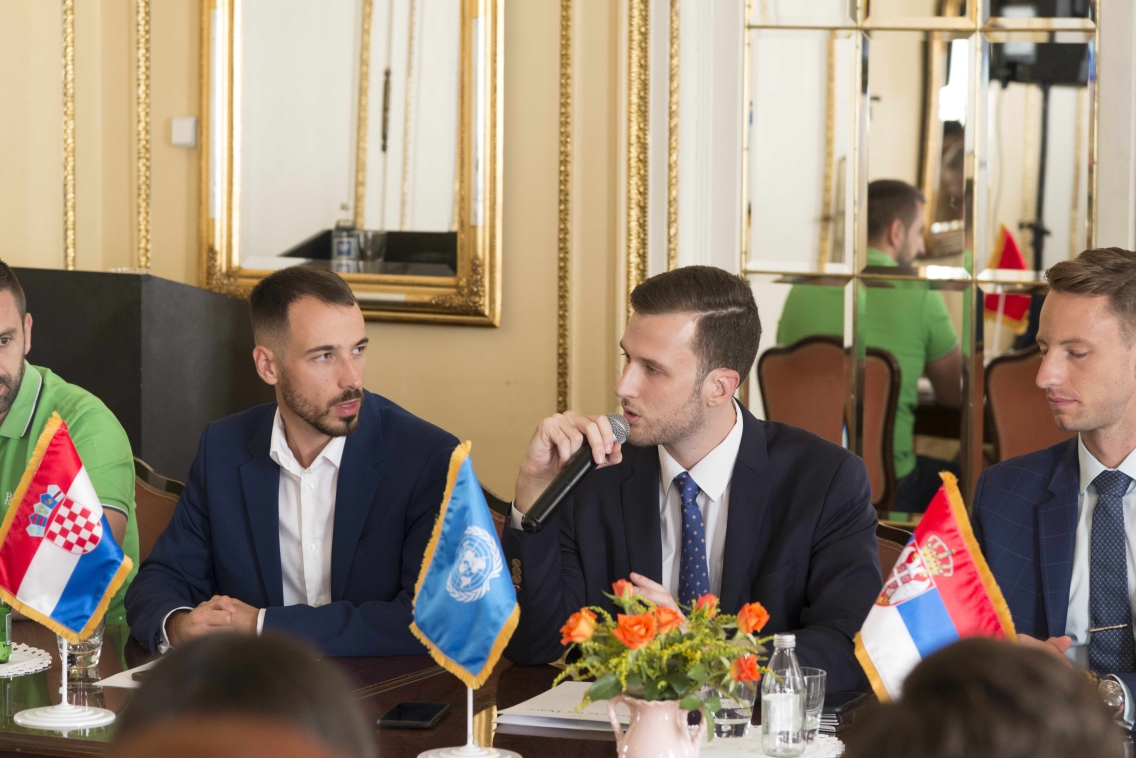 Trinity College alumnus Stanislav Knezevic '21 was awarded a Yenching Scholarship from the Yenching Academy of Peking University in China as part of the 2022-23 cohort. Knezevic will pursue an interdisciplinary master's degree in China Studies, with a concentration in politics and international relations.
Knezevic and other scholars awarded full fellowships take courses in the social sciences and humanities in relation to China, working alongside their academic mentors. Outside the classroom, they participate in fieldwork and extracurricular activities to advance their knowledge and understanding of China and its past, present, and future influence on the world.
"It's a unique opportunity to gain a deep understanding of China's politics, society, and increasingly important role in global affairs," said Knezevic, who majored in political science and minored in philosophy at Trinity. "I'm honored to be selected for this opportunity. Besides its significance in relation to understanding modern China and its relation to the world, the Yenching Academy program also serves the indispensable role of promoting intercultural dialogue and interdisciplinary academic research as an instrument of peace and understanding."
While at Trinity, Knezevic had the opportunity to study abroad in Europe: one semester at Sciences Po in Paris and one semester at the University College London. There, he was able to advance his knowledge of international relations and European politics. "What Yenching Academy will allow me to do is complement my understanding of European and American politics with a deep understanding of China's role in the world. Once I'm able to connect these systems together, I will be able to generate a more comprehensive and dynamic understanding of international relations," said Knezevic.
As an undergraduate, Knezevic worked in Trinity's Dean of Student's Office and was also involved in the Student Activities, Involvement & Leadership Office, as well as the Model United Nations Club and the International Relations Club. During his sophomore year, Knezevic had the opportunity to be a research assistant to John R. Reitemeyer Professor of Political Science Anthony Messina, focusing particularly on American immigration politics.
Coming from Mladenovac (Belgrade), Serbia, Knezevic chose Trinity because of its support system for international students, including financial aid, opportunities for extracurricular and professional development, and access to study abroad programs. Knezevic wanted to go to a liberal arts college to gain a comprehensive education that would foster his critical thinking skills and allow him to express himself in a strong, well-rounded manner, particularly in regard to global affairs. "I appreciated the fact that Trinity emphasized an education that combined theoretical learning and practical application of knowledge through internships," said Knezevic. He participated in Trinity's Legislative Internship Program, through which he interned for a semester for state Rep. Josh Elliott in the Connecticut General Assembly. As someone who always knew he wanted to pursue political science as his major, Knezevic said that Trinity gave him many opportunities to expand his capabilities through courses, extracurriculars, and involvement in Hartford.
During his senior year at Trinity, Knezevic was involved with Projects for Peace, a fellowship that supports peacebuilding initiatives across the world. He was selected along with Ana Stambolic '21 to receive a grant for their project that promoted cooperation, peace, and reconciliation through large youth organizations in parts of the world that had suffered from conflict in the past. Knezevic said, "Our project, titled 'Ex-Yu Youth Leadership Conference: Networking for Peace,' was designed to mobilize large student organizations (the Organization of Serbian Students Abroad, the Organization of Montenegrins Studying Abroad, and the Association of Croatian Students Abroad) and distinguished young leaders from Serbia, Croatia, Montenegro, Bosnia and Herzegovina, North Macedonia, and Slovenia, to form a joint cooperation platform in fields of youth policy, entrepreneurship, science and humanities, and culture."
Through the Organization of Serbian Students Abroad, the Association of Croatian Students Abroad, and the Organization of Montenegrins Studying Abroad, more than 10,000 members in the United States and internationally signed a Joint Declaration on Regional Cooperation, "affirming the value of achieving peaceful and prosperous regional relations through cooperation and mutual respect and agreeing to pursue cooperation in the future," said Knezevic.
Several faculty members played significant roles in Knezevic's education and life at Trinity, he said. Associate Professor of Political Science Andrew Flibbert, Associate Professor of Political Science Reo Matsuzaki, and Associate Professor of Philosophy Shane Ewegen all helped Knezevic on his journey to becoming a scholar at Yenching Academy. Knezevic said, "They helped me broaden my horizons academically and have been there to support me."
Flibbert said that Knezevic receiving the Yenching Scholarship will benefit both the student and the Yenching Academy. "He deserves it not just because it will benefit him greatly—no doubt it will—but because he'll contribute his energy and talents to the program, giving as much as he gets in return," Flibbert said.
Ewegen added, "Given the extent to which [Knezevic] excelled at Trinity, it is no surprise to me that he was awarded the scholarship. Of all the students I've worked with, he was the most deserving, given his curious mind and his extreme work ethic. I know that he will be successful."
Currently, Knezevic is the Youth Delegate of the Republic of Serbia to the United Nations. In this capacity, he has represented his nation's youth in front of the 76th UN General Assembly in New York, as well as the 12th UNESCO World Youth Forum in Paris. He also is a member of the Young Ambassadors Program of the Carnegie Endowment for International Peace, where he is assisting senior Carnegie fellows with U.S.-China relations research.
After finishing his studies at the Yenching Academy, Knezevic plans to pursue a professional career in diplomacy. "What motivated me most to pursue a master's degree with Yenching Academy is that I believe global affairs are changing in a deep, structural way, and that our knowledge of the world must expand accordingly," he said. "This is indispensable in the context of maintaining the practice of ensuring peace and stability through mutual understanding and dialogue, particularly in relation to the United States and the People's Republic of China."
Read about another Yenching Scholar from Trinity College, Shawn Olstein '22, here.