Projects for Peace Grantees Focus on Environmental Education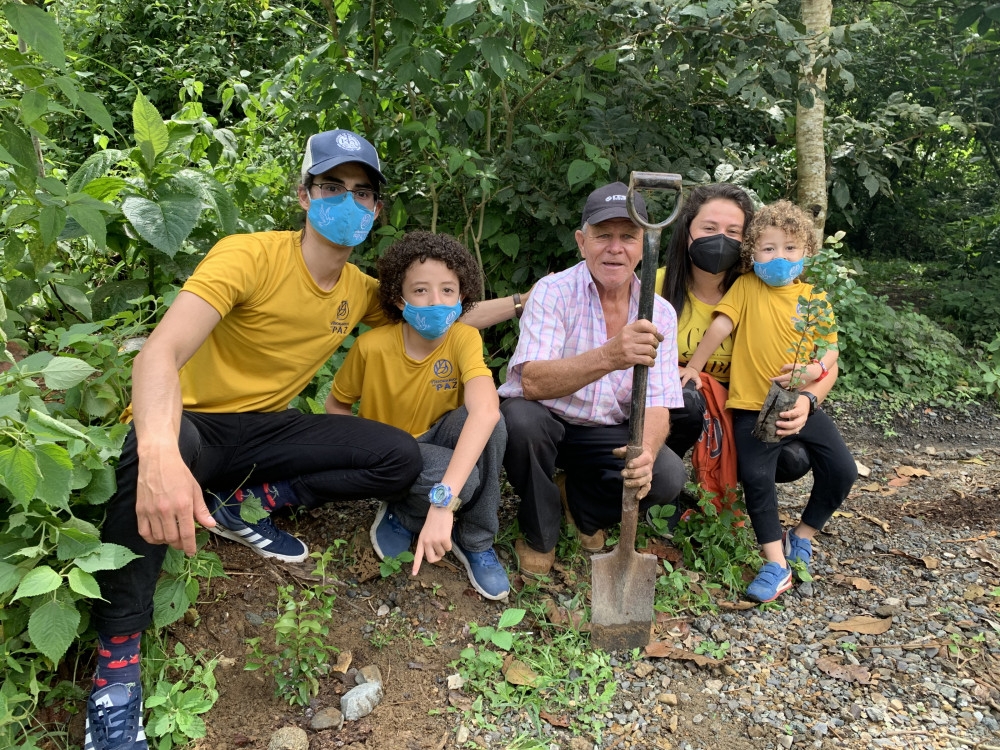 Mauro José Ramírez Azofeifa has long felt a strong kinship for the natural world and known that he wanted to do something to help protect the environment. As a boy growing up in Palmichal, Costa Rica, he would dream of being a member of an environmental club, promoting education and ecological initiatives among the 4,500 residents of his rural community. But the lack of any such organization made this impossible. Now, Ramírez Azofeifa is helping to change that.
Visionarios de Paz, an organization co-founded by Ramírez Azofeifa and colleague Rebeca Morales with a $10,000 Projects for Peace grant, is giving dozens of kids and others from the Palmichal area the chance to improve local water systems and forests while learning about the roles of marketing, innovation, entrepreneurship, and finance with regards to ecological issues.
The group also maintains a greenhouse they built themselves which functions as a classroom and meeting space to learn and share. At the greenhouse, the students are planting, harvesting, and selling native trees. Doing so gives them opportunities to apply what they are learning in the Visionarios program, which helps to keep them motivated, Ramírez Azofeifa said. As it develops, the tree business will help ensure the financial sustainability of the project.
By combining his experiences with the Clinton Global Initiative and a subsequent grant from Michigan State University's Network for Global Civic Engagement (NGCE), Ramírez Azofeifa has extended the life of Visionarios de Paz and moved it closer to long term viability.
"The most exciting part about doing this work is to witness a real impact on my hometown. I love seeing the smiles of the children and youth," he said. "I believe education can change the world, but first we must transform the mindset of the new generation and teach the importance of taking care of the environment."
Education is at the forefront of the $10,000 awarded to Ramírez Azofeifa by NGCE for "collaborative and sustained engagement" between the Michigan State University Residential College in the Arts and Humanities, the MSU College of Social Science, and Visionarios de Paz. Learning, Growing, Sustaining: A radically reciprocal and experiential curriculum centering environmental issues and global engagement in rural San Jose is utilizing the work Ramírez Azofeifa has done with Visionarios to "create and test an educational curriculum for Costa Rican youth with the potential to serve as a model for youth programming globally," Michigan State officials wrote in the award.
The project "is highly consistent with the NGCE's mission to co-create global knowledge and peace and human security through global reach," officials wrote. "This work to build bridges for cogenerative engagement that decenters knowledge and focuses on root cause—in this case related to climate justice in the Palmichal de Acosta region—reflects the network's commitment to radical reciprocity."
Ramírez Azofeifa is partnered on the project with MSU professor Brian Egan and student Casey Christy, whom he met while involved in other projects and worked together with on an assignment for Writing for Nonprofits, a COA course taught by Rhiannon Lewis. This class, and several others, he said, had a deep impact on the development of Visionarios de Paz. Through courses such as Launching a New Venture, an independent study for entrepreneurs, and The Hatchery, COA's sustainable venture accelerator, Ramírez Azofeifa was able to home his ideas, his communications skills, and his business acumen in a way that allowed him to follow his passions for bringing environmental education back to his hometown.
"These courses taught me the importance of developing enterprises that maximize profits while simultaneously improving people's quality of life and preserving thecworld's natural resources. I learned that we can truly make a difference in changing the ways in which entrepreneurs do business and consumers value products and services," he said.
Ramírez Azofeifa is a graduate of United World College Dilijan and a Davis United World College Scholar. One of the main reasons Ramírez Azofeifa came to COA was the sustainable entrepreneurship program, he said. His self-designed path of study has included many education and business-related courses. One of his favorite classes, he said, was during his first term at COA. Changing Schools, Changing Society, taught by visiting faculty and educator Todd West '00, introduced Ramírez Azofeifa to the power of experiential learning and educated him on the inequalities that exist in education. After taking the course, he became interested in learning how business enterprises can customize educational programs abroad, which eventually led to Visionarios de Paz.
"Working with Mauro in COA's sustainable business program has been inspiring," said COA sustainable business program manager Kerri Sands. "Like a true entrepreneur, and human ecologist, Mauro has sought out every possible opportunity to test and launch his ideas, make connections, and advance his work—in the classroom and beyond. It is thrilling to see how he has applied his knowledge and harnessed his incandescent optimism to create real impact in his community."
As a participant in the 2022 Clinton Global Initiative University (CGIU), Ramírez Azofeifa is part of a community of youth leaders developing innovative solutions to the world's challenges. His efforts to promote environmental education and mitigate pollution and water scarcity in his hometown are being supported by the CGIU network, he said. His goals are to obtain financial stability for Visionarios de Paz and to acquire land in Palmichal to reforest with native trees and protect biodiversity.
"The most exciting things about the CGIU program have been the mentorship aspect, getting to know the other students, and the networking opportunities. I've gotten so much insightful feedback on my work, and been able to connect and learn from other students about their entrepreneurial ideas and changes they want to create in the world with their projects," Ramírez Azofeifa said.