Projects for Peace Presents First Alumni Award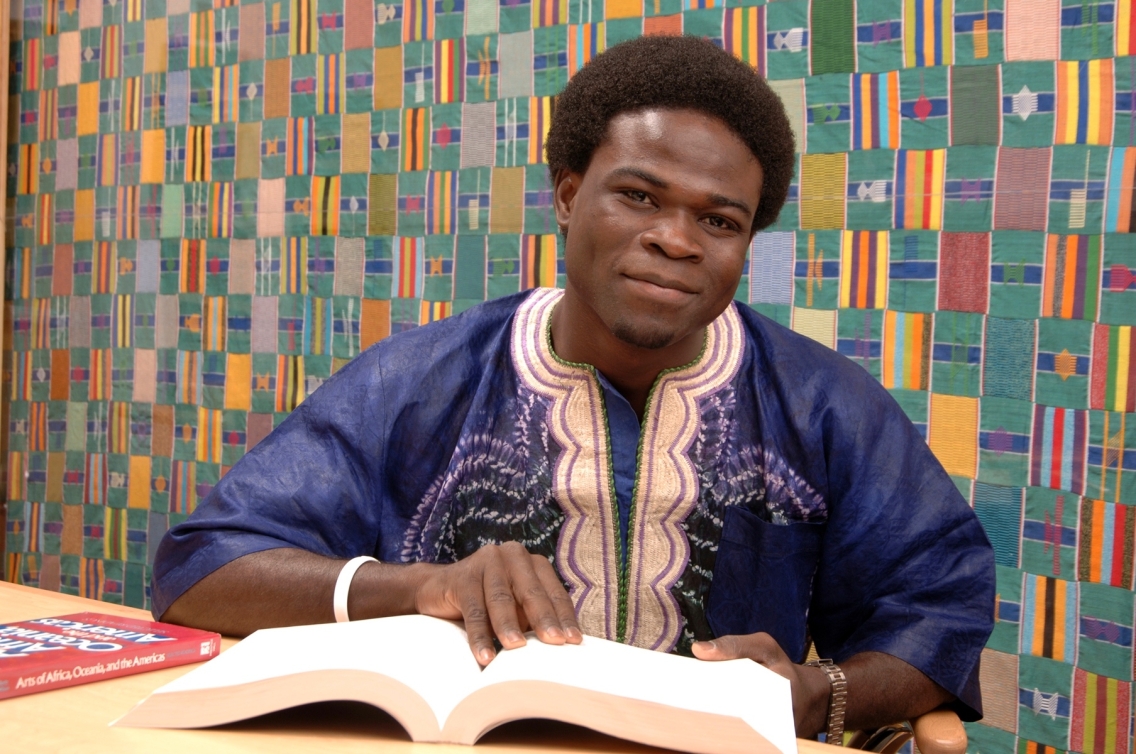 Projects for Peace and the Kathryn Wasserman Davis Collaborative in Conflict Transformation at Middlebury have announced the inaugural recipient of the Projects for Peace Alumni Award: human rights and education activist Joseph Kaifala. The newly created award grants up to $50,000 in support of the ongoing peacebuilding efforts of a past Projects for Peace recipient who demonstrates innovation and persistence in working for peace and transforming conflict.
Kaifala was among the first cohort of Projects for Peace grant recipients for his 2007 project titled, "Education as a Project for Peace in Sierra Leone: Constructing a Library in Conakry-Dee."
A former Davis United World College Scholar, Kaifala earned his bachelor's degree from Skidmore College, a master's in international relations from Syracuse University, and his juris doctorate from Vermont Law School. As a Davis United World Colleges Summer Nonproliferation Fellow at the Middlebury Institute's James Martin Center for Nonproliferation Studies, he researched issues relating to the U.S.-Africa Command, African Nuclear Weapons Free Zone Treaty, Nonproliferation Treaty, and Comprehensive Test Ban Treaty.
"We've been inspired by Joseph's work, from his commitment to Projects for Peace at Skidmore to his work at the Middlebury Institute, and now in his vision for Sierra Leone," said Middlebury President Laurie Patton. "It's a powerful testament to the enduring strength of this program that students who launched their careers as peacebuilders years ago have persisted in this crucial work." 
Summoning Peace from Hardship
A survivor of the 11-year civil war in Sierra Leone, Kaifala has focused his career on peace, human rights, and rebuilding in his home country. In 2009, he launched the Jeneba Project, a nonprofit providing educational opportunities for adolescent girls.
"Children were particularly affected by that conflict, many of them conscripted as combatants," Kaifala said in his application. "Educational institutions were used as bases and vandalized. This is why my original Project for Peace was directed toward rebuilding educational infrastructure and providing scholarships to marginalized girls."
After his initial library project, Kaifala remained concerned about marginalized girls who were either out of school or less likely to complete secondary school due to obstacles such as poverty, teenage pregnancy, lack of uniforms and school fees, and period poverty. In 2018, as part of the Jeneba Project, he led the construction of Sengbe Pieh Girls Excellence Academy, a high school for girls in Robis, Sierra Leone.
"We have removed many of the obstacles that force girls to drop out or not enroll," noted Kaifala.
He is also founder of the Sierra Leone Memory Project, an oral history program dedicated to recording testimonies from survivors of the civil war, including former child soldiers, amputees, and survivors of rape.
A Path to Conflict Transformation
The Projects for Peace Alumni Award was developed in collaboration with the Kathryn Wasserman Davis Collaborative in Conflict Transformation, which asked candidates to envision the role of conflict transformation in their work.
Kaifala plans to use the award to expand opportunities for schoolchildren in Sierra Leone to visit the Civil War Memorial in Freetown. It's essential, he says, for students to learn about transitional justice mechanisms—the ways in which societies respond to legacies of massive and serious human rights violations—in order to promote a culture of peace and nonviolence. The funds will help ensure his organization reaches students in all parts of the country, helping to fulfill a mandate of Sierra Leone's Truth and Reconciliation Commission.
According to Kaifala, conflict transformation in the field of transitional justice "serves as an open exploration of the causes of conflict in order to create spaces for forgiveness, reconciliation, and the intentional rebuilding of society embedded with structures and values that prevent similar conflicts in the future."
Conflict transformation requires deep contextual knowledge, creativity, and partnership in order to move from destructive dynamics to more constructive conflicts, says Sarah Stroup, professor of political science and director of the Conflict Transformation Collaborative. "The Projects for Peace alumni finalists each embodied these commitments, and they offer inspirational examples that peacebuilding is possible."
Nominating Institutions
The staff at Projects for Peace and the Conflict Transformation Collaborative would like to extend our deep appreciation to all the applicants, nominees, and educational institutions that participated in the 2023 Projects for Peace Alumni Award program. The accomplishments and aspirations of the nominees are inspiring, and we thank them for their continued commitment to building peace. Nominations were made by the following educational institutions this year:
Barnard College
Bates College
Bennington College
Bowdoin College
Brandeis University
Carleton College
Claremont McKenna College
Clark University
Colby College
Colgate University
College of the Atlantic
Colorado College
Connecticut College
Cornell University
Dartmouth College
Drexel University
Earlham College
Future Generations University
Georgetown University
Gettysburg College
Graduate Institute of International and Development Studies/Geneva
Harvard College
Haverford College
International House
Ithaca College
Luther College
Macalester College
Massachusetts Institute of Technology
Methodist University
Middlebury College
Middlebury Institute for International Studies
Mount Holyoke College
Northwestern University
Oberlin College
Occidental College
Pomona College
Princeton University
Randolph-Macon College
Scripps College
Skidmore College
St. John's College
St. Lawrence University
St. Olaf College
Swarthmore College
The College of Idaho
The University of North Carolina at Chapel Hill
Trinity College
University of Chicago
University of Florida
University of Oklahoma
University of Pennsylvania
University of Richmond
University of Rochester
University of Virginia
Vassar College
Wellesley College
Whitman College
Williams College
Yale University