Alumni Achievement Awards
Each year, the Middlebury Alumni Association recognizes outstanding and distinguished achievement by alumni by conferring the Alumni Achievement Award.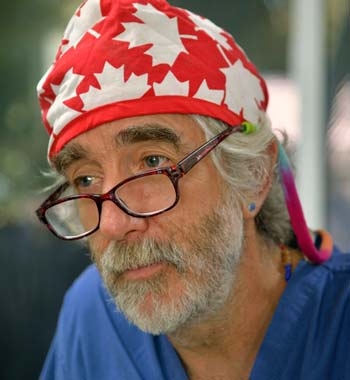 Dr. John "Bull" Durham '80
John "Bull" Durham is an orthopedic hand surgeon with specialized training in trauma, fracture care, and reconstructive techniques. He freely shares his talents and expertise with some of the most traumatized and grievously wounded people in the world, bringing them hope and healing—from Haitians ravaged by the 2010 earthquake to patients in a Mongolian trauma hospital to the underserved community of the Navajo Nation in Tuba City, Arizona, during the COVID-19 pandemic.
When the 7.0-magnitude earthquake hit Haiti in 2010, leveling Port-au-Prince, killing 280,000, and leaving millions homeless, John felt compelled to help. It was not his first international volunteer effort, but it was among the most dire. The devastation and suffering were tremendous, the people's injuries catastrophic, and Haiti's few hospitals ill equipped to treat even the most basic injuries. John plunged in, helping in any way he could. Since Haiti's hospitals had sustained so much damage, he operated in non-sterile surgical theaters, trying to save as many lives as possible.
Since then, John has returned to Haiti dozens of times to provide medical care, to help build the hospital and health care infrastructure, and to offer assistance to the many orphanages that were needed after the quake. He helped to build an orthopedic residential program at Hospital Bernard Mevs, which has been restored and transformed into Haiti's main trauma center. Over time, his mission has become focused on educating the local medical professionals so that improvements will become enduring. He has brought U.S. surgeons, nurses, and technicians with him to work with and mentor their counterparts at Bernard Mevs. When he visits, he brings surgical tools, hardware, and implants that he coaches Haiti surgeons to use.
Today, John leads efforts with Northern Arizona Volunteer Medical Corps, a medical volunteer group founded in 1995 to help those in need all over the world.
In 2015, the University of Vermont presented him with the Outstanding Service to Medicine and Community Award for his "outstanding record of community-oriented medical service."
The Middlebury Alumni Association Alumni Achievement Award is presented to John "Bull" Durham '80 in recognition of the personal achievements and the outstanding contributions he has made in his field. His distinguished accomplishments bring great credit to the College.
---
Robin E. Bell '80
Robin Elizabeth Bell has been blazing scientific trails since the day she graduated from Middlebury. To travel to her first job, for example, she and her now husband, Karl Coplan, built a 24-foot dory on the banks of Otter Creek and sailed from Vermont to the Hudson River, out to the Atlantic waterway, and on to Woods Hole, Massachusetts.
An intrepid explorer and researcher, and the Doherty Senior Research Scientist at Columbia University's Lamont-Doherty Earth Observatory, Robin has pioneered a diverse array of achievements and made significant contributions to our understanding of the changing planet. Her work examines the implications of climate change on polar regions and adapts scientific instruments to produce new insights about them.
She played a central role in launching the 2007 International Polar Year—which pulled nearly 60,000 scientists from more than 63 nations for an intense campaign to research and explore polar regions. During the Polar Year, she led a major expedition to investigate the Gamburtsev Mountains, a mountain range larger than the Alps, completely covered with ice, and unexplored until then.
Robin has organized and participated in numerous expeditions to Antarctica and Greenland. She discovered a volcano beneath the West Antarctic ice sheet and several large lakes trapped under miles of ice. She has made multiple important discoveries about ice sheet dynamics, overturning long-held assumptions. For example, she demonstrated that water hidden beneath the ice sheet runs uphill and that ice sheets can thicken from below.
Beyond polar regions, Robin has led research projects on the Hudson River. One project involved mapping the Hudson River from Staten Island to Albany. Her team identified critical habitats and contaminated deposits and discovered dozens of sunken ships and artifacts dating back to the Revolutionary War.
In her role as a senior research scientist at one of the world's top science institutes, Robin serves as an example for women who wish to enter science fields. She is actively involved in promoting the recruitment, retention, and advancement of women in science and engineering, and is an outspoken advocate for women in the sciences, including speaking out about sexual and gender-based harassment in labs and on expeditions. Robin served as the director of ADVANCE at the Earth Institute of Columbia University, a program funded by the National Science Foundation designed to expand opportunities for women in science and engineering.
Robin was the first woman to chair the National Academy of Sciences Polar Research Board. She was voted by her peers to be president of the American Geophysical Union. The professional scientific organization has more than 65,000 members in 139 countries. Robin assumed the presidency in 2019. In 2011, the National Academy of Science's Polar Research Board named a mile-long Antarctic ridge "Bell Buttress" in Robin's honor.. Middlebury College awarded her an Honorary Doctorate of Science in 2006.
The Middlebury Alumni Association Alumni Achievement Award is presented to Robin Bell '80 in recognition of the personal achievements and the outstanding contributions she has made in her field. Her distinguished accomplishments bring great credit to the College.