Class of 2020 Celebrates Long-Awaited Commencement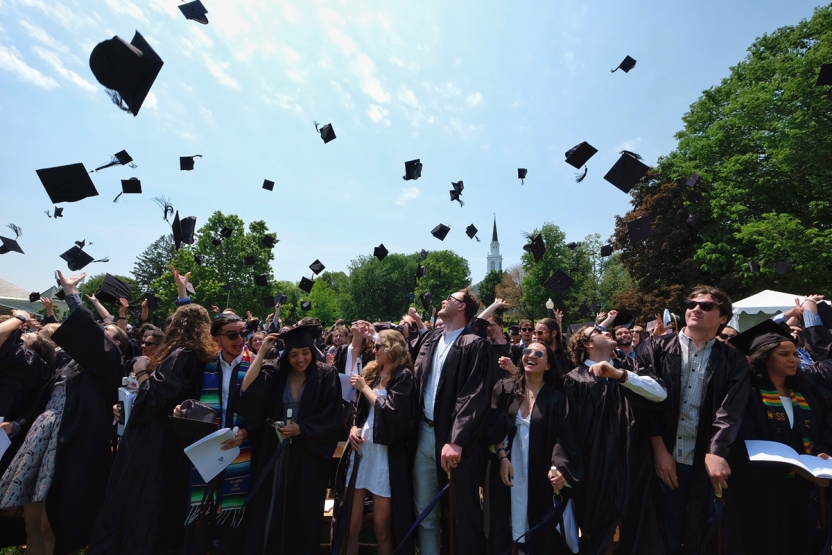 Nearly 500 members of the Class of 2020 gathered on the Middlebury main quad with family, friends, faculty, and staff on Tuesday to finally celebrate their Commencement—a rite of passage denied them in 2020 when the COVID-19 pandemic cut short their time on campus.
"Your memories of the last time you were here must be powerful. I know they are for us," said President Laurie Patton in her Baccalaureate address, which was included in the main ceremony. "It was snowing off and on the week of March 10, 2020. You must remember. I certainly do. We left each other with shock and disappointment and tears."
At the time of their departure, Patton said, they faced not only the isolation, fear, and loss from the pandemic, but also the immense challenges of starting postcollege life—finding jobs and places to live—amid a nationwide lockdown.
"Considering these extraordinary circumstances, what can we say to you? And do for you?" asked Patton. "I believe we can do two things: First, we can welcome you home, to your first, most unusual Reunion. And second, at the very same time, we can give you a proper celebration which creates closure, a sense of an ending to your Middlebury careers."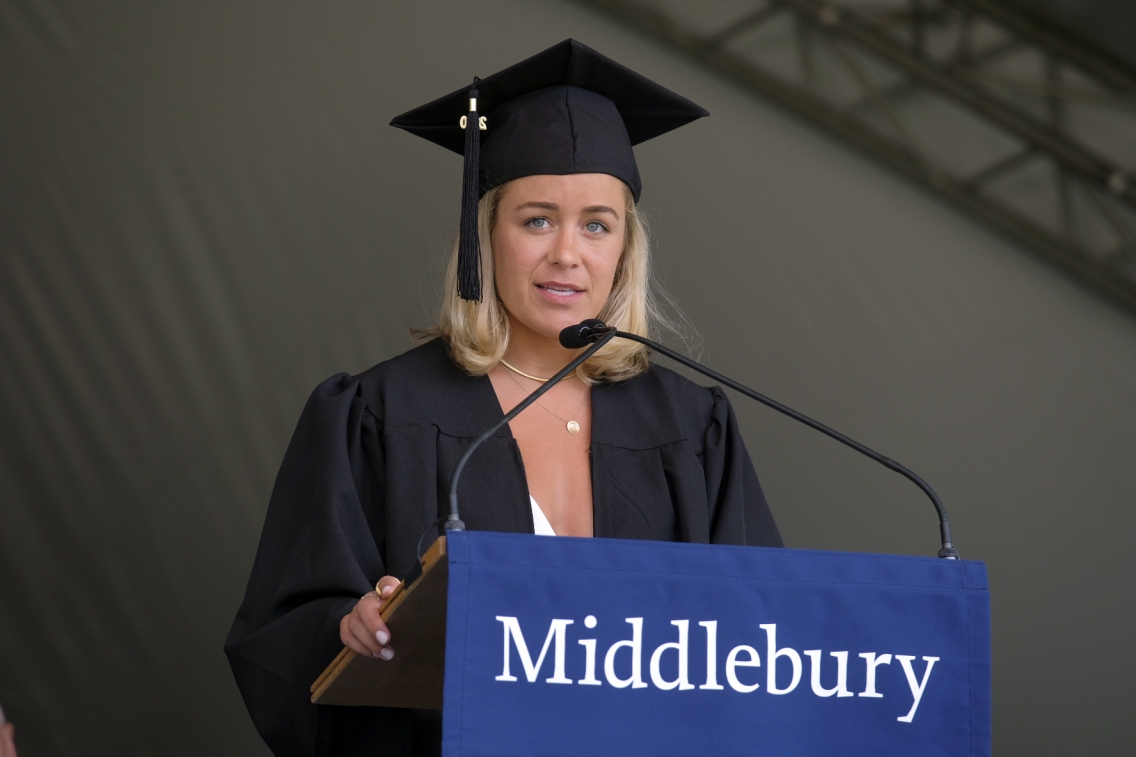 Two members of the class—Mollie Smith, an anthropology major from Marblehead, Massachusetts, and Jack Litowitz, a double major in economics and philosophy from Glencoe, Illinois—delivered the traditional student Commencement address.
Smith asked her classmates not to define themselves by the turbulent years—on campus and nationally—that marked much of their college experience. Rather, she encouraged the class to rethink their own story of who they are—to not be merely "that class" that missed out on so many things. She reminded them of just a few of their major accomplishments as Middlebury students, including winning national championships and leading the College to fossil fuel divestiture and the launch of a Black Studies program.
"This ceremony today is an opportunity for celebration, for we are finally able to honor the pivotal years we spent together," said Smith. "At the same time, it's also an opportunity for closure and for reflection, two things that are often neglected in our fast-paced quotidian routine. It's a chance to take stock of the good times and bad that made up not just the last four years, but the last six, and how they have shaped us both individually and as a class."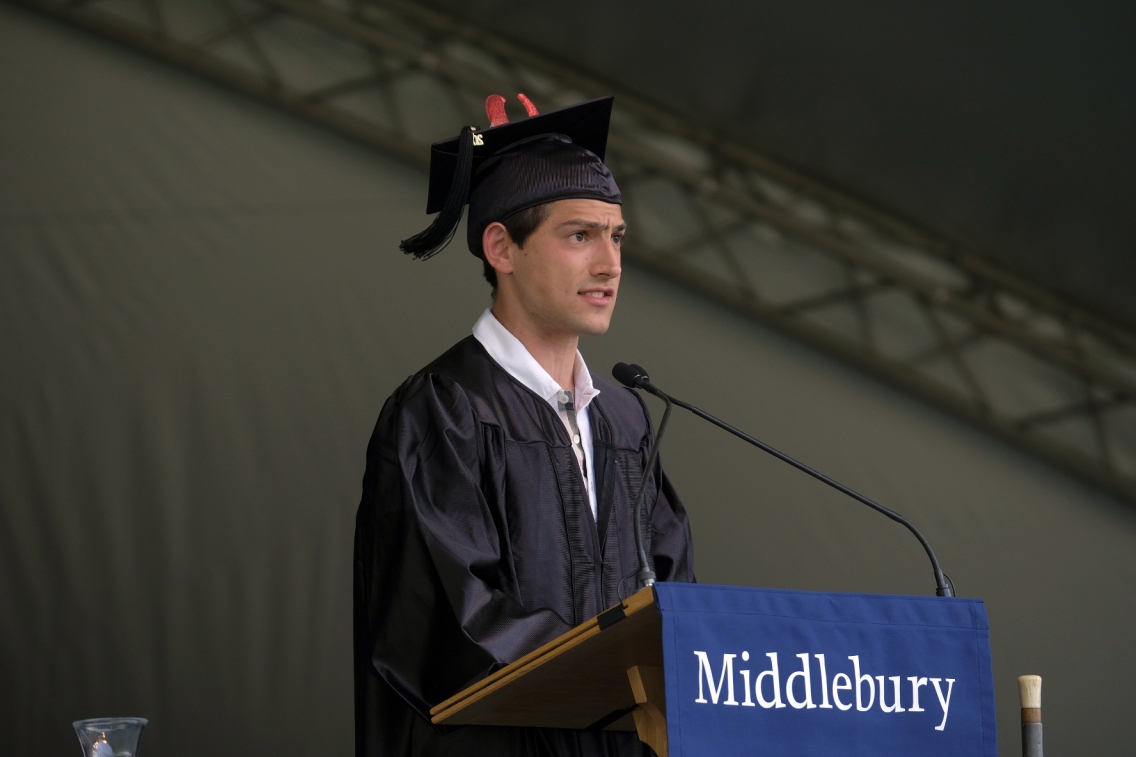 Litowitz noted the remarkable fact that, unlike any previous graduating class, the Class of 2020 had already glimpsed the future. "Never before has a graduating class established the beginnings of a formal legacy outside of the stone walls and green hills of Middlebury prior to their official Commencement ceremony. Yet, that is exactly what we have done. I stand before you today not to say, 'The future looks bright,' but instead with the incredible fortune to say, 'We already reside in a bright future, and it will continue to shine brighter still.'"
Jason Collins, a retired National Basketball Association (NBA) player, gave the Commencement address and was presented an honorary Doctor of Humane Letters degree. After the 2012–2013 NBA season concluded, Collins publicly came out as gay in a cover story for Sports Illustrated. He was the first male active player in any of the four major American professional sports to announce that he was gay. Former President Obama expressed his gratitude to Collins for his courage and said he "couldn't be prouder" of Collins, recognizing this as a point of progress for the LGBT community.
After a quick introduction, Collins jumped right into advice for the class. "So now we get to the fun part where I get to impart some lessons that I've learned over the course of my tall, big, black, beautiful, gay, fabulous life," Collins said.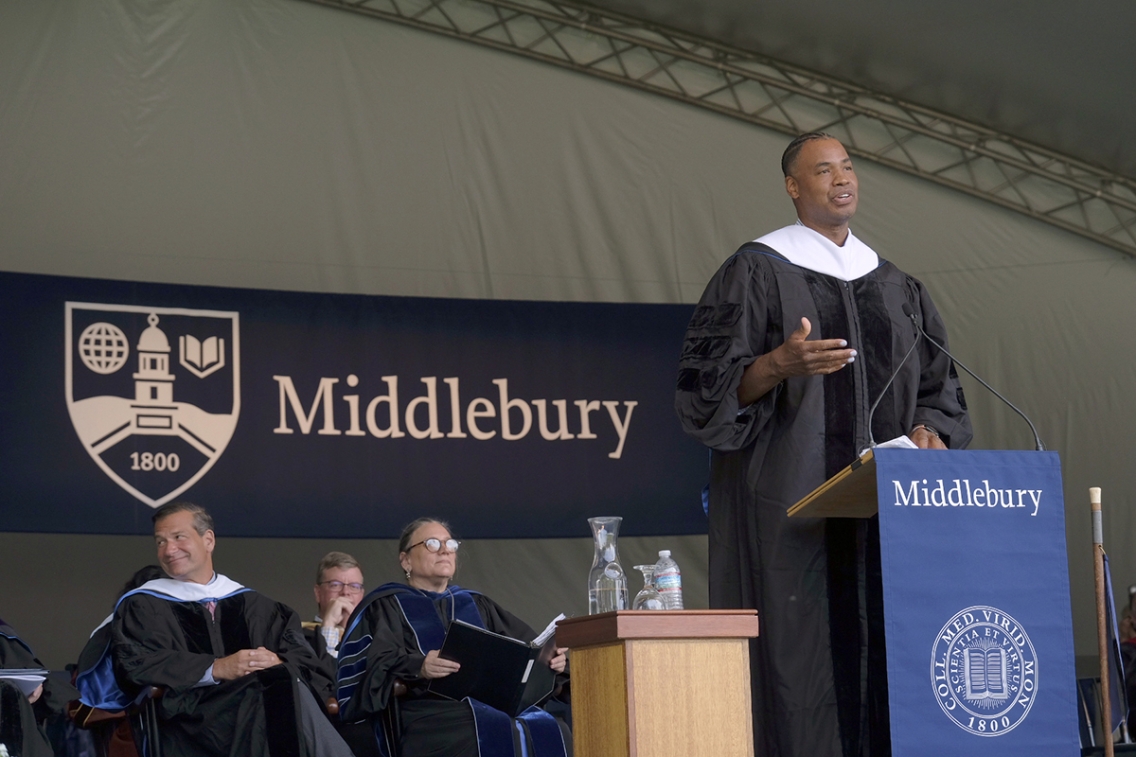 Collins encouraged the graduates to not overlook repetition and mastery of the smaller tasks in life as they prepare for bigger challenges. He urged them to take the time to find their own role in life and then be the very best they can, even if it's not in a starring role. He also asked them to always be good teammates.
"Ask yourself: Are you someone that cares about others especially when they are struggling, off balance, and maybe knocked down? And will you reach out your hand to help more than just the people in your immediate circle? Be that good teammate for your family, your friends, your neighbors. But also be that good teammate for someone who doesn't look like you, or someone who doesn't have the same background as you, because I think the team—and I'm talking about society now—is made stronger when you support and care about others."
Each graduate received a replica of Gamaliel Painter's cane, presented by Janine Hetherington '95, president of the Middlebury Alumni Association. The cane is a symbol representing the founding of the College and now is used as the mace for official academic ceremonial events. Patton noted that the canes have many stories connected to them, including stories of the workers who made them, the trees that provided the wood, and the Native Americans who cared for the forests. 
"We are only beginning to tell these stories, and we ask you to remember them as you journey from here," she said. "These canes are a symbol of the historical ties that bind us all to this institution, the generosity that supports us, and the hard work and learning that brought you to this place today as a graduate of Middlebury College."
In addition to Collins, honorary degrees were presented to the following:
Allison Burroughs '83, a judge for the United States District Court of Massachusetts.
Marta Casals Istomin, a renowned musician known for her work as a cellist and her dedication to musical education.
Kim Collins Parizeau '79, P'12, '15, '19, an alumna and the former chair of the Middlebury Board of Trustees, a board she served on for 16 years.
Ernie Parizeau P'12, '15, '19, a professor of the practice at Middlebury College and an advocate of experiential education and entrepreneurship.
Read more about the honorary degree recipients.
Two students were recognized with College honors: Sarah Laurynn Nelson, a molecular biology and biochemistry major from Spokane, Washington, was named valedictorian, and Nicholas Hunter Mosier, a double major in computer science and mathematics from Tucson, Arizona, was named salutatorian.
Also as part of the ceremony, Associate Chaplain Rabbi Danielle Stillman gave the College's land acknowledgment and invocation. Ukrainian-American soprano Teryn Kuzma performed the Ukrainian song "Remind Me, Bandura, of Your Song." Mariia Dzholos '24 read the poem "History of Snow" by poet Serhiy Zhadan in Ukrainian and English. Additional music was performed by Miranda Seixas '20; George Matthew Jr., carillonneur; Timothy Cummings, bagpipe; and the Constitution Brass Quintet.