Luis Gonçalves Named Director of the Middlebury Portuguese School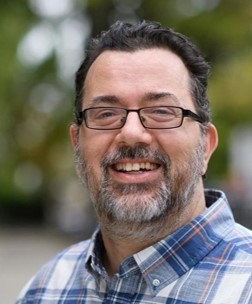 MIDDLEBURY, Vt. – Middlebury has named Luis Gonçalves as the next director of the Portuguese School, one of 13 Middlebury Language Schools, known internationally for their full-immersion approach to language teaching and the Language Pledge®. He began his new position on September 1, succeeding Luci Moreira, who had led the school since 2008.
Gonçalves is currently a lecturer in Spanish and Portuguese at Princeton University. He holds a PhD in Romance languages, with a minor in communication studies and a certification in cultural studies, from the University of North Carolina at Chapel Hill. He specializes in Portuguese-speaking cultures and civilizations and their transatlantic dynamic in the 19th and 20th centuries. 
Gonçalves is the president of the American Organization of Teachers of Portuguese (AOTP), president of the National Council for Less Commonly Taught Languages (NCOLCTL), and the executive director of the annual conference Encontro Mundial sobre o Ensino de Português (EMEP). He is also a member of the editorial board of the Portuguese Language Journal and other international journals.
The Portuguese School, founded in 2003, is operated by Middlebury and located on the campus of Bennington College in Bennington, Vermont. It offers a seven-week summer immersion program with beginner through advanced-level courses.
"We look forward to working with Luis Gonçalves," said Steve Snyder, dean of Language Schools. "He brings great knowledge and enthusiasm to the Portuguese School." 
"It is also with deep appreciation that we thank Luci Moreira for her many years leading the school," Snyder added.  
Gonçalves said he is excited and honored to join the Middlebury Portuguese School and follow in Middlebury's well-established tradition of engaging students with an intensive, inclusive, and diverse curriculum, full of innovative and surprising guests and activities. 
"All of this is intentional and maximizes the Portuguese learning experience," he said.
"As we plan ahead, we will continue working to create an environment that encourages our students to grow and learn in deeply personal and meaningful ways," said Gonçalves. 
More information about the Middlebury Language Schools is available on the Language Schools website or by contacting the Language Schools at 802-443-5510 or languages@middlebury.edu.